Whether you are running a software company or SaaS, your landing page is the first impression among your visitors. Whenever someone visits your website, the landing page is the first thing that they notice. Therefore, it is necessary to have an amazing landing page.
We know it's hard to find the best landing page theme and therefore, we have handpicked the 20+ Best SaaS & software company landing page templates free and premium.
For the people who want to use it a couple of times, you can go with a free one else if you are planning to use it for a longer time, we suggest you go with the premium one instead. Just take a look at these and you will surely love one of them.
Bulkit – Unique SaaS & Software Company Landing Page Templates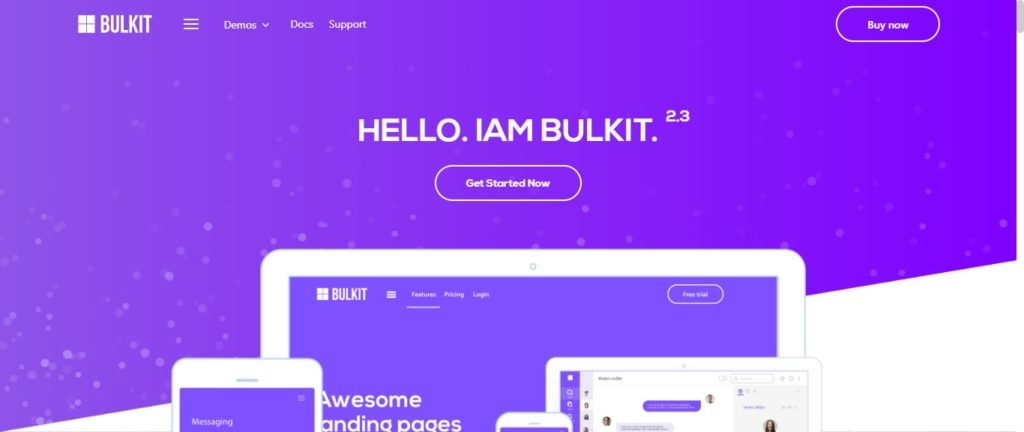 For the people who want to try something new and unique other than Bootstrap, you can try this template. It works on Bulma Framework. It is one of the best alternatives you can use and has the best design as well as the code is also great. The Bulma framework makes the best and the easiest manageable desktop.
If you are familiar with Bootstrap, you will surely love the Bulma framework. Therefore, this theme is using the same framework for a change and to get rid of the same old templates.
There are many ready-made templates that you can use directly without any coding. There are more than 47 demo pages and approx 45 component pages. Moreover, there are many UI kits available inside the template. In this way, the website is easy to theme. The template is responsive and there are 36 demos for the dashboard.
The pricing for the template is $22 for a regular license. There are almost 3,000 sales and the item is rated 4.92 stats. Therefore, you can trust the template and proceed to download it.
Proton – Startup, Agency, SaaS & WebApp Template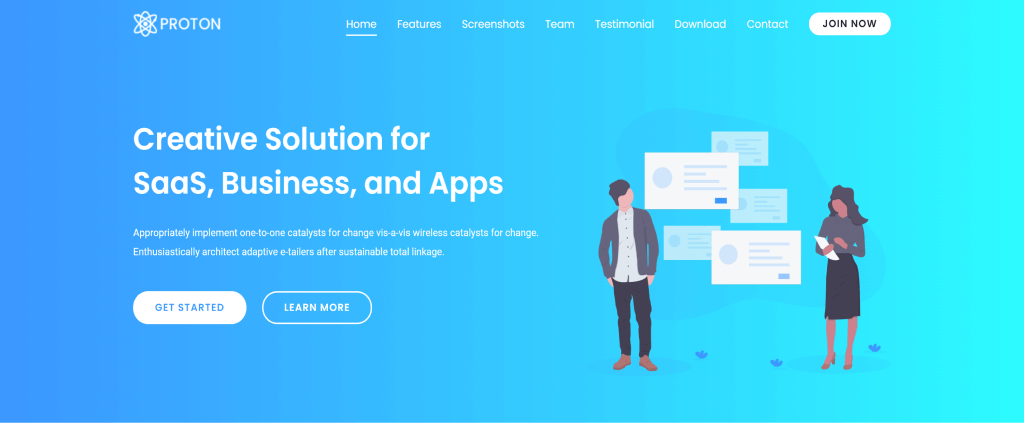 Just recently, UIdeck updated Proton. It is a super-quality Bootstrap 4, HTML 5 template available in both free & premium versions. The main purpose of this template is to help businesses to create a solid bond between the product/services with the customers. So, the template works for SaaS, App landing pages Startup, Agency, WebAppp, etc.
It is a trendy product from UIdeck that has all the essential features. For example, it has 4 different homepage variations, so there is an option for you to choose from multiple styles & approaches. Also, this will allow you to free yourself from working extra hours on building the structure of your project.
It has a lot of sections and elements for multi-purpose websites, such as a hero area, two different sliders, team, pricing, services, tabs, counter, scroller, gallery, blog, contact form, and so on. Proton was created with a block-based coding structure and CSS generated with Sass, allowing you to easily and extensively customize this template.
SaaS – Tailwind CSS Template for SaaS Software Site

If you want a high-quality Tailwind CSS template that works on projects like Saas, WebApp, Software, and Similar Websites. This is the template, you're looking for. SaaS is a feature-rich Saas website, that has all the essential sections, components, and pages.
There are Blog Grids, Single Blog, Sign In, Sign Up (Authentication), About, Contact, 404 page, and a lot more. It can give you a pixel-perfect, clean design and create complete flawless user interaction. Also, it is highly customizable so that you can give priority to your desires.
This template loads quickly and meets all of Google's performance, accessibility, best practice, and SEO requirements. Therefore, give it a go, if this matches your criteria.
Bootsland – Creative Bootstrap5 Landing Page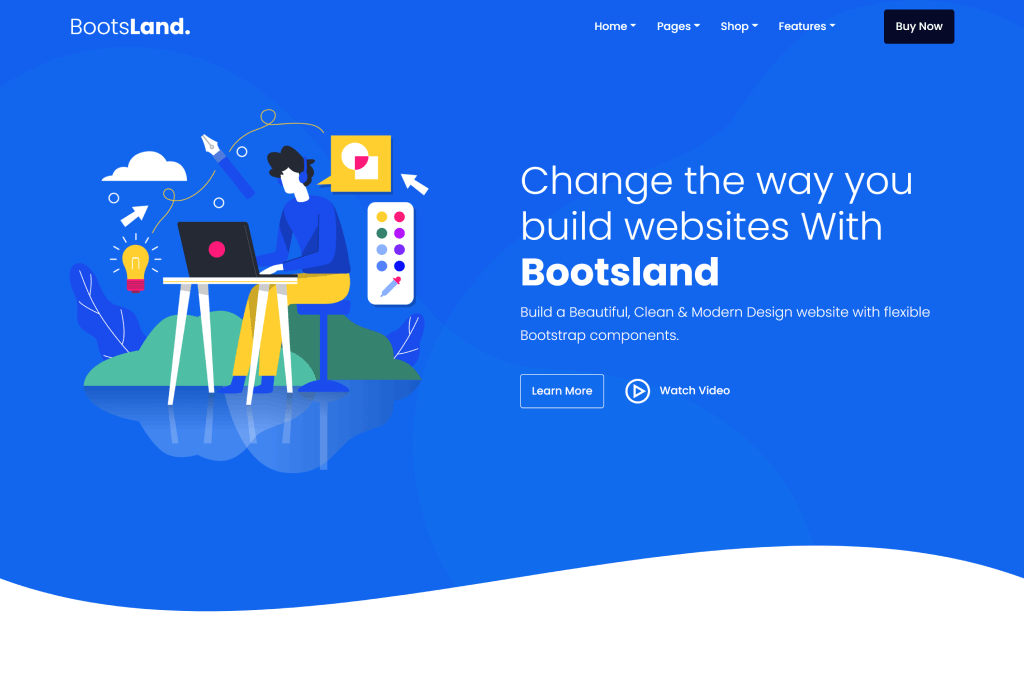 Bootsland is a highly-customizable creative Bootstrap 5 landing page template. With it, you'll find it easy to use to create a professional site. It is entirely on the Bootstrap HTML and CSS framework. The template includes 10 home pages, over 45 HTML pages, and a shop section with inner pages.
The template is both creative and powerful. It will be a great landing page for agencies, startups, businesses, Saas, Sass, app, Marketing, and a lot more. And, it supports all major browsers from Opera to Chrome.
It's fully responsive and looks great on all devices. Also, it is clean, modern, and well documented. It provides them with a unique UX. Furthermore, it has an attractive design. There are a lot more interesting features. And guess what! All this comes in only 19$. They will give you a lifetime update and 12 months of technical support.
Play – HTML Free Startup Landing page Template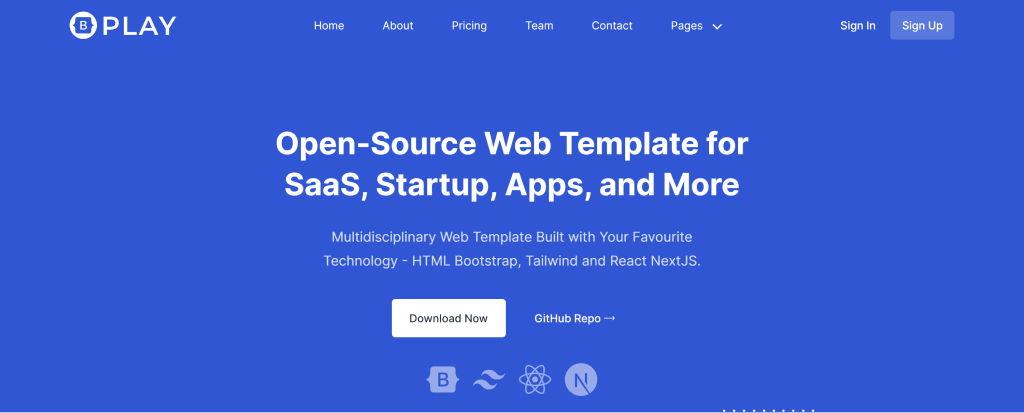 Play is a free & open-source landing page template made with HTML and Bootstrap 5. The template is specially created for serving startup businesses, apps, and Saas. It has everything that you could want in a landing page template. Its design is pretty minimal and sorted in a way that you can easily get started.
Also, the pixel-perfect layouts and well-responsive will surely give you comfort. Though this is a free template, it also has a premium version available. You can find that here. As it is an open-source template, you can also support the project by starring the GitHub repository below.
Another thing we need to mention is that, with the purchase of its premium version, you will get one-year-long technical support and lifetime free updates. Moreover, it includes the SCSS Files and Documentation.
Fusion – App, Business, SaaS & Product Landing Page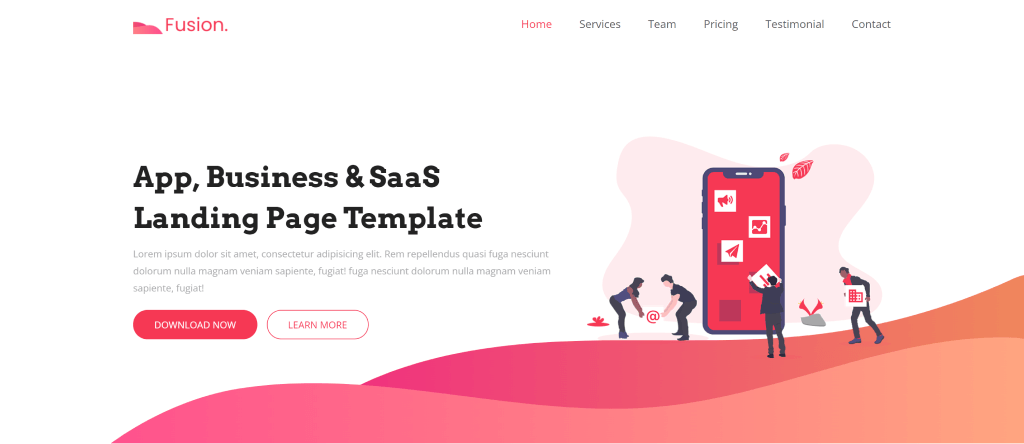 Fusion is a free Bootstrap 4 landing page/website template that also has a premium version available. It is a template specially created for App, SaaS, Business, and Product Landing Pages. There is a refreshing design and includes every essential UI element and section. If you want to create a complete website, you'll find everything there.
Also, it is a well-responsive template, so, you don't need to worry & waste your time on making it responsive for different devices. With the purchase of its premium version, you'll get a commercial license with all the elements & features displayed on the demo.
Start – Landing Page for Startup and SaaS Business

The start is another Bootstrap 4 business & startup-centered landing page template. It has a refreshing design that is both highly customizable and well-responsive. Moreover, when it comes to customization, this is going to give you ease. It includes all the UI elements to get your SaaS landing page complete.
As it is a starting point template, this is the pillow for your worries, and going to take you to close your project's launching. This fast-loading template also includes well-optimization, SCSS files, coded in a block-based structure. For both easy and extensive customization this is going to help.
To achieve this template its creators used Bootstrap 4-based AyroUI (startup) and a SaaS-focused web UI Kit. Make sure to view the demos from the button below.
Sprout – Simple SaaS and Software Landing Page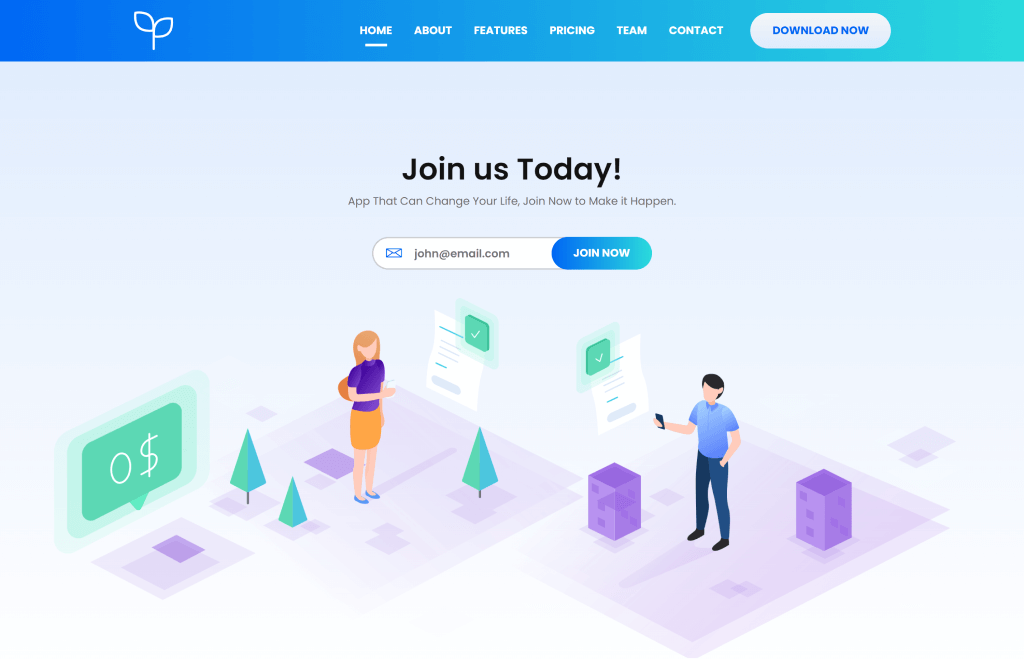 Sprout is a minimal design landing page template for SaaS apps. The combination of Bootstrap 4 & HTML5 made this possible to create this beauty. All the UI elements are from Ayro UI. For a simple, minimal, yet comprehensive SaaS app landing page template, Sprout is a good option.
However, if you ask us to mention one important thing which makes it more efficient for SaaS, it's the highly-focused download button on the nav and subscription form on the hero area. Also, it has working ajax contact form.
For personal use, you can download it for free. But if you want to for a commercial purpose, it will cost you 14-24$. With 14$, you'll get 1 site license, and with 24$, you'll get 10 site licenses. Otherwise, all the features, elements, and services are just the same for both.
Foton – Software and App Landing Page Theme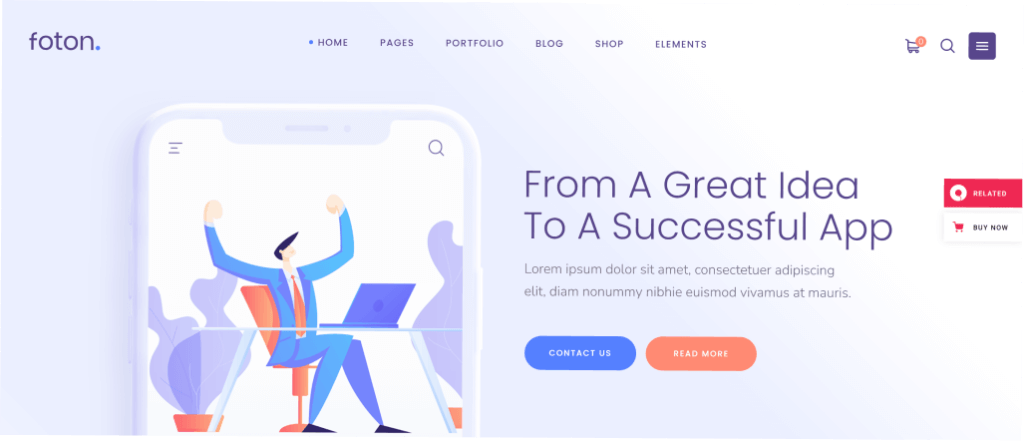 With Foton, you'll have everything you need to build a cutting-edge software company website or an online presentation for your startup, SaaS, mobile app business, or app landing page. It's a theme nicely done to meet the needs of everyone in the software industry, from web app developers to digital marketing firms.
Foton ensures that every aspect of your business is covered with an assortment of fully adaptable templates for your startup, app landing page, SaaS, and all types of software showcases. Simply put, Foton is perfect for any app landing page, startup, software, or dedicated mobile app website.
It does not end here. You can use Elementor/WPBakery Page Builder to create your website! Furthermore, there are themes for amazing tech blogs, and they are all ready to use.
Fastland – Landing Page Template for SaaS, Startup & Agency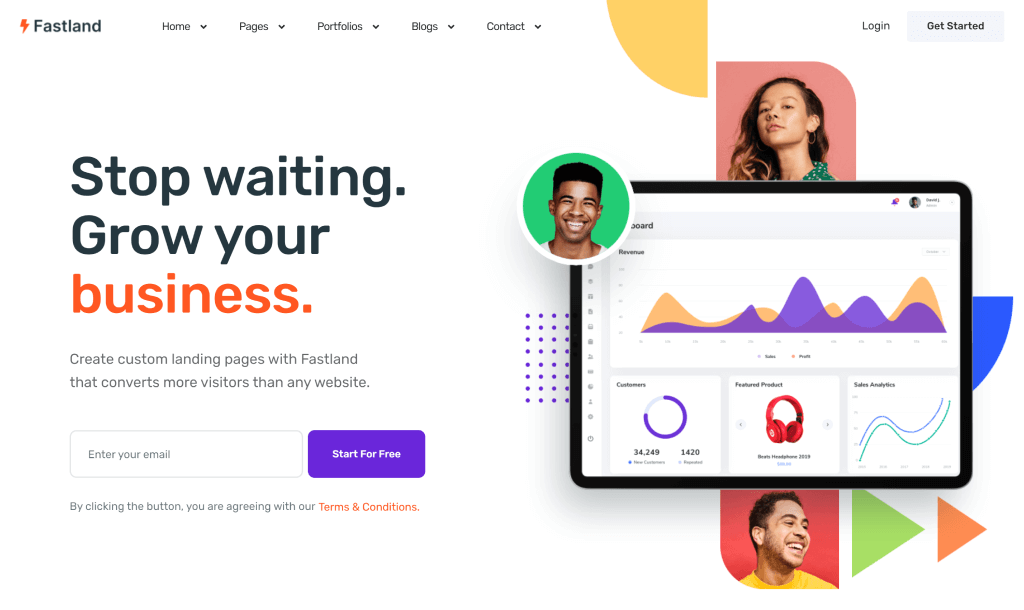 Fastland is an HTML5 landing page template built with Bootstrap 5. It is for a variety of SaaS products, software, startups, apps, and so on. It is completely responsive on all devices and looks stunning on all of them. Your users will appreciate your site because it provides a unique user experience (UX), as well as a clean, modern, and beautiful design. They're also simple to personalize and combine with other components.
Please keep in mind that this is a static HTML5 template rather than a WordPress theme. Here images are only examples. So, you'll not find them in the download files.
Poko – App & Saas Landing Page HTML Template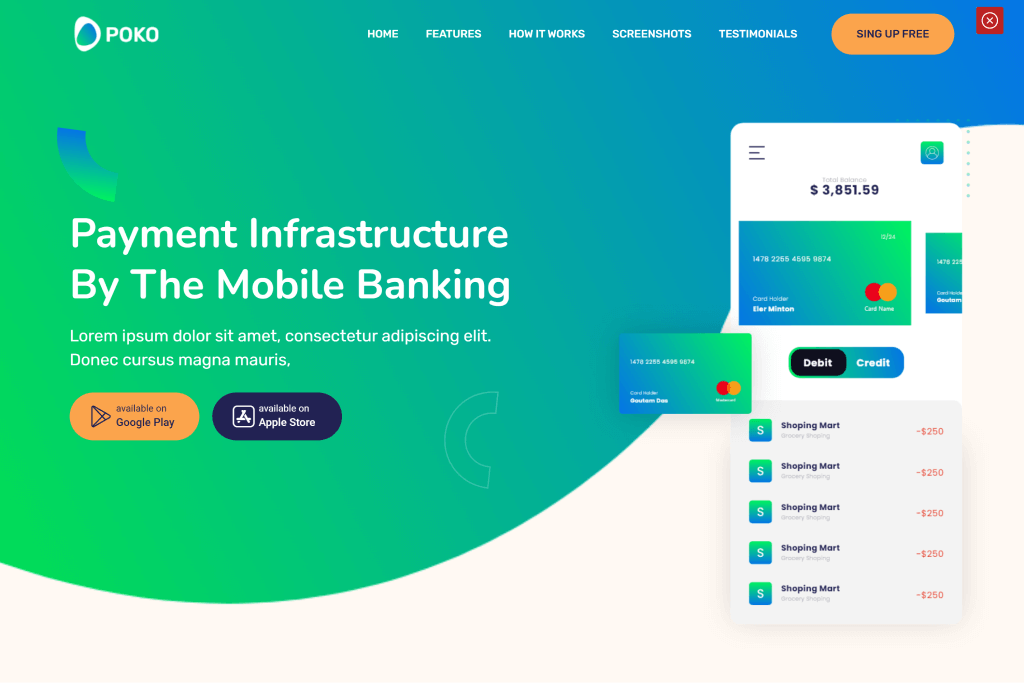 Poko is an HTML5 responsive app landing template. It works as a digital app landing page and digital app showcase template. Also, it is a fantastic Responsive Landing Page. Especially for the type of digital app marketing that wants to present themselves professionally and in an exceptional way.
Poko can help you present and promote your startup. For example, mobile apps, SaaS apps, software, digital products, and even books & magazines. This is highly customizable, and it looks great on tablets and smartphones. They have included the best web development practices. So, you can make a fantastic website layout using Bootstrap or Grid 1320px.
Also, all of the files are well-organized. Thus, it will be easy for you to customize quickly. If you find any issues or face trouble while working on this, you can contact them from the link button below.
Shine – Free Tailwind CSS Template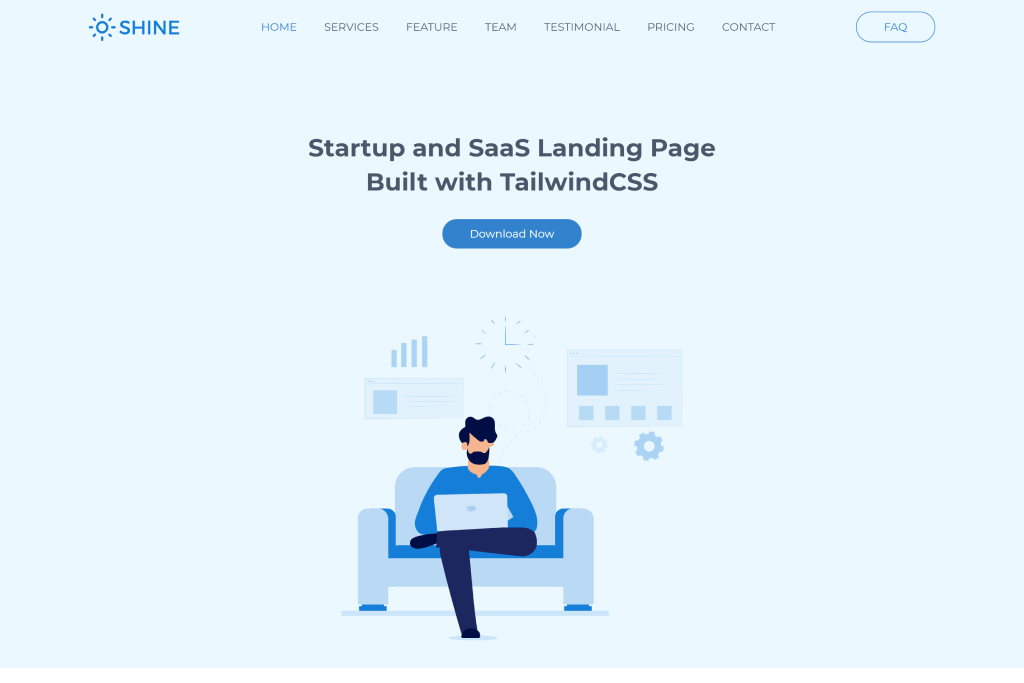 The Shine is a free-of-cost Tailwind CSS landing page template. Like all of these templates here, this also serves the same purpose. However, we've found it interesting because its design is very professional and at the same time it is free of cost too. So, why not give it a try? If you're bored with Bootstrap, we would recommend you to try Tailwind CSS. Both have their pros & cons.
It's a free one-page template that includes all of the necessary sections and elements to launch a variety of one-page websites using Tailwind's mighty power. Shine has a fresh and uncomplicated design for any type of website, with rich typography, refreshing design, and good UX.
You can customize the designs and get a clean designed template ready for your next web project using TailwindCSS and other cutting-edge frontend tools. Shine is a highly responsive template that works flawlessly on any device. It's all sections and elements have been coded and built using Tailwind CSS best practices for high, easy, and extensive customization. It also includes a fully functional ajax-based contact form, 500+ free icons, and useful add-ons to enhance the functionality of your website.
DashCore – Affordable SaaS & Software Company Landing Page Templates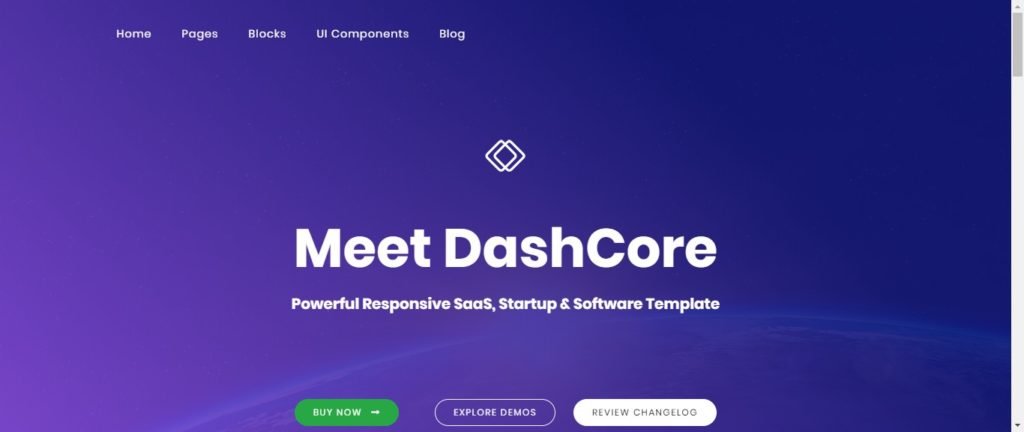 DashCore is a new theme that comes in the category of SaaS & software company landing page templates you can use. It is an HTML-based template and your work on Bootstrap version 5. Therefore, it will not only look great but will also have all the features that you need. There is a MailChimp API given to collect emails in order to increase the overall visitors and the customers you are getting. Basically, it is 3 in one template which consists of an HTML template, Angular 8, a starter kit, and the admin panel of Jquery.
If you are using Joomla, the template is also available in the Joomla version and the react-native version is coming soon. Coming back to the HTML theme, it is specially made for SaaS and thus includes all the code that is necessary. You don't have to worry about any of the missing code or any missing functionality, the template has everything covered in it. Moreover, you can simply upload it and start using it after the basic customization. Therefore, you will get a unique style look and overall experience of the template.
The template is not available for free and will cost you $19 to buy. The price is affordable and only a bit more than the one we discussed above. Therefore, you can surely go for it.
SaaS
No, we are not defining the template category, it is the name of the templated. ColorLib has this cool landing page that you can check out if you are looking for the best free SaaS & software company landing page templates.
Specially designed by keeping in mind the requirement of SaaS, this template has all the unique features you need. You can use the same template to create a website using it further. Moreover, it is responsive and supports all browsers. You can add extra pages if you need more features or pages.
The template is not free anymore, it will cost you 19$ (Single). And after the purchase, you will have support & updates for one year.
SaasLand – Creative HTML5 Template for Saas, Startup & Agency
SaasLand is a flat, modern as well as Clean design landing page. For those who are still on Bootstrap 4, it will only work for them, and it is retina-ready. And, it is a 100% responsive template, as your website will support each and every device out there as well as all the browsers.
The template is SEO optimized and UX ready. Therefore, there are good chances that your website will rank on Google as well as when a visitor will enter your website, they won't leave as the design is very appealing. You can get unlimited color combinations as it has all the SASS files. Moreover, you can simply choose the color that you want to set and you will be all set to go. The landing page is unique and will give your website a totally new look along with the features it has.
Talking about the pricing, you can easily purchase the theme from Themeforest at as low as $23.
Startup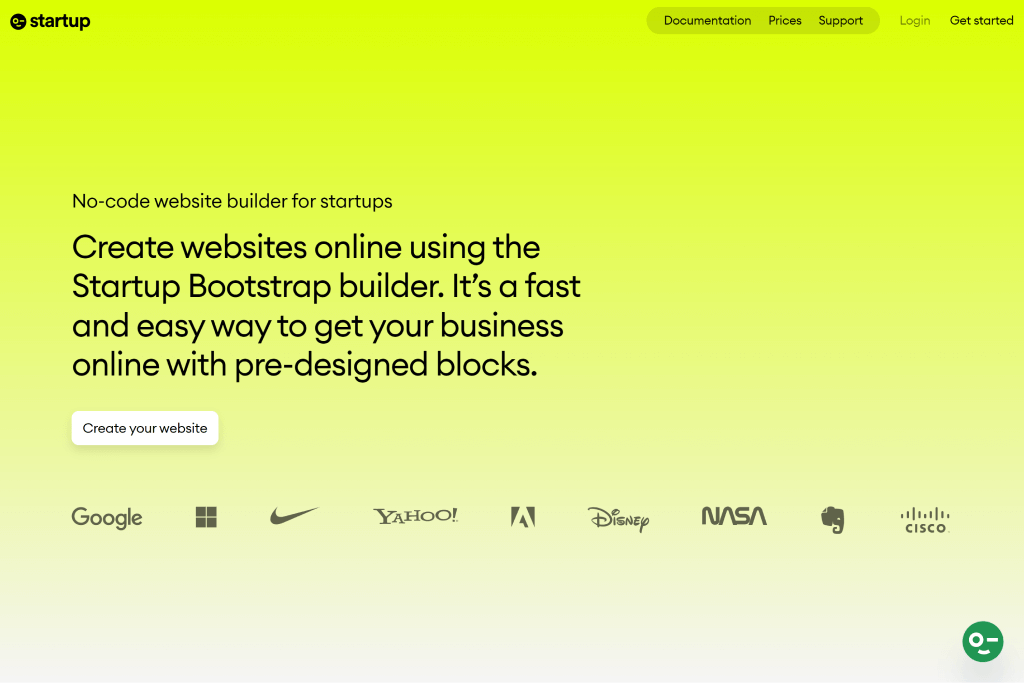 This is not exactly a template, that we are talking about. Although, we thought to include it as most of the people will love it. It is a Bootstrap website builder. Yes, we all love bootstrap for many reasons and this is the main reason why we are not using any of the CMS for our work. This particular software solves all of our problems as it is a website builder using which you can build a Bootstrap website.
There are a lot of designs available for everyone to choose from, you can either go with the designs that are already available or as an alternative, you can create a design of your own. You might be thinking if you have to code the design then what is the use of builder? Well, you won't have to code. The Startup comes with a drag-and-drop builder through which you can create the landing page or home page in just a couple of minutes.
Starting from retina display to responsive design, they have everything a landing page or a website should have. Moreover, if you are thinking the price will be too much. You are wrong again, you can start with the software for free. Later on, you can upgrade to the paid plan if you want. The free plan has only demo components whereas the paid plan will include everything and also the support. Talking about the pricing, the premium plan will cost you $29 per month, for an agency.
Final Words On SaaS & Software Company Landing Page Templates
To conclude, these are some of the best SaaS & software company landing page templates you can take a look at. It is up to you which one you like the most. Whichever you choose, make sure you change all the logos and the images from the templates. Also, there might be a few services that provide some of the services where they will customize the entire template for you. You can even order them if you like. However, it is optional and not required at all if you know what you are doing.
You need to test different templates, if you think of them converting the most, use them. When you are developing your home page or the landing page, you should not let your users go to 404 pages just in case they click on the link. Nobody likes to see a page under construction, that's why you should use any of the Free Under Construction and Coming Soon HTML Page Templates. In this way, you will convert more visitors into your subscribers and later on, you can convert them into your customers. That's all. So, what are you waiting for? Download one of the SaaS templates today itself and upload it on your website without wasting your time.
You Might Also Like These Articles