Bootstrap is a free and powerful CSS framework designed to make the development of responsive, mobile-first webpages much faster, and more productive. It has enjoyed overwhelming popularity since its release, and millions of developers around the world utilize it for building their web apps today.
The key reason for this popularity is the flexibility and productivity it offers. Bootstrap, now in its 4th major release, features an enormous number of prebuilt. And, free templates built on top of HTML5. Developers create these templates to wield their web skills and increase their reputation in the open-source community.
This opens up a new horizon for people like you and me, who do not want to re-invent the wheel each time they build something new. We can take these pre-built templates and customize them to fit our requirements. You can also choose only components of a template and use them for your application. We'll outline a substantial amount of such modern-day creative and free Bootstrap templates. And, also HTML5 templates that you can use for your next web project are below.
Find Out the Best Free Bootstrap templates & HTML5 templates in 2019
---
1. Triangle
Triangle is an awe-inspiring Bootstrap template built on top of HTML. And offers a compelling set of modern-day features right out of the box. This responsive Bootstrap template is free to use and employs creative implementations of everyday functionalities such as a solid contact form, beautifully laid out blog pages, portfolio layouts, and many more.
The design is simple yet elegant, and the devs put a lot of effort to curate the interface as clean as possible. Triangle also ships with an impressive collection of over 500 vector icons that are highly scalable and can be customized quite easily.
2. Hestia
Hestia is a modern-day, responsive Bootstrap template that offers a comprehensive set of innovative features. It is also based on popular Material design and implements gorgeous design elements to grab the attention of audiences. This stylish Bootstrap template is a one-pager and alongside a stunning visual, aims at providing a great user experience by making the build as lightweight as possible, resulting in lightning-fast loading time. Moreover, the excellent documentation enables users to modify the template to accommodate their requirements quite easily.
3. Alchem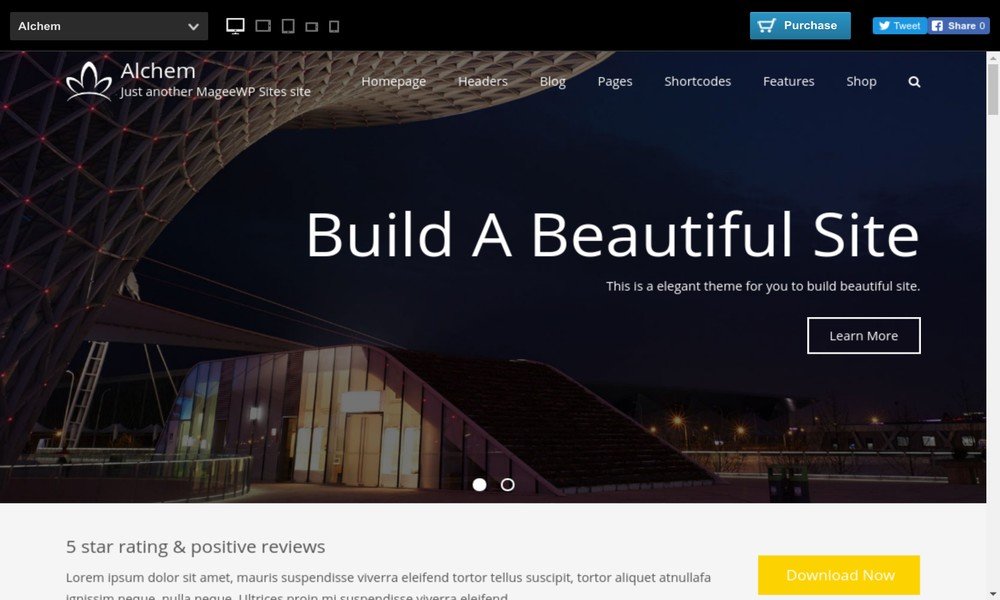 Alchem is an extremely flexible multipurpose theme based on Bootstrap that can power a wide range of modern-day businesses. It features a diverse set of innovative features, making it a perfect choice for both new and established businesses alike.
We really liked the minimalistic design approach Alchem took, and it also gives it a performance edge over many of its competitors. Alchem allows users to modify the design of its sections quite easily, thanks to proper comments. If you want to build your business website on top of a minimalist, responsive Bootstrap template with impressive design, Alchem is undoubtedly worth a try.
4. Royale News
Royale News is an excellent option for magazine websites or trending news portals. It is built using Bootstrap 4 and combines many modern-day features to provide an eclectic user interface for its viewers. It features just the right amount of whitespaces you'd expect from a modern Bootstrap template.
The interface is totally responsive and scales accurately to devices of every shape, and size. It is arguably an excellent choice for people looking for neat Bootstrap templates for their latest magazine website. Moreover, it's one of those few news templates that load fast irrespective of network speed or bandwidth factor.
5. Landing
Landing is a Bootstrap4-based landing page template that features a component-first design. It is one of the cleanest Bootstrap templates we've seen in some time and offers a blazing fast loading time due to its lightweight build. It is a perfect fit for web app developers or people who deal with corporate consumer products.
The landing comes with excellent documentation that helps users to understand and modify the template very easily. It takes a rather minimalist approach to design and incorporates loads of whitespaces that give its audiences a much more neutral outlook.
6. Sneaky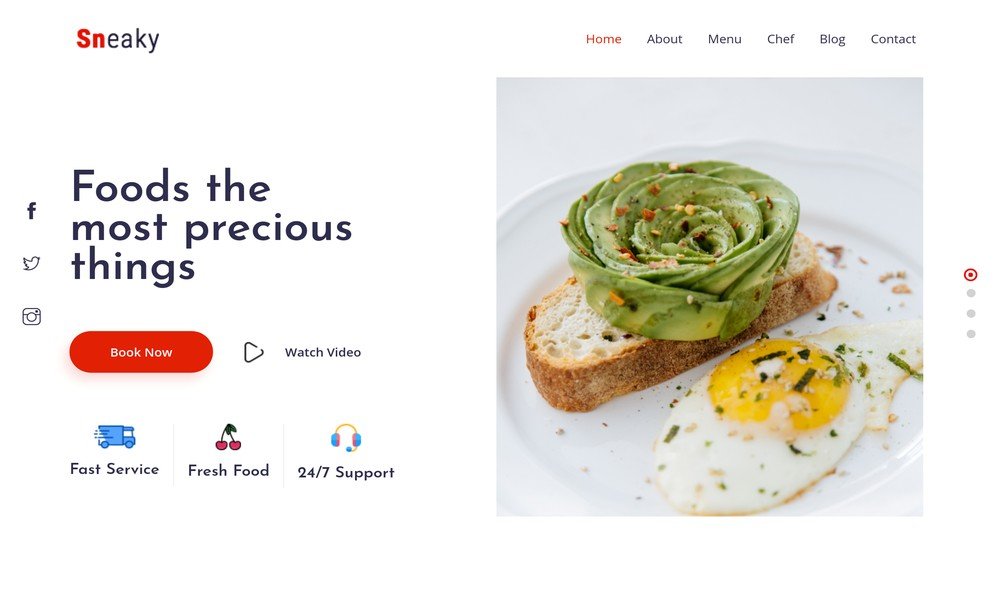 Sneaky is a special purpose Bootstrap template aimed at restaurant owners or people who are exclusively in the food business. With its clean, concise, and whitespace-heavy design, Sneaky offers the perfect option for business owners looking for minimal yet vibrant Bootstrap templates.
It is a fantastic template that combines modern design approaches quite smartly with an aim to cater to the fast-changing requirements of present-day restaurant owners. Sneaky is best suited to you if you want to build a quick website for your homecooked food items or are a food critic.
7. Foundation
Foundation is an inspiring Bootstrap template aimed at fundraisers, charity, and non-profit websites that deal with social causes worldwide. Built on the latest version of Bootstrap, Foundation provides an enigmatic front page that will attract the eyes of people as soon as they set them on your website.
The responsive pages are extendable and scale accurately on devices of every shape and ratio perfectly well. It features a full-width slider that acts as the cornerstone of your non-profit website and allows intuitive call-to-action buttons for increasing user engagement with your institution.
8. Kanox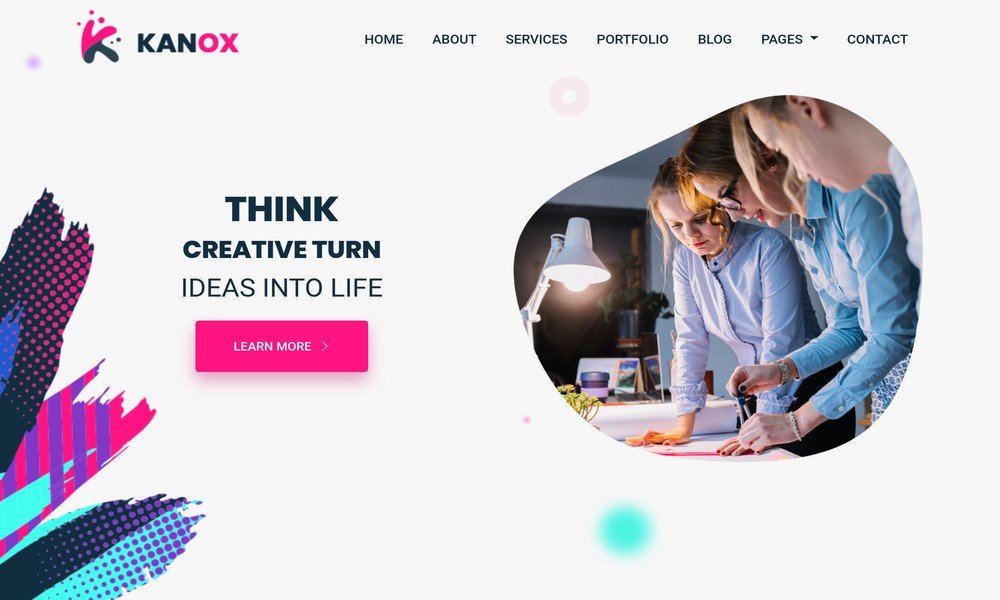 Kanox is a sophisticated Bootstrap template for creative agencies and features a plethora of advanced functionalities for increasing your business outcomes. It can act as a compelling portfolio for freelance business owners who are looking for comprehensive Bootstrap solutions to boost their careers.
Kanox is contemporary in visual appeal, thanks to its minimal design approaches and fresh interface that gives audiences a sense of innovation. Moreover, it loads fast and comes with excellent documentation that helps users in customizing the template with relative ease.
9. Shutter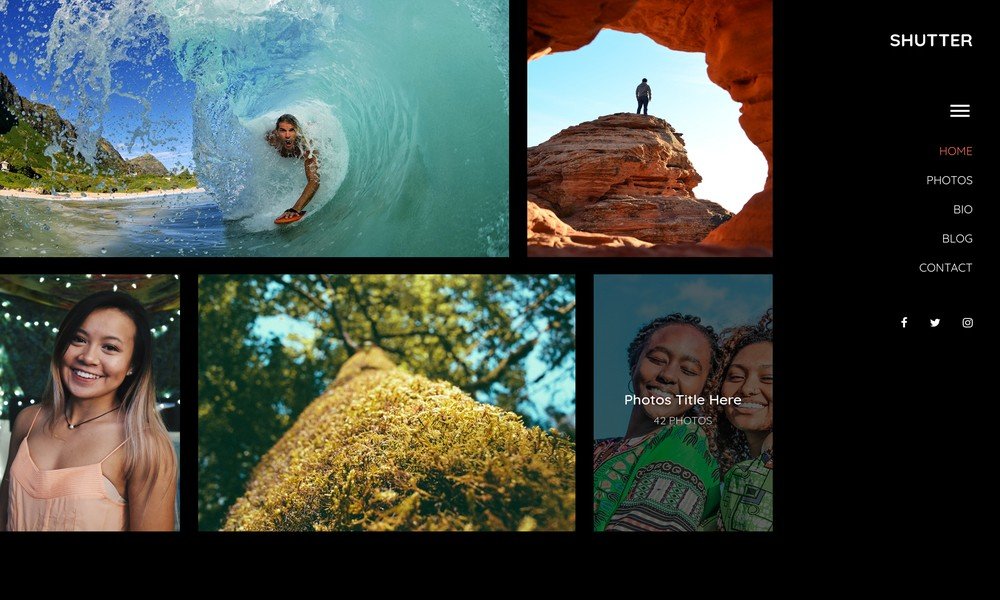 Shutter is one of the best Bootstrap templates for photographers – both professionals and hobbyists. It features an exceptionally gorgeous grid layout that houses photographs you select to showcase to viewers. This creative, modern, and stylish Bootstrap template can be the starting point for newbie photography enthusiasts looking for establishing their presence on the world wide web.
The shutter is entirely responsive and scales a hundred percent accurately to devices of any size, shape, and aspect ratio. It also offers a pre-select set of standard social media integration icons that allows viewers to share your photo very easily.
10. Edustage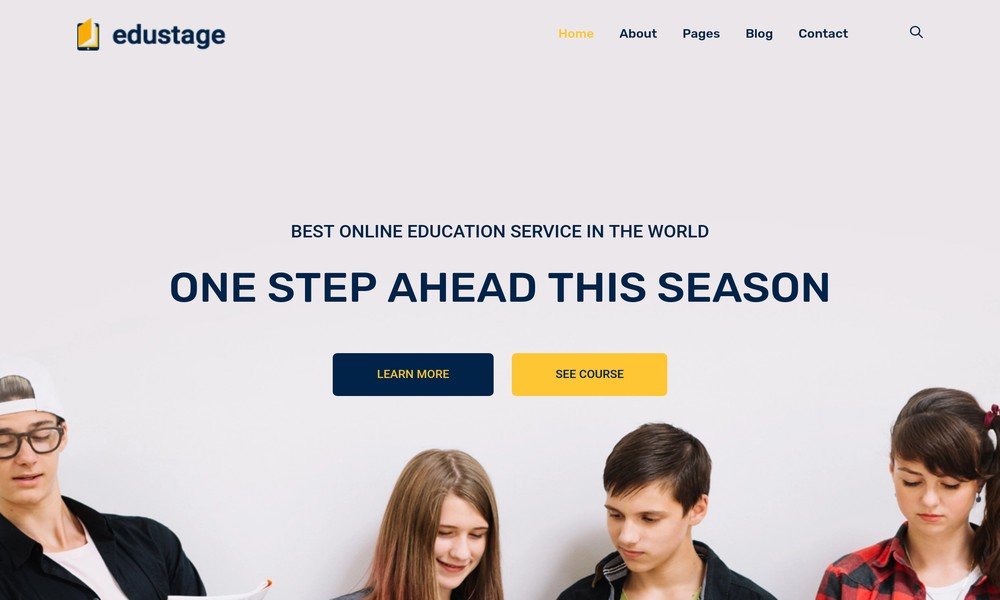 Edustage is the perfect Bootstrap template for people who'd like to build an education platform for the rest of the world. It features a beautiful layout with vibrant colors and images that you can modify pretty quickly, thanks to its well-crafted documentation. Any type of educational institute can leverage this creative Bootstrap layout and use it as an inspiration to build their education platform. Edustage is minimal in design and mobile-ready right out of the box.
11. Initial
Initial is a creative Bootstrap template with minimal design elements and elegant, modern-day outlooks. It is a perfect choice for creative people who are looking for a starting point for their web journey. The design looks very basic, and it is totally intentional by the developers.
If you're a professional looking for rewarding yet straightforward Bootstrap and HTML5 templates for personal blog designs or are simply browsing for a minimal web template that features lots of whitespace to play with and noticeable call-to-action buttons, Initial is a must-try for you.
12. New Age
New Age is an exceptionally modern and creative Bootstrap template built for use in the promotion of web apps or other enterprise products. It is an elegant theme that uses bold and colorful components for providing a vibrant yet eye-pleasing interface for Coming Soon products.
Thanks to its stylish design, it attracts audiences as soon as they visit your site. The compiled SCSS/SASS files come with proper documentation and are thus quite easy to modify. Moreover, customizing the navigation bar is easy and allows developers to utilize robust scrolling animations.
13. Corlate
Corlate is an enigmatic business template built on top of Bootstrap and HTML5 that offers a plethora of innovative functionalities to kickstart your business prospects to a totally new dimension. It can be the perfect choice for anyone looking for a stable, modern, and responsive Bootstrap template for their existing or new business website.
Corlate features a gorgeous set of pre-built icons, animations, galleries, and sliders to help you make the most out of your corporate website. It offers a premium look and feels, and thanks to its lightweight build, does exceptionally well in regards to performance.
14. Bell
Bell is a modern-day lightweight theme built with Bootstrap 4 and HTML5 with in-built support for a considerable amount of noteworthy functionalities. This is a totally responsive theme that has multi-purpose use cases and can be deployed for different types of business websites such as startups, businesses, Real Estate, Construction firms, Finance, Consultancy, and many more.
It comes with great documentation for the SASS files which allows business owners to customize the theme as per their requirements pretty easily. If you're one of those public looking for multipurpose Bootstrap themes with Parallax blocks, Bell is a must-check for you.
15. Fitness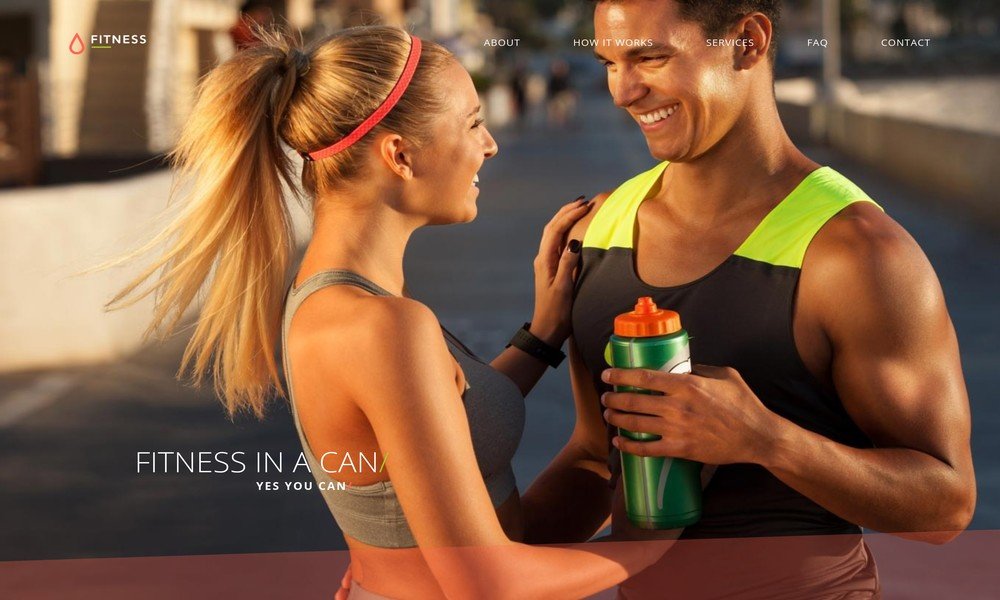 Fitness is a special purpose Bootstrap theme aimed at health and fitness professionals looking for free, responsive, and robust Bootstrap templates. It is a single-page website template built with HTML5 and Bootstrap and can be used for health, gym, and fitness center websites without any hassle at all.
Fitness comes with vibrant, colorful sections with the ability to feature images within text blocks. The header is static and takes up the entire screen for establishing pleasing aesthetics. This is a very mobile-friendly website that loads immensely fast, owing to its gratitude for the lightweight built.
16. Creative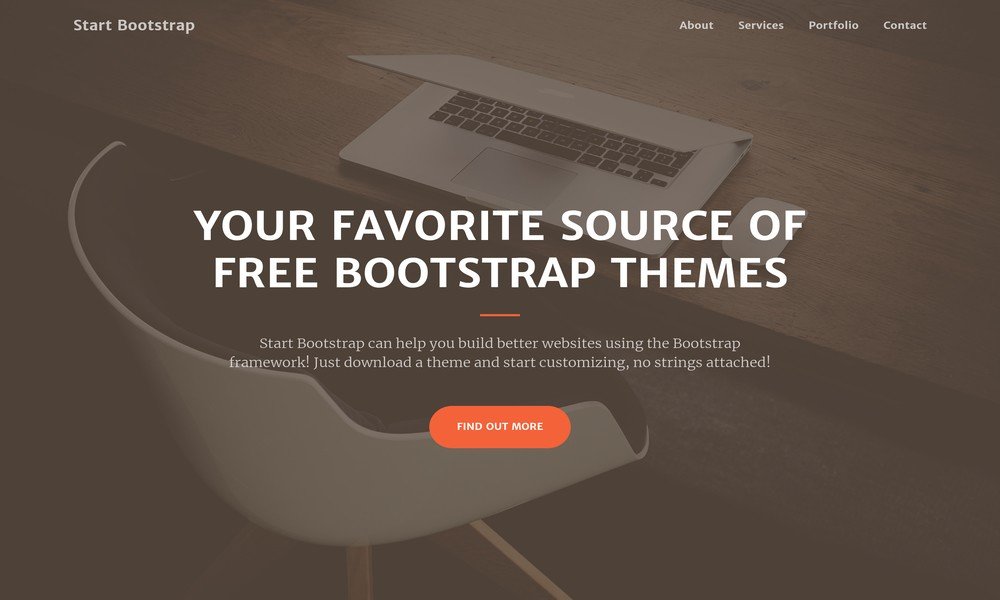 Creative is an attractive single-page Bootstrap template geared towards small businesses, starting entrepreneurs, and portfolio websites. It utilizes a flat style design works and implements modern-day features that make it a perfectly viable solution for people looking for minimal yet elegant Bootstrap templates. Creative provides a very reliable and flexible boilerplate that you can use to build your next website on top.
You can customize this responsive template quite easily, thanks to the excellent documentation it comes with. If you're looking for clean, concise, and performance-oriented Bootstrap themes, Creative is arguably a good option for you.
17. Oxygen
Oxygen is a vigorous, innovative, and reliable single-page Bootstrap template that can be used both as Coming Soon pages for web apps or corporate products and personal portfolios. It takes a somewhat minimal design approach and delivers a stunningly beautiful theme that will attract the eyes of your audience as soon as they set them on your website.
Also, it allows each of its components to be customized without any extra hassle and aims to be a top contender for the best multipurpose single-page themes. If you're browsing for futuristic Bootstrap templates with the scope for unlimited customization abilities, Oxygen is a must-try for you.
18. Resume
Resume is an excellent special-purpose Bootstrap layout with a fully responsive interface and clean design materials. It is the perfect choice for people who are looking for elegant Bootstrap themes for building their personal resume websites. If you're a freelance business owner or opensource enthusiast browsing for robust Bootstrap themes.
It is to showcase your skills to clients around the world, the Resume can be a pretty smart choice for you. This responsive Bootstrap theme features fixed-side navigation with scrolling page anchors and provides multiple options for clients to reach you.
19. Coming Soon – Free Bootstrap Template
Coming Soon is a free Bootstrap theme for the promotion of web apps or other enterprise products. This is a hundred percent responsive Bootstrap template that allows you to use a video background for capturing the eyes of your audiences and packs an overall stylish, and clean-cut design.
You'll be able to leverage the smartly designed newsletter subscription for pulling in potential customers and a compelling set of social media icons lets you stay connected to your prospects on a variety of social media platforms at relative ease.
20. AppUI – Free Bootstrap Template
AppUI is a full-fledged admin dashboard panel built on top of Vue.JS, and Bootstrap. It offers a comprehensive set of rewarding functionalities to help you manage your web businesses easily and combines simple yet gorgeous design elements that convey a sense of premium professionalism.
Based on Bootstrap 4, it utilizes Bootstrap-Vue, Vue Chart.js, Vue Tables2, Vue Forms, Vue Datepicker, and many more modern-day, innovative web components that make it a rock-solid admin dashboard. If you're trying to find the perfect admin panel dashboard for managing your business stats effectively, we suggest you give AppUI a try.
21. Lavaland – Free Bootstrap Template
Lavaland is a stunning landing page for enterprise products built with Bootstrap and offers a plethora of flexible features that make it a suitable choice for web app developers. The design is fully responsive and full of modern, innovative, and elegant design components. Lavaland utilizes HTML5 as a skeleton and incorporates the powerful Bootstrap principle for achieving its goal.
The home page has in total of three variations and contains pages for a supplementary blog. The form elements are quite beautiful in visual and leverage Ajax for dynamic submission. Moreover, Lavaland also comes with a substantial list of Font Awesome icons and a handy Mailchimp subscription.
22. Material Landing – Free Bootstrap Template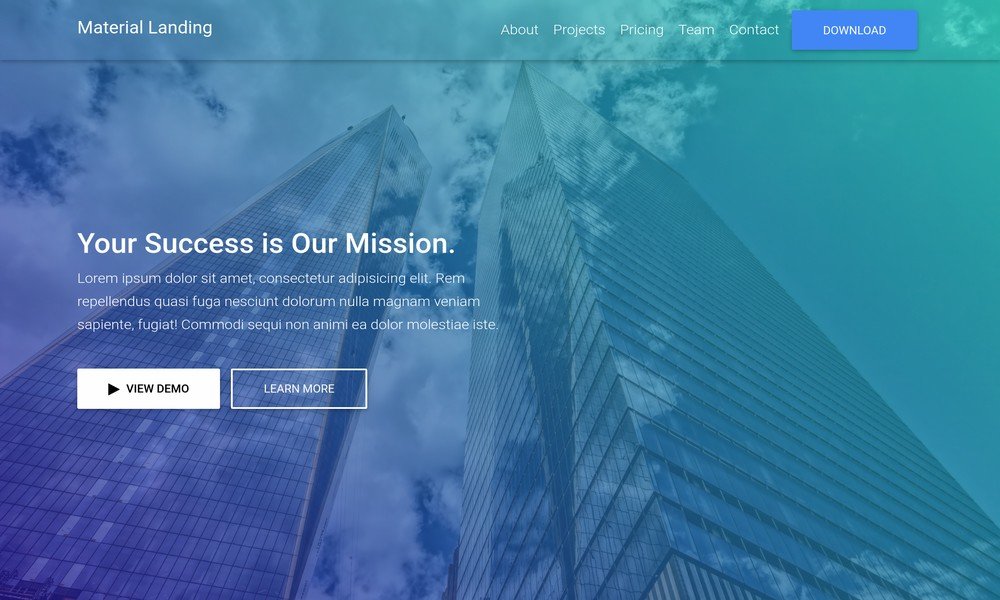 Material Landing is another landing page template utilizing Bootstrap and HTML. It is based on the popular Material design and incorporates a substantial number of exciting features that make it an excellent choice for business owners. This modern-day app landing page is fully responsive and offers features like a full-screen background image with a gradient overlay, a working contact form, and engaging animations, among others.
It is built using the MDB(Material Design for Bootstrap) framework and is the perfect choice for people who like their website to be minimal yet eye-pleasing.
23. One Page Wonder – Free Bootstrap Template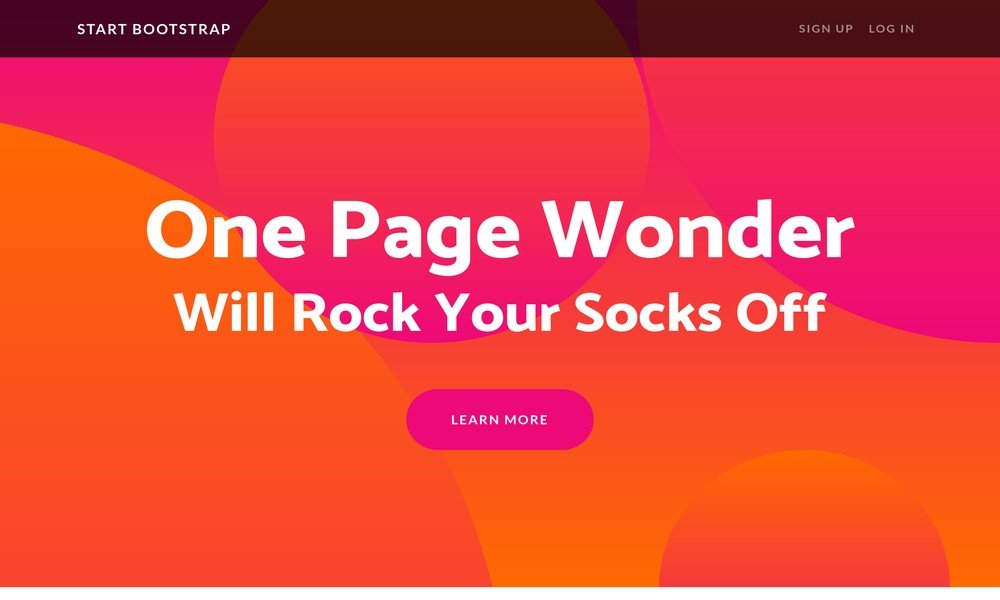 One Page Wonder is a simple yet reliable Bootstrap theme template for people looking to build their website quickly. It is fully responsive and features only the bare minimum of functionalities you'd require when developing your site. The navigation panel is situated at the top of the screen and is fixed.
It's possible to combine images within the text section of this creative Bootstrap template. Thanks to the reduced amount of boilerplate code One Page Wonder uses, customizing this theme is like child's play.
24. Landing Page – Free Bootstrap Template
Landing Page is a clean, concise, and point, landing page template built using Bootstrap. You can use this fully responsive Bootstrap template in many ways, including lead generation, and web projects. What we like the most about Landing Page is how easy it is to use and modify.
You can customize this free bootstrap template to accommodate your requirements easily. Landing Page offers the ability to use colorful, vibrant, or informative images as the background of your website. Additionally, the testimonials section provides you with the ability to showcase others' appreciation for your work.
25. Modern Business – Free Bootstrap Template
Modern Business is a simple yet reliable modern-day Bootstrap theme offering high-quality features without any cost. This fully responsive, loaded Bootstrap template utilizes cards for its design aspects and offers 17 working HTML pages right out of the box. The homepage allows you to use slideshows for attracting the eyes of your audience and maximize your chance of conversions.
Modern Business is a multipurpose business theme that has potential applications in a number of businesses including Retails, Agency, and Consulting, to say a few. It also offers a pricing table, sidebar page, FAQ page, and a 404 page as an added bonus.
26. Awesome App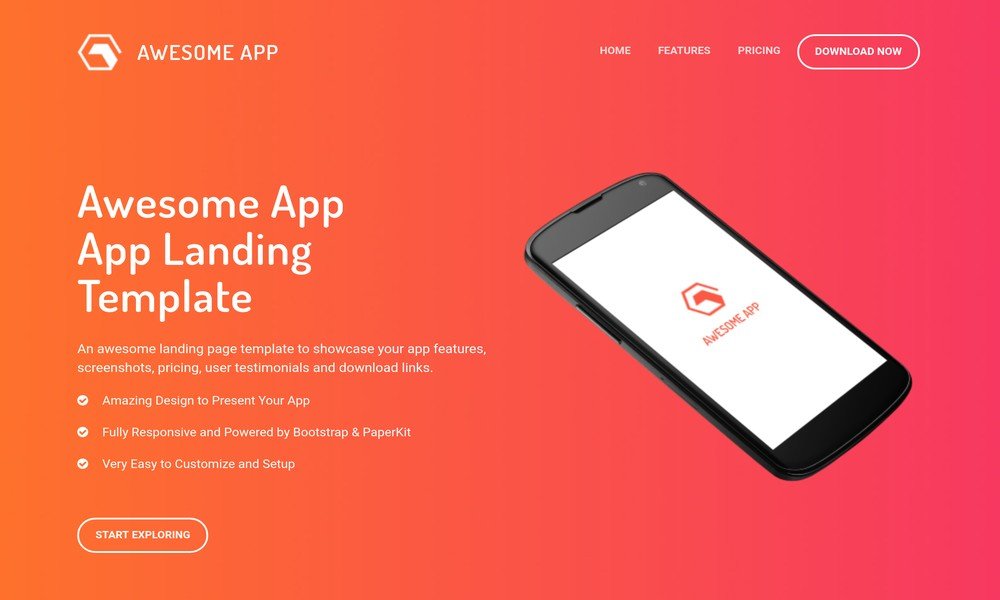 If you're an app developer looking for professional app landing pages, Awesome App is a pretty quality choice for you. Built on top of the MDB UI Kit, Awesome App provides a vibrant, colorful, yet minimal interface that guarantees to attract the eyes of your potential customers.
This fully responsive, modern-day Bootstrap template also offers a plethora of innovative features to make sure you get the most out of your app landing page. The codebase is very easy to understand and makes customization a breeze for people who want to be able to modify their website as per their requirements.
27. Mobirise – Free Bootstrap Template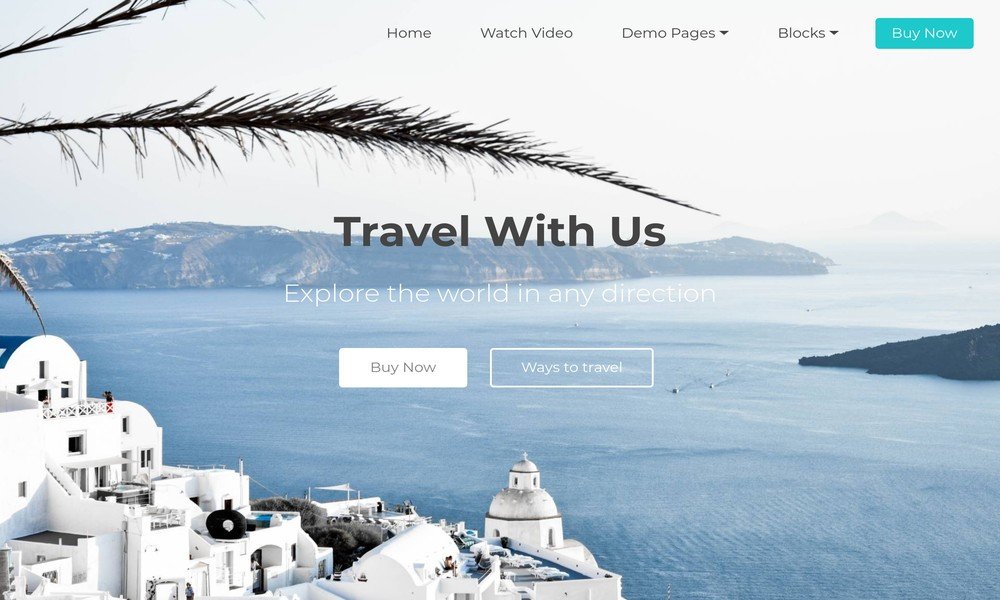 Mobirise is arguably one of our favorite free Bootstrap templates. It is an awe-inspiringly creative, futuristic template that emphasizes minimal design principles. You can use this responsive Bootstrap template for resume websites, mobile app landing pages, Coming Soon pages, or as a photography portfolio.
Mobirise is exceptionally mobile-friendly and scales perfectly to devices with virtually any aspect ratio. It features flexible dropdown menus, parallax blocks, video backgrounds, image galleries, testimonials, icon boxes, subscription forms, and many more exciting functionalities right out of the box.
28. Coral – Free Bootstrap Template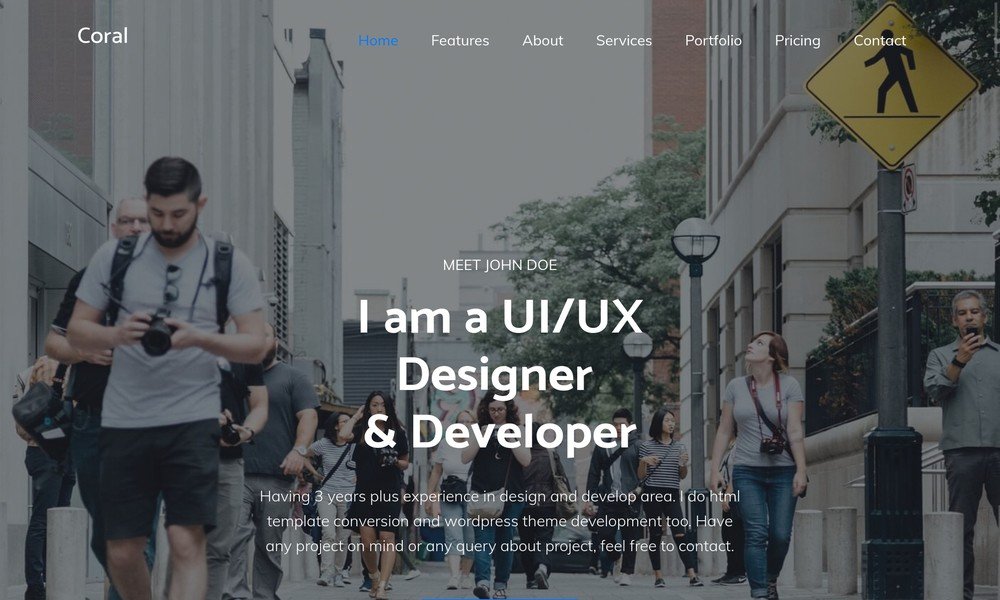 Coral is an attractive Bootstrap template for portfolio websites that aims to present your skills in a simplistic yet creative manner. This responsive Bootstrap template is one of its kind and takes a minimalistic approach to website design. It is for professionals who like to stay on top of their game and want to present them in an innovative way to future clients.
Coral comes with excellent documentation that helps individuals to customize it as they like without any added restrictions whatsoever. The contact forms leverage Ajax and work great right out of the box.
29. Impact – Free Bootstrap Template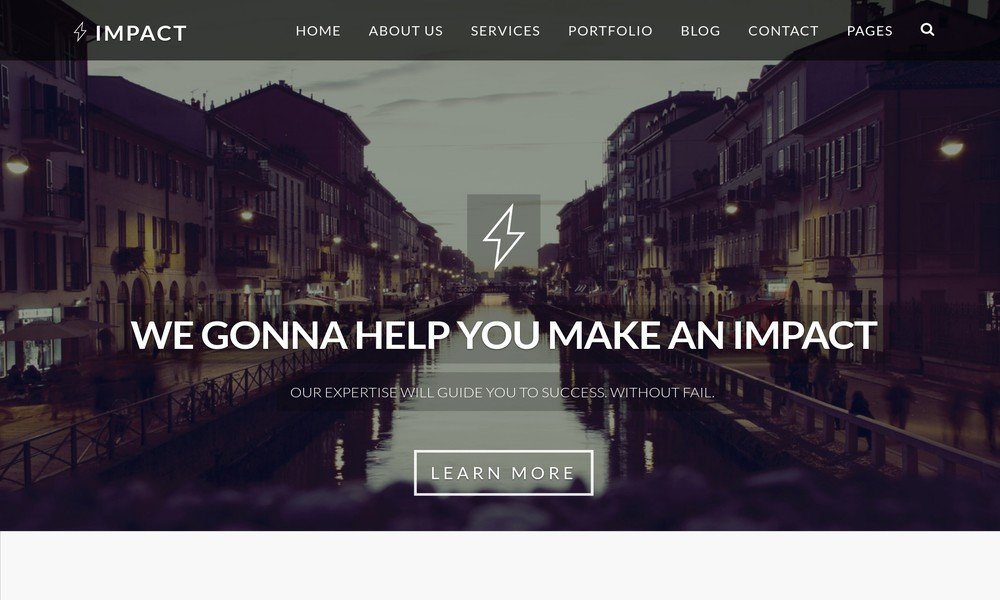 Impact is a modern-day, responsive, multipurpose Bootstrap theme with a stunning interface that emphasizes a clean, concise, and creative design. It offers a compelling set of pre-built features to make your website stand out from everyday sites. If you are looking for modern and innovative Bootstrap templates to base your personal or business website, Impact can be a viable solution for you without any doubt.
It features a full-screen header that houses a full-screen image slider to showcase your projects. Impact offers the ability to choose from either a single page or multi-page layout and can cater to different requirements with relative ease.
30. Dope – Free Bootstrap Template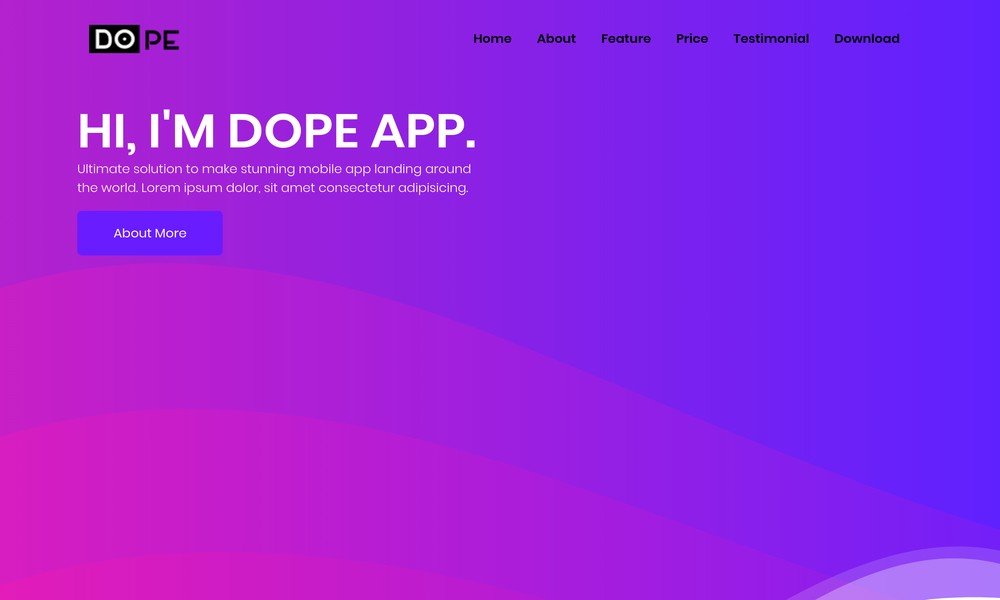 Dope is an exceptionally amazing multipurpose Bootstrap layout that emphasizes a clean design with loads of whitespaces. It offers several stunning templates to choose from and can cater to different tasks pretty easily. This responsive and creative Bootstrap template utilizes many modern-day design elements and provides you with the ability to tweak your website as you deem fit.
The SASS files come with excellent documentation to facilitate personalized customization, and the contact forms leverage PHP to achieve dynamic loading and submission. Dope is W3C validated and supports every major browser for greater accessibility.
31. Philosophy – Free Bootstrap Template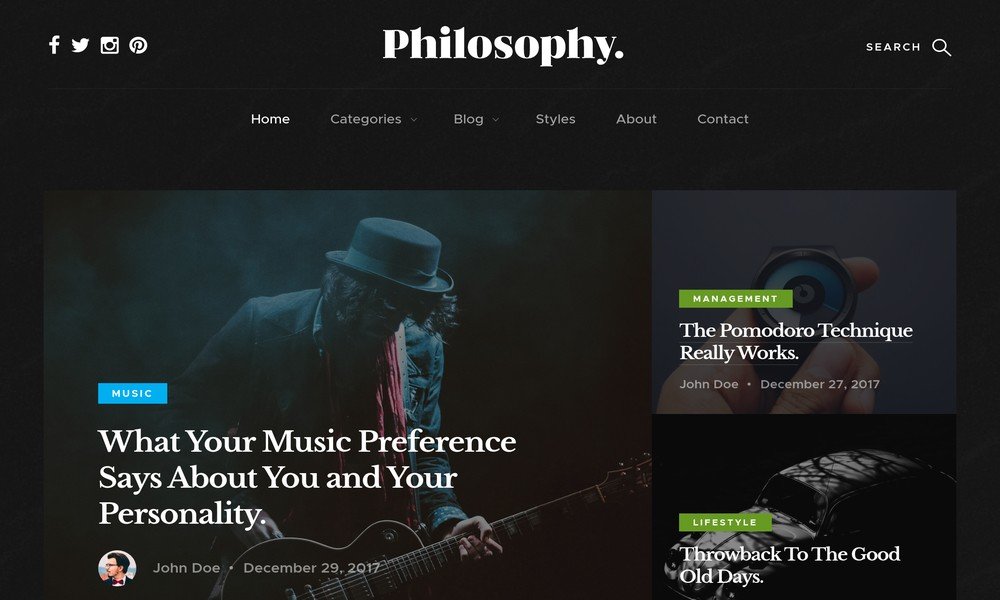 Philosophy is an elegant, modern-day Bootstrap template developed for fashion, entertainment, or celebrity blogs. It features a stunning visual supplemented by innovative functionalities that make it suitable for people who like vibrant outlooks on their websites.
Philosophy allows you to make use of heavy animations and can suit well for people who want to add regular photographs to their blog posts. If you are a fan of colorful blog designs, then you will appreciate this responsive Bootstrap template. The grid layout is also something that makes Philosophy a top contender for the best Bootstrap blog theme.
32. Multi – Free Bootstrap Template
Multi is a multipurpose responsive template built with Bootstrap and HTML5 that offers a rock-solid single-page layout for professionals. It comes with a diverse set of potentials and can be used for different types of websites reasonably easily.
It offers a relatively unique and elegant interface that can cater to the requirements of modern enterprises without any trouble. This single-page Bootstrap template is especially suited for portfolios, and Coming Soon pages for corporate products. Moreover, its smart implementation of semantic light HTML5 structure makes this layout very SEO friendly.
33. Agency – Free Bootstrap Template
If you're looking for a clean and concise Bootstrap template for your agency, this might be the one for you. Agency, as described by the name itself, is a creative and stylish one-page Bootstrap theme for small businesses. It combines a plethora of modern-day features that include custom collapsing navigation, smooth page scrolling, portfolio grid with modal window, robust PHP-based contact forms, and lots more.
Customizing this eclectic Bootstrap template is also very easy, thanks to the high level of documentation provided through the fewer files.
34. SB Admin 2
The pinnacle of modern-day admin templates, SB Admin 2 is a perfect choice for entrepreneurs looking for highly-functional and creative Bootstrap and HTML5 templates. This free theme is built using the most recent version of Bootstrap and features some of the most sought-after features you'd look for in a modern admin template.
It can be a pretty good starting point for people who want to build customized admin dashboards for managing their web-based businesses more efficiently. The layout is inspired by the material design and focuses on minimizing design-related redundancies as much as possible.
35. Stylish Portfolio – Free Bootstrap Template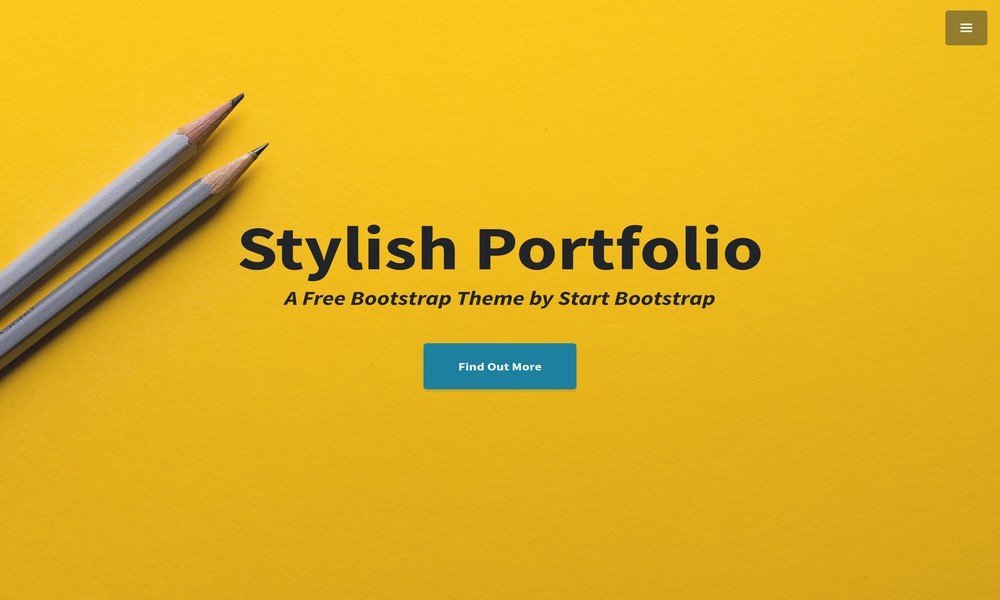 Stylish Portfolio is a beautiful Bootstrap theme aimed at portfolio websites and includes many modern-day features for catching the eyes of your audiences. It is a one-page theme that utilizes canvas navigation and smooth scrolling functionalities to provide an intuitive yet elegant interface for your viewers.
The design consists of two custom button styles and off-canvas navigation with a custom toggle button with an advanced call-to-action section. If you're an artist or a freelancer, this is a pretty great layout that will enable you to showcase your skills to potential customers.
36. eShopper – Free Bootstrap Template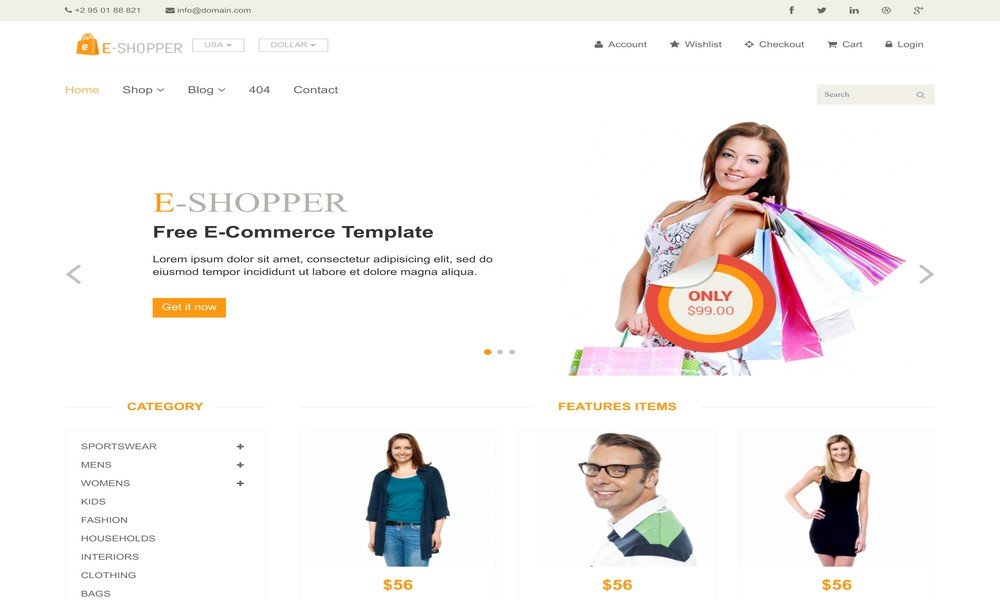 eShopper is an amazing free Bootstrap template for eCommerce owners looking for stable and reliable full-fledged themes. This layout is aimed at making your eCommerce management as easy as you can imagine. Thanks to the plethora of powerful and flexible functionalities eShopper come with, anybody dealing with internet-based businesses can leverage it to manage their businesses effectively.
It features a fully responsive design fueled by a compelling set of modern-day functionalities, including integrated support for eCommerce platforms such as WooCommerce, Magento, and VirtueMart. The contact form is built on top of Ajax and supports dynamic submission.
37. Grayscale – Free Bootstrap Template
Grayscale is arguably one of the best multipurpose Bootstrap layouts we've witnessed for some time. This free and responsive theme features some remarkable features that make it suitable for a diverse range of websites, including portfolios, blogs, and Coming Soon pages for upcoming business products. The layout features a dark tone and is undoubtedly one of the most vivid examples of single-page Bootstrap templates.
Thanks to the proper documentation of SCSS/SASS files, customizing Grayscale is a breeze for even the newest of developers. The top navigation panel collapses smoothly during scrolling and allows for custom button styles.
38. BizPage – Free Bootstrap Template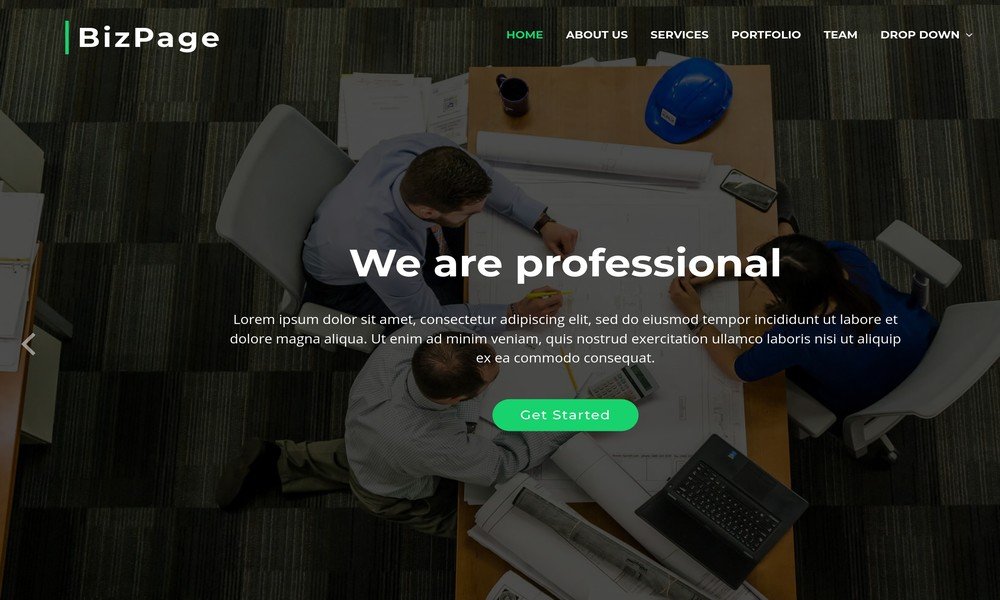 BizPage is an excellent free Bootstrap template developed, keeping specifically business people in mind. It offers a substantial list of exciting features including animated scrolling, an off-canvas mobile menu, lightbox support for portfolios, and many more. It leverages Bootstrap 4 and fits displays of any size, and dimension perfectly.
The one-pager design of this creative Bootstrap template is something we grew sincerely fond of. If you're a new entrepreneur looking for the perfect Bootstrap template to base your business website on, we suggest you take a look at BizPage right now.
39. Clean Blog – Jekyll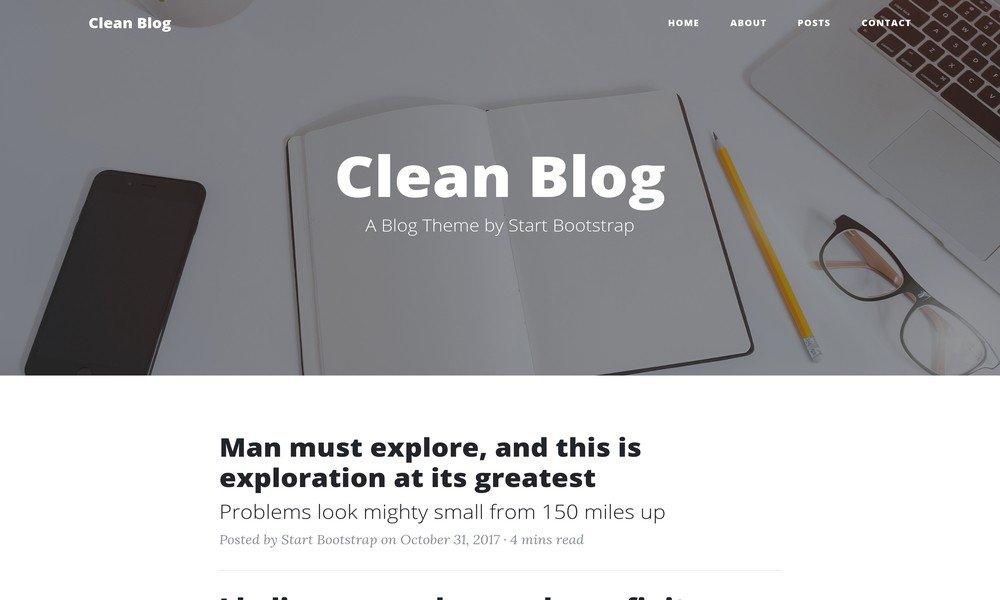 Jekyll has been a huge success since it hit the mainstream market. Clean Blog – Jekyll is a rock-solid free Bootstrap template developed specifically for this innovative static site generator. It features a great list of rewarding functionalities that can cater to the need of modern web-o-philes' pretty quickly. Clean Blog implements a minimal yet eye-pleasing visual that will bring awes to audiences each time they visit your personal blog.
Moreover, it comes with excellent documentation to help you adapt and modify the visuals as you see fit. So, if you utilize Jekyll to power your personal blog, Clean Blog is a must-try for you.
40. Flat Theme Lite – Free Bootstrap Template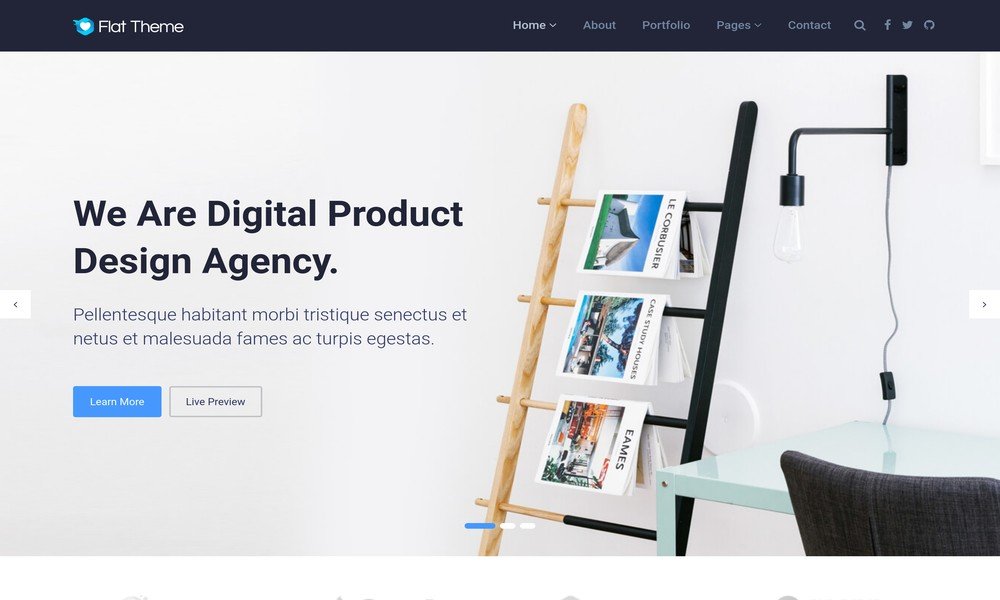 If you are a fan of minimal and lightweight themes, you are going to enjoy this free Bootstrap template very much. Flat Theme Lite is a unique take on futuristic business theme designs and offers quite a comprehensive set of pre-built features that makes it suitable for almost any type of business website.
It features a hundred percent responsive build, with a clean and concise visual appearance that also accelerates its performance to a whole new level. You can also leverage this innovative Bootstrap theme for building personal portfolios, thanks to its integrated support for isotope portfolios, and video-supported sliders.
41. Digital Agency – Free Bootstrap Template
Business owners often look for rewarding free Bootstrap templates that they can use as a base for their corporate website. Digital Agency is one such robust Bootstrap theme that can cater to the need of almost every type of business. It is fully responsive, with extra emphasis on providing a clean yet vibrant visual outlook, which makes it a perfect choice for lovers of minimal template designs.
Digital Agency incorporates a substantial number of animated components that helps your site in engaging more with the audiences. Thanks to its helpful documentation, it's also fairly straightforward to customize this theme as you require.
Learn more about us HERE.