When it comes to new businesses or startups, gaining some traction even before your product hits the market is essential. Most serious companies use some form of pre-advertisement to ensure they have got some keen eyes focused upon them. Use of the Under Construction or Coming Soon HTML template as the landing page has become the foremost tool to help companies reach out to their potential customers in a modern and resource-friendly way. When utilized properly, an innovative simple Under Construction page will allow you to network with future clients, while curating an effective presence on the web.
In this guide, we'll be outlining 20+ of the best Coming Soon HTML page templates you need to check out this year. All of these pages are responsive, so you won't have to worry about missing small-screen devices like smartphones and tablets. On the plus side, you can use any of them for free. So, pick one that suits your company, if things don't work that great, change to another. It's that easy!
Continue Reading to Discover The Best Coming Soon Page for Your Company.
1. Jaximus
Our top pick is Jaximus, a full-fledged Coming Soon template, suited best for software development companies, or other business solution providers. It's the only layout in this list that you can use as a homepage after your service opens to consumers.
With different sections for the about page, and contact page; this template bundles segments for showcasing your achievements, provide a gist of your services, and an exquisite subscription form. Jaximus blends MailChimp integration with its form field, aimed at maximizing potential conversions.
Besides, Jaximus also features the classic countdown timer. It can be revoked after your business launches. Social media connectivities have been ensured through icons located in the right-top corner.
2. Petals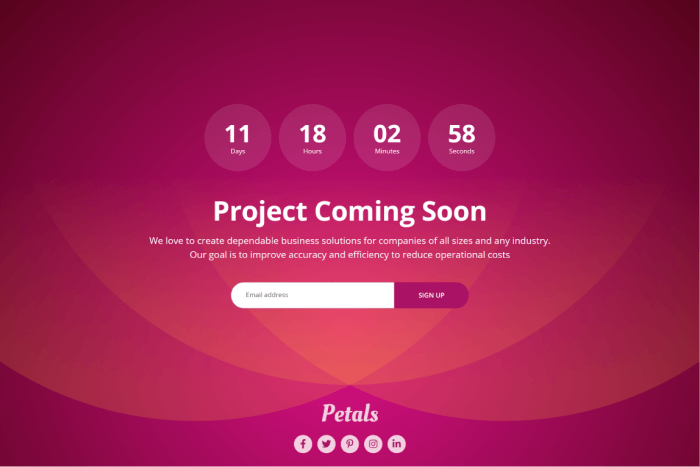 Petals is a Bootstrap 4 HTML Coming Soon Page template for announcing an imminent launch. Examples can be projects like a launch of a website, products, services, online courses, etc. There is an existing count-down timer that is pretty easy to customize. Also, it includes images (colorful background SVG files) from Svgbackgrounds.com. The images will grab your visitors' interest and make sure they draw attention to your message.
Keep in mind that the template is HTML-based where you need good HTML/CSS coding skills. Also, you need to have good image editing knowledge for customization. Here, the forms are interactive, and these should be in perfect order to function correctly.
3. Coming Soon Template by Colorlib V01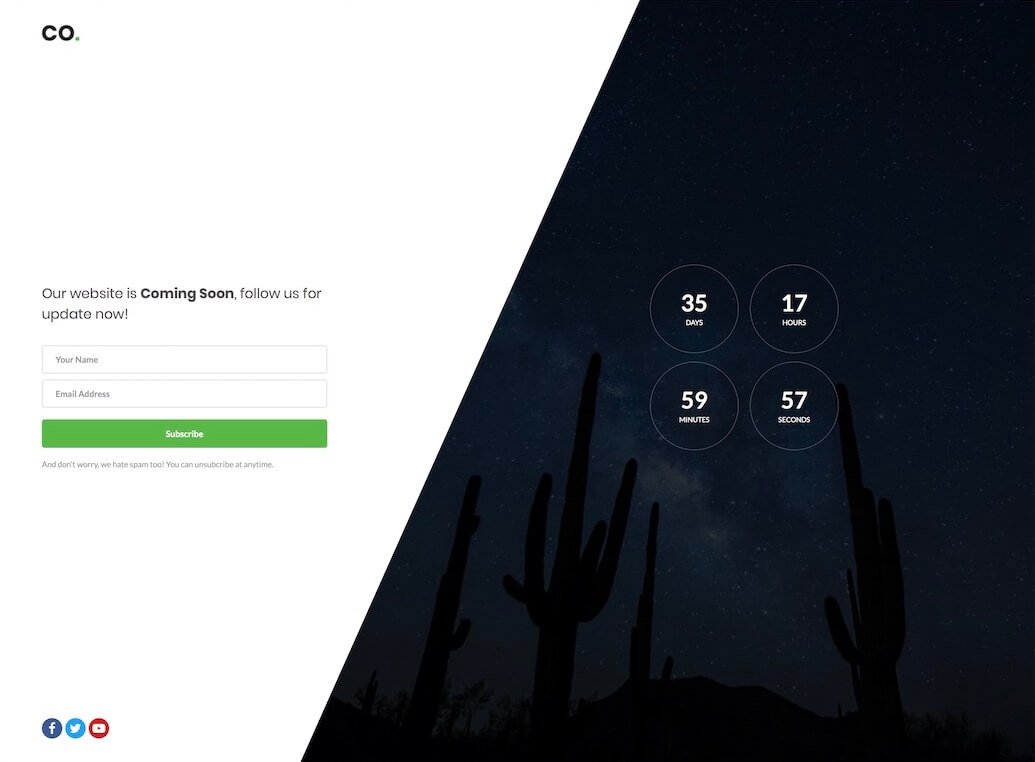 This template utilizes a trapezium-style split-screen, which provides an eye-catching first look with a lot of free space. It's a perfect example of minimal yet modern coming soon layouts. The neat and clean design of this template features an immaculate full-screen-width view.
On the left-hand side of the split, you'll find the subscription form. The tone of the form message is casual, and it gives an excellent impression. At the bottom of this side, there are the social media icons for you to link with.
On the right portion of the divider, this template employs a countdown timer. The design of the timer is classic and consists of two pairs of circular dials. The dials are interactive to mouse hovers and provide a modern animatic vibe.
4. Advent

Advent is a fresh, modern, and well-crafted HTML5 coming soon template. It's the ideal template for informing your visitors about the official website launch. The template includes a countdown timer, a Google map section, an about section where you can add information about your website, and an ajax subscription form that is Mailchimp ready. The template is highly customizable and simple to use.
5. Soon – HTML5 Bootstrap Coming Soon Template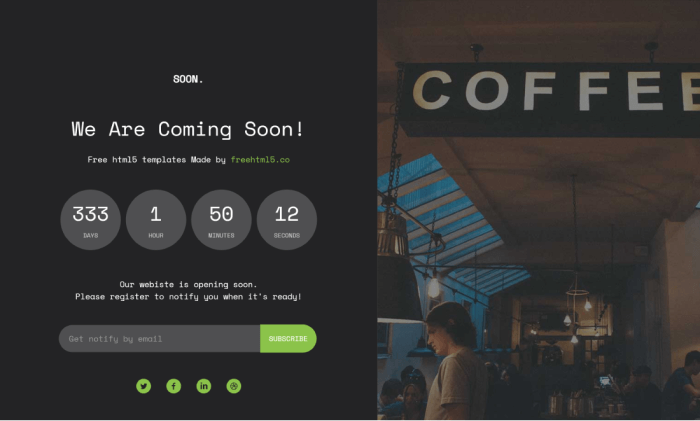 Soon is a free HTML5 Bootstrap Coming Soon page template. When it comes to developing your website before launching it, this template is crucial. It has a countdown feature that allows you to specify an exact launch date for your website. Download and spread the word!
It also has a premium version available. Make sure to check that out too.
Live Preview Download Premium Version Demo
6. Season – HTML Comming Soon Template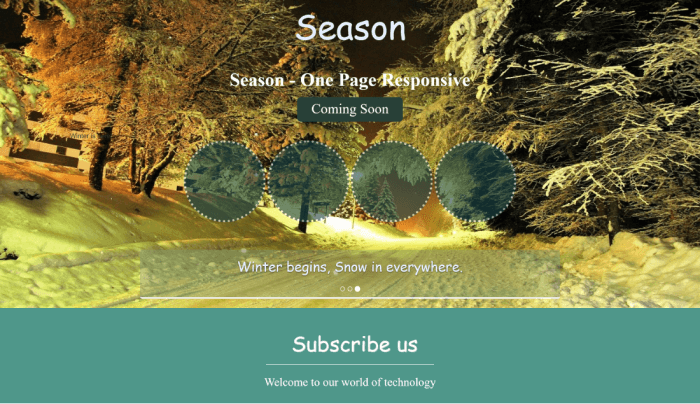 The season is a responsive Coming Soon Bootstrap template that is free to use. Bootstrap 3, HTML5, CSS3, jQuery, and love were used to create this. This is a beautiful coming soon bootstrap template with a responsive design. It has a full-width slider with subtle effects and royalty-free images in the top section. This is a free template that can be used for both personal and commercial purposes.
This HTML5 template is free for personal and commercial use; however, you must keep the ThemeWagon credit link until you donate.
7. Imminent – 3D Parallax HTML5 CSS3 Coming Soon Template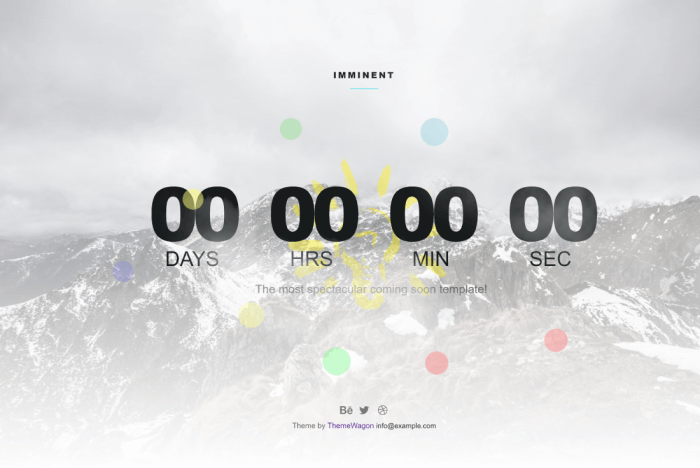 Imminent is a free HTML5 and CSS3-based 3D Parallax Responsive Coming Soon Website Template. There is no free responsive coming soon template with a 3D parallax effect that is as unique and creative as this one! This is a premium responsive coming soon template that we're giving away for free.
Make use of this fantastic 3D Parallax Responsive Coming Soon Landing Page and tell your friends about it!
8. Coming Soon Template by Colorlib V02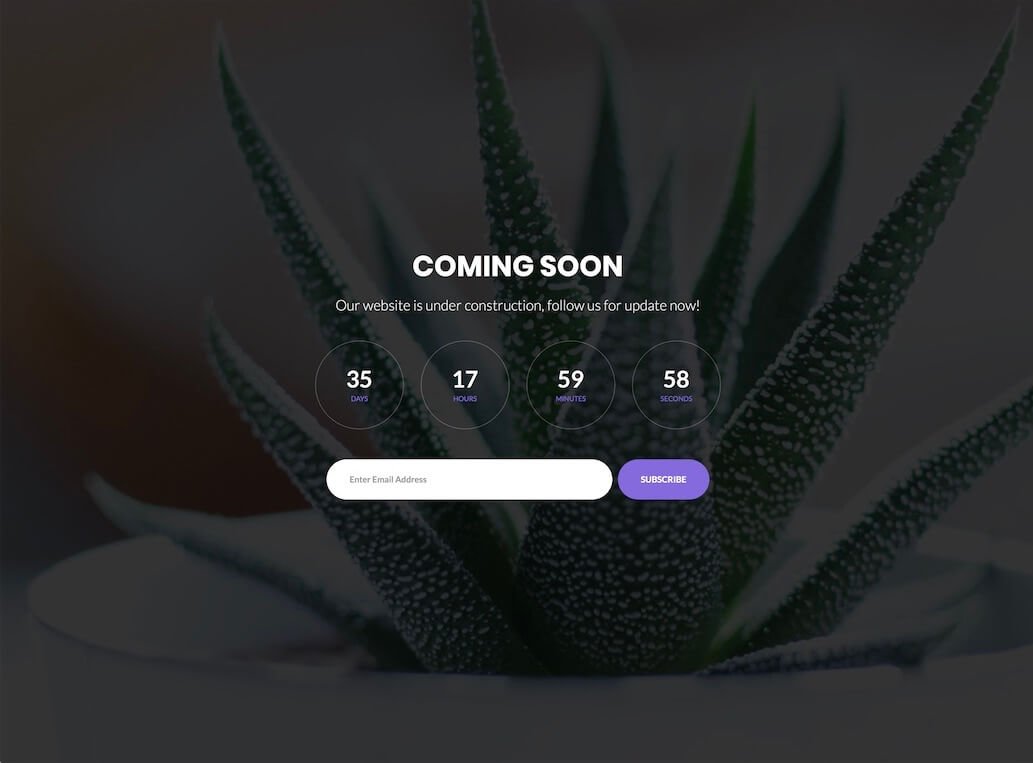 This is an ideal Coming Soon template for newly-founded business enterprises. The primary feature of this layout is its image slideshow. The background images will change after a regular interval and give you an attractive functionality to display essential insights of your startup to your potential customers.
The slideshow feature also makes this template suitable for photographers. You can showcase awe-inspiring photographic elements to hook your viewers. The use of up-to-date HTML5 and CSS3 frameworks will let you personalize the layout and form elements with total ease.
9. Get Ready Template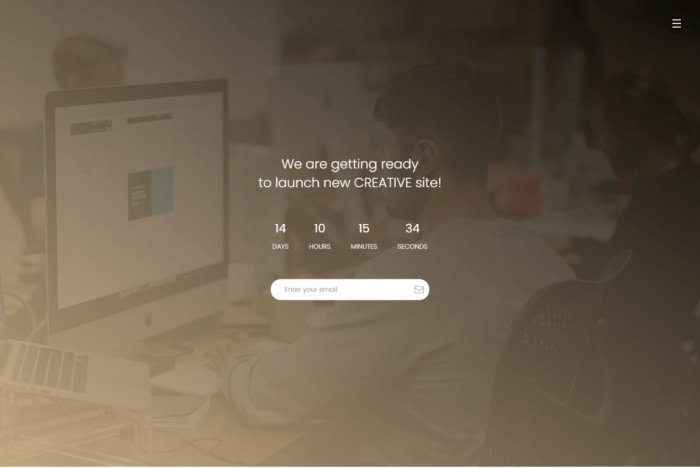 This is an HTML Coming Soon page with a countdown timer and a full-page pop-up main menu. The Zoom Image slider adds to its allure. Anyone can download the Get Ready Template for free. You may download, edit, and use this Get Ready HTML CSS layout for commercial or non-commercial purposes. Spread the word about the Get Ready Template.
10. Coming Soon Template by Colorlib V05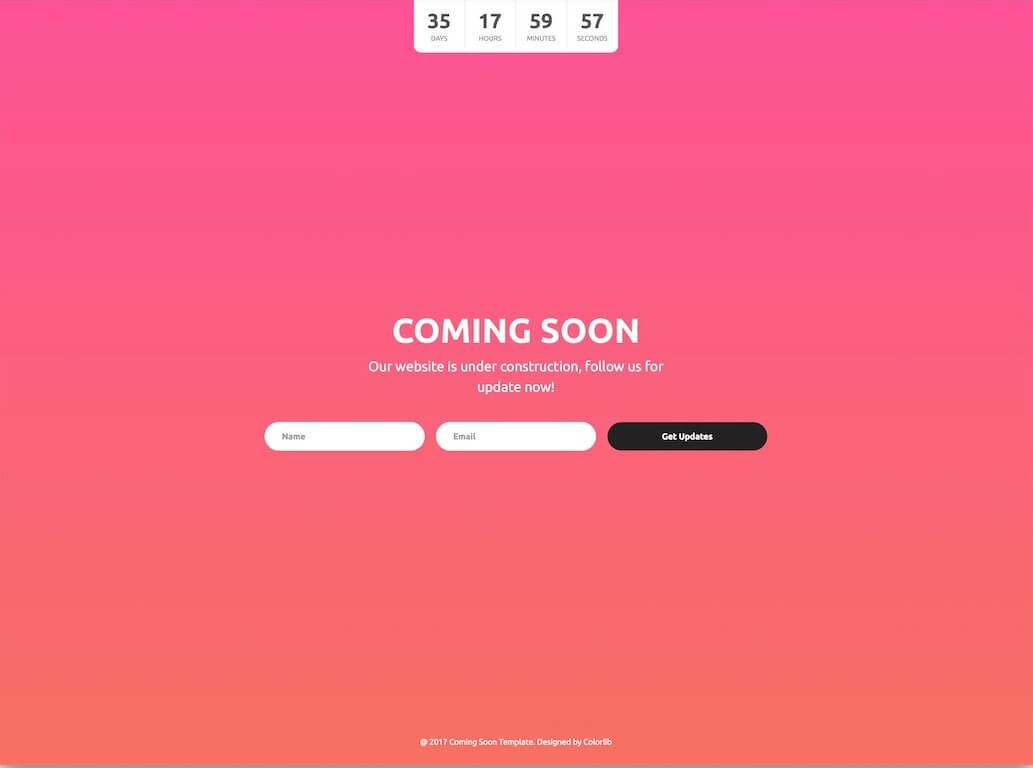 If you own an eCommerce business, you'd likely organize flash sales annually. This is a perfect layout for these types of needs. You can use it as a landing page for upcoming apps from your startups.
It utilizes a modern vibrant pink Coming Soon page, with a digital timer. The form is minimal yet proficient and uses a mouse-hover effect for proactive user interaction. You'd not receive invalidated user data as the form validates them for you. You can customize the background easily and change the color or set up an image according to your liking.
11. Alive – Responsive HTML Coming Soon Template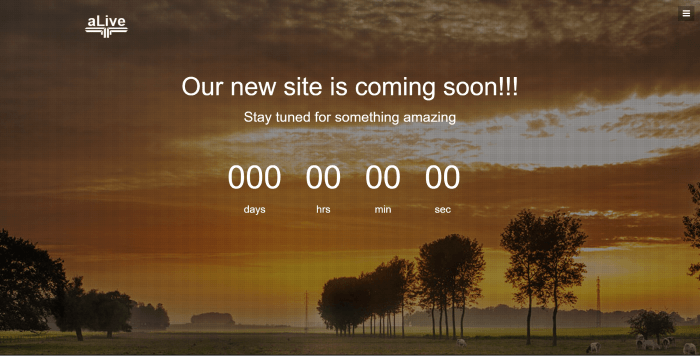 Alive is a Bootstrap 3.2.0 minimal, responsive business coming soon / landing page / one page HTML5 template. This Coming Soon HTML template is clean and fast, multipurpose, and easy to customize. It includes a Services and Contact form, more than 400 Font Awesome icons, custom backgrounds, and much more.
12. Coming Soon Template by Colorlib V06
It is another example of a generic yet eye-catching Under Construction page. It suits the best travel and tourism niches and, you can easily customize it by changing images and color gradients.
The timer uses a splendid card-flipping animation that makes it one of our favorite countdown timers. The newsletter is sublime and resides on the right-hand side. You have the option of integrating your social media accounts with this template.
13. Coming Soon Template by Colorlib V07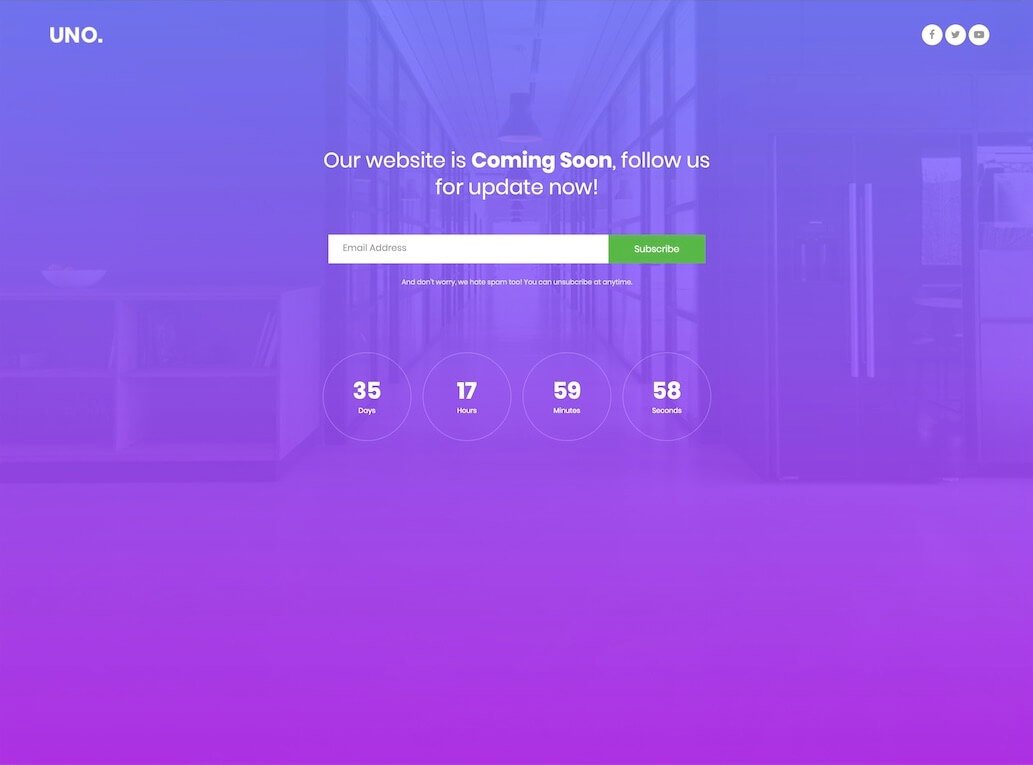 When waiting for your product to hit the market, you need to emphasize getting enough user emails. With the right emails, you can significantly increase your conversion rates in no time.
The above template tries to exploit this idea to its advantage. It features a simple yet supreme design. A lot of white space, to provide a smooth user experience. The color palettes here are genuinely amazing, and users would be tempted to leave behind their emails.
14. Coming Soon Template by Colorlib V09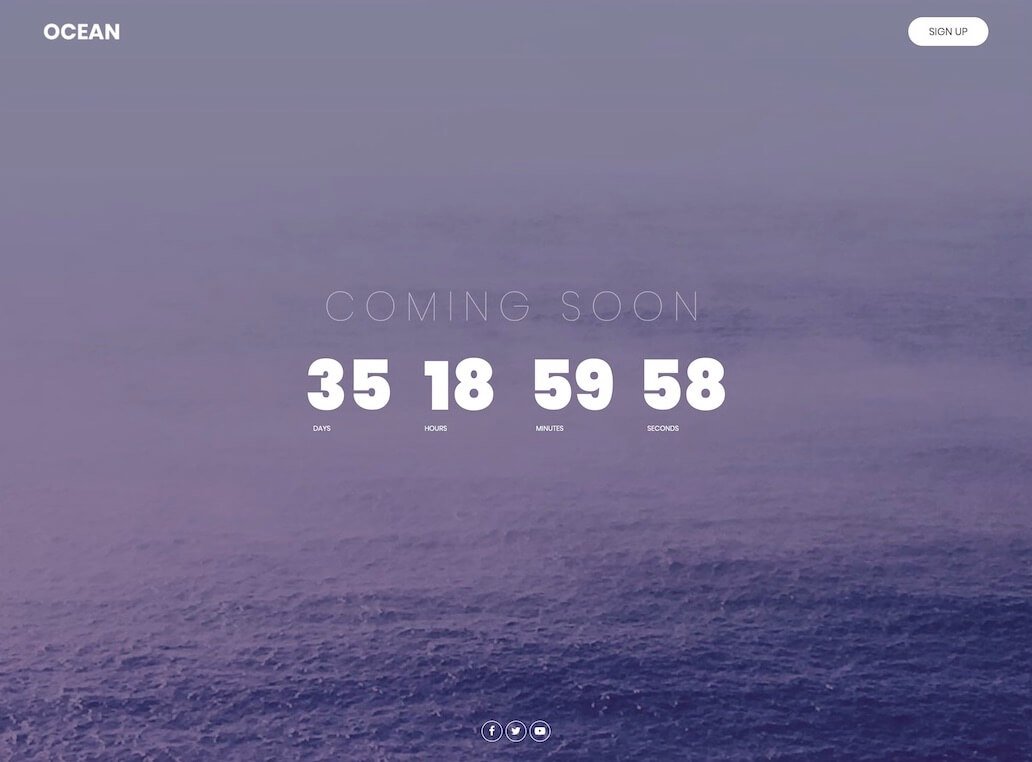 It is yet another template that relies heavily on image slideshows. It's very minimal, and apart from the image slides and digital timer, you won't get many elements to customize.
The lack of form fields establishes the notion that this layout is not intended for the marketing of your products. Instead, it can be correctly utilized when your site is under maintenance, or you're trying to bring the latest updates.
15. HTML5 Coming Soon Template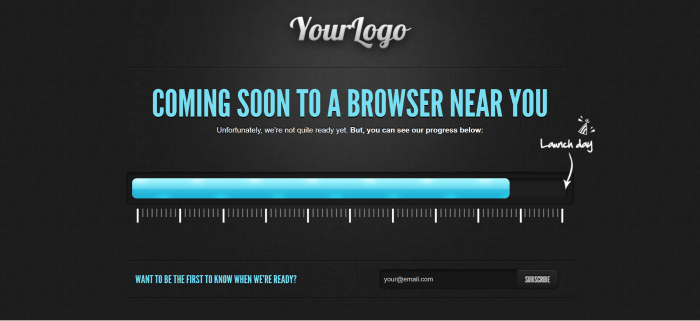 This HTML5 + CSS3 "Coming Soon" template was designed to act as a placeholder web page while a client's or your website is being developed. It allows you to update the template with your project's progress so far, as well as count down to the launch date. It conveys progress information to users who visit your site before it is ready using a beautiful progress bar and status indicator.
For gracefully degrading styles, this template employs HTML5 and CSS3. IE7/8/9, Firefox, Chrome, and Opera have all been tested cross-browser. All of the codings are elegant and straightforward, making design tweaks and customizations a breeze!
16. Coming Soon Template by Colorlib V14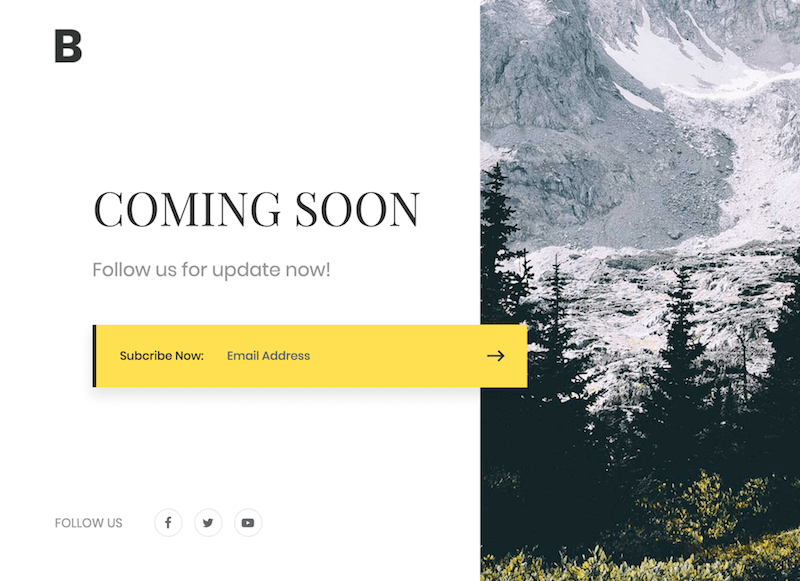 If you're a travel and tourism organization, then this template can be the perfect coming soon HTML page for you. What we like most about this particular layout is its use of high-quality fonts, with sublime blank spaces.
Although it doesn't feature a countdown timer, the form field design is wise, and the social media icons allow your customers to link with your social media at ease.
17. Coming Soon Template by Colorlib V16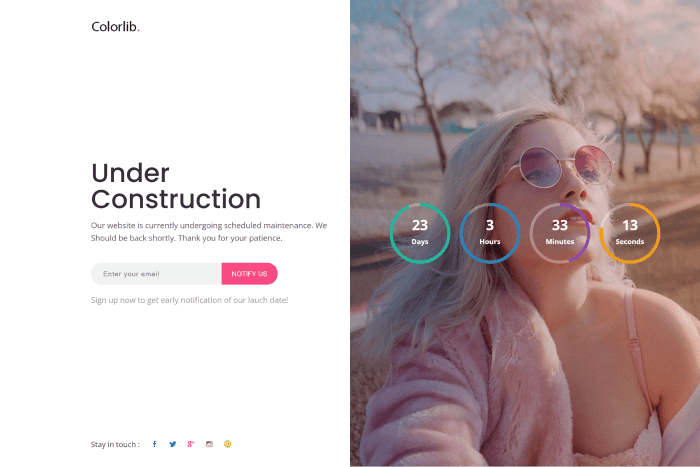 It can be the perfect pre-launch page for online fashion stores. This template features a static image on the right-hand side, and the left portion is for blending texts and notices.
The timer sits on top of the image and is one of the most elegant on this list. Its colored rings fill according to the remaining time. The subscription form is materialistic, and the social media icons allow your customers to follow your organization on several platforms.
18. Coming Soon Template by Colorlib V17
This template is identical to the previous one concerning design ideology. The images and texts portions are tweaked to give you the choice of choosing the appropriate one according to your personal opinion.
The timer is slightly different from the earlier version. However, the form fields and social media icons accommodate the same philosophy. It's for professionals and aims at providing a neat and clean pre-launch page.
19. Coming Soon Html Template by Colorlib V19
This pick of our list will be best for personal websites or celebrity blogs. It's the only pre-launch template that solely emphasizes a dark tone, which gives them a different outlook among all those white-space heavy coming soon pages.
A static image on the left side and a form field with notices on the right-hand side are featured in this layout. It's also free from timers, which some people tend to find a bit common. The social media icons resemble a rich visual treat.
20. Matrix – HTML5 Responsive Coming Soon Page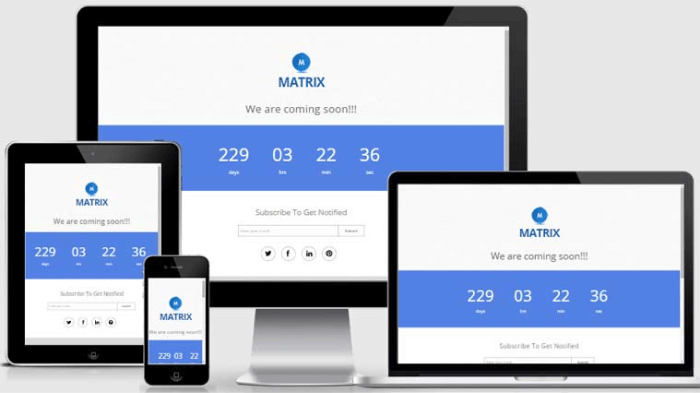 Matrix is an HTML5 Coming Soon page template. It is modern and flat looking. Also, it feels clean in design. It has a responsive web compatible with multiple devices. It includes an unlimited number of background colors and patterns.
Moreover, the countdown is by a custom jQuery plugin. To achieve that, you just need to enter your launch date into the script. This theme is ideal for your upcoming projects. However, there is a problem with accessing the live preview.
21. Coming Soon Page
Do you intend to create a landing page or a coming soon HTML template for a project that is still in the works? Please take a look at this free Coming Soon template. It's a free HTML Coming Soon page that comes in two different layouts. Both layouts feature appealing background images, social media icons, and a lovely design.
It is also has a premium version available. Take a look at that as well!
Live Preview Download Premium Version
Wrapping Up
These are the best free and responsive Coming Soon pages according to our editors, who've gone through all the popular and even some unorthodox options currently available. You should choose one that suits your niche best, and provide the perfect mechanism for bringing in future clients. We found our top pick Jaximus, to be effective for both short and long-term usage. Other viable options can also be beneficial, given they're here for the right services.
You Might Also Like These Products
Uko UI – Free Figma Dashboards & Design System
AatroX Vue Lite – Open source VueJS 3 & TailwindCss Admin Dashboard Template
MatX React Material Dashboard – Free React Material UI admin dashboard