If you are a developer looking for the new Svelte template. Look no further! In this blog post, we will showcase to you some of the most considerable Svelte templates that you must check out in 2023.
Best Svelte Templates
So, without further ado! Let's jump directly into the listicle and find out the best suitable ones for your next Svelte project.
1. Skote – Svelte Admin & Dashboard Template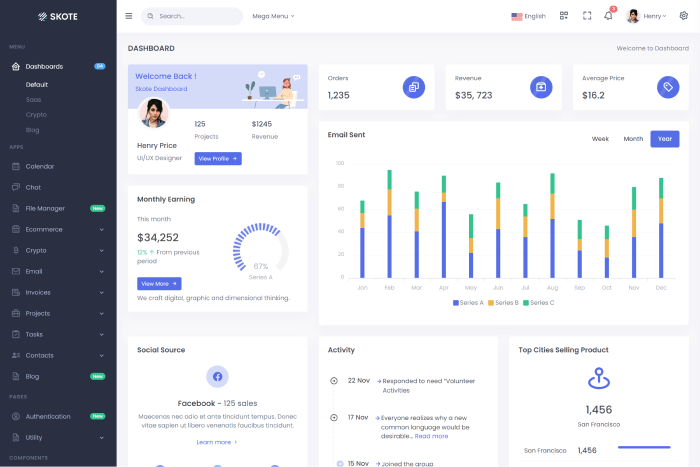 Skote – A premium Svelte admin dashboard template with Bootstrap 5, firebase, and multi-language supports. It offers an amazing codebase, Sketch, Figma & XD files, and has No jQuery.
Moreover, the template has both dark & light layouts, RTL support, responsive design, six different layouts, various widgets, components, applications, and more. If you are looking for an admin template to create your next web apps like Saas interface, eCommerce, CMS, CRM, PM app, and admin panel, Skote is a good option.
More Info / Download Live Preview
2. Globing – Svelte Landing Page Template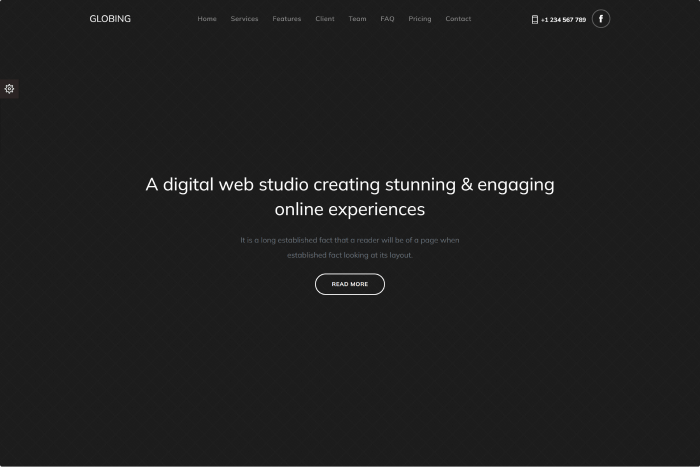 Globing is a Responsive Bootstrap 5, Vite JavaScript Landing Page Template with Svelte Vite that comes in different layouts and is suitable for any device. It has several flexible and adaptable components. You may quickly tweak it thanks to the clean and well-commented code.
Besides, it offers 12 different layouts, No jQuery dependency, numerous color options, clean code, easy customization, cross-browser support, and more.
More Info / Download Live Preview
3. Dorsin – Svelte Template Landing Page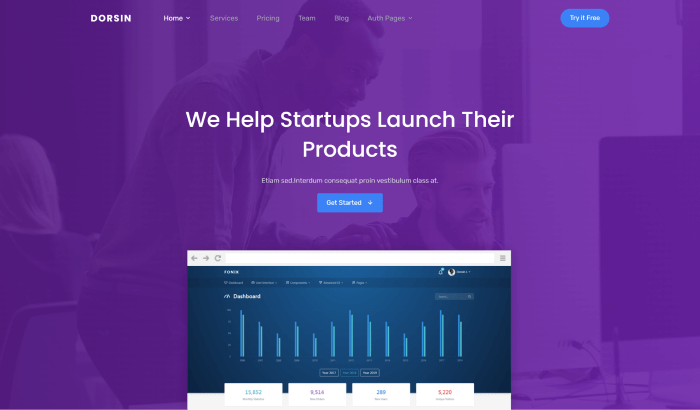 Dorsin – Another responsive premium landing page template in the Svelte version with various layouts. It is a well-suitable template for any device and contains highly configurable components with a clean and well-documented codebase. Also, it allows you to customize the complete template with ease.
So, it has nine different home page variations, No jQuery dependencies, font icons, unlimited color options, Google Fonts, cross-browser support, tech support, etc.
More Info / Download Live Preview
4. Hiric – Svelte Landing Page Template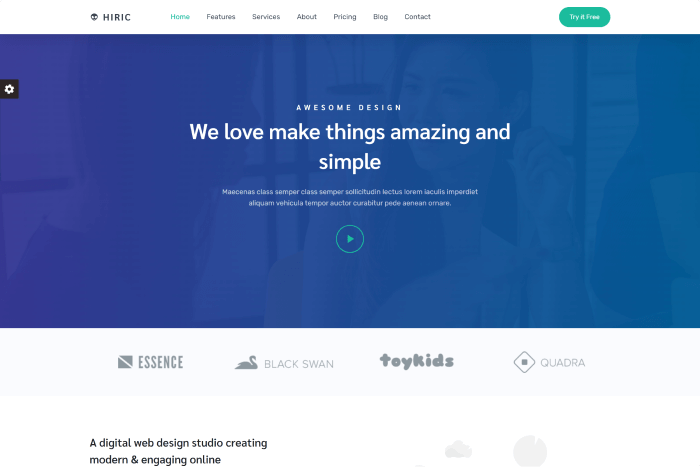 The hiric app landing page is the ideal Svelte design for showcasing apps. It is simple to customize and has very little CSS code that is simple to comprehend, change, and use.
The template is appropriate for anyone seeking an app like a creative app, landing page, mobile app showcase, app store, etc. It also has nine different home pages, no jQuery, a clean and modern design, documentation, technical support, and free upgrades, among other things.
More Info / Download Live Preview
5. Crypo – Cryptocurrency Trading Dashboard Svelte App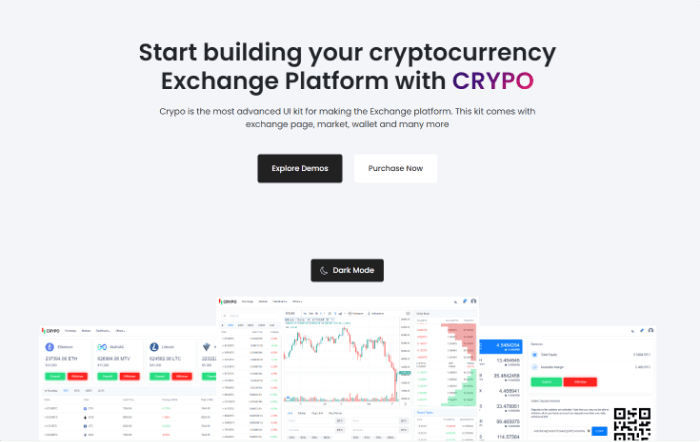 CRYPO is a Svelte Bootstrap 5 responsive cryptocurrency trading dashboard. The template's main aim is to provide a lot of well-coded components. You can use these components to build your next cryptocurrency or money exchange platform.
Some of its key features are,
Live Exchange
Charts
Deposit & Withdraw
Buy & Sell
Coin Listing
Light & Dark Version of Exchange
SCSS File
Login Registration Pages
W3C Validated Code
Modern Browser Support
Retina Ready
Manage Wallets
Market Capitalization
Trade History
Great Support 24/7
etc.
More Info / Download Live Preview
6. SB Admin Svelte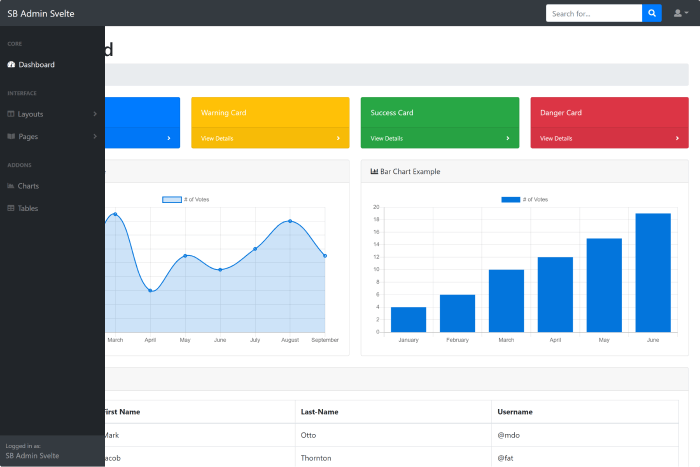 SB Admin Lite is an open-source admin template that is free & open-source. It's made of Svelte and Sveltestrap. The template includes a simple dashboard with multiple components, layouts, authentication and error pages, charts, and tables, among other things. If you're seeking a free template to learn more about 'How Svelte Admin Dashboard Works,' you may certainly download and run it.
More Info / Download Live Preview
7. Argon Dashboard Pro Svelte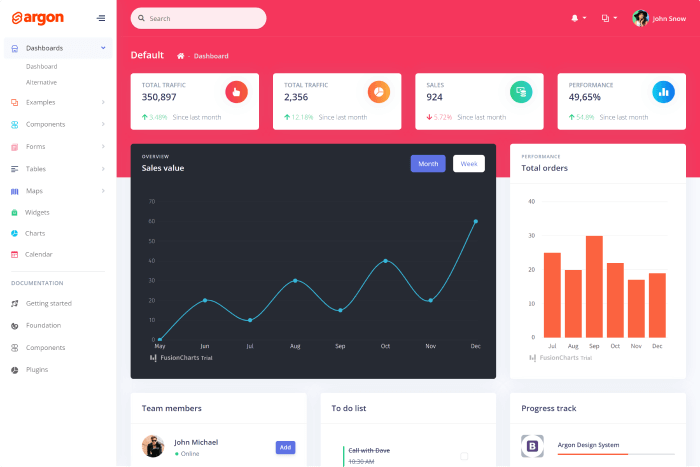 Argon Svelte is a stunning premium Bootstrap 4 dashboard. Throughout the HTML templates in the set, it expertly combines reusable HTML and modular CSS with modern styling and attractive markup. And it will astound you with its fantastic features and build tools, propelling your project to new heights.
Furthermore, it provides several layouts, color options, light and dark themes, charts, widgets, programs, tech support, free updates, and much more.
More Info / Download Live Preview
Wrapping Up
There aren't many Svelte templates available right now. Although Svelte is not as popular as other frameworks, we can't dismiss it entirely. Also, it is new and modern, therefore it will be in demand sooner or later. We've gathered some of the accessible svelte templates here so you don't have to hunt everywhere. We hope you enjoy this selection.
Similar Blog Posts