Are you looking for some of the best free VueJS admin dashboard templates? Look! In this blog, we will give you a list of the best of them from 2022.
Admin dashboards are advantageous to any company. A Vue dashboard allows you to easily see how your company is performing. You may, for example, easily monitor and measure performance and metrics in real-time. Furthermore, it will help you build your business without spending time.
These new free templates include the ability to configure your dashboard. With all of the necessities. So, instead of wasting time creating your own, check out these free ones and get started on your next out-of-the-box admin dashboard.
Best Free VueJS Admin Templates
Please keep in mind, the following list is not in any particular order.
1. AatroX Vue Lite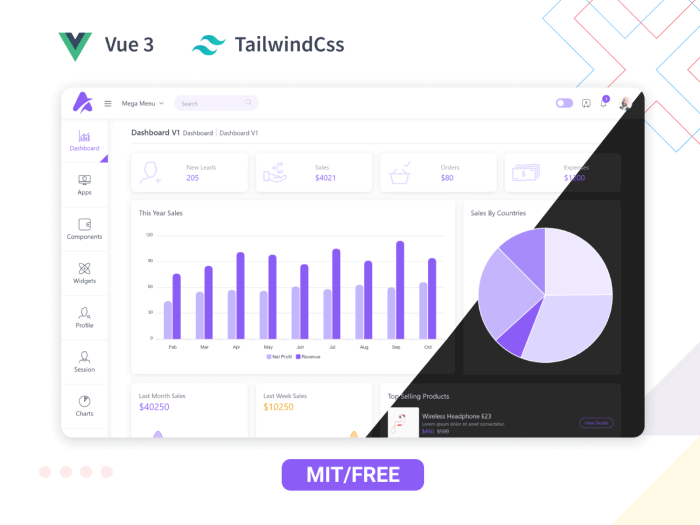 Aatrox is a highly customizable admin dashboard design that is easy to use. It has everything you're looking for in a template. The template follows the highest industry standards with regular updates. And, it is to give you the best Vue Admin template.
It is quick and easy to use, as well as highly scalable. As a result, with a little effort, you will be able to create whatever application you desire.
Moreover, you can build any web apps like CRM Systems, eCommerce Backends, Analytics Apps, and SaaS Platforms. Project Management App, Education Apps, etc.
Some of its amazing features are:
Beautifully Crafted
Well Organized
Production Ready
Accessible frontend routing
Clean Code
More Info / Download Live Preview Premium Version
2. ArchitectUI – Free Vue Admin Dashboard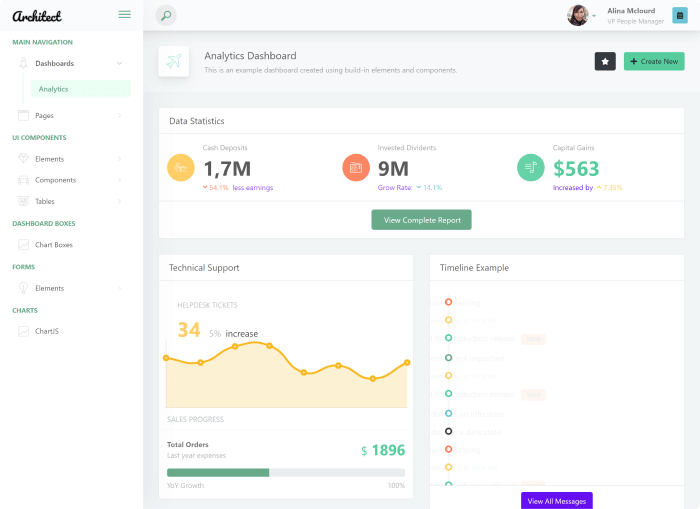 ArchitectUI Vue is a free admin template. It is an admin dashboard template made with Vue 3 and Bootstrap 5. Moreover, it comes with 15 Vue widgets and components that work together flawlessly. And, one of its priorities is to create a universal design language.
To utilize this Vue template, you just need the least basic coding knowledge. Don't worry, the template features simple coding and relies on Vue Router for navigation links.
More Info / Download Live Preview
3. Vue Material Dashboard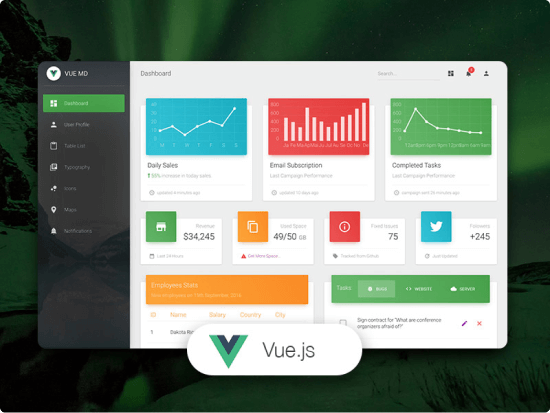 Vue Material Dashboard is another cool admin template built with Vue Material and VueJS. If you want to quickly begin with your dashboard development, this simply can make that happen. It is simple to use. However, to use this at first, you will need to have a good understanding of Javascript, Vuejs, and Vue Router.
The templates offer you 16 components, 7 examples, 2 plugins, and more with which you can create your dashboard. The fun part is that it allows you to change the background image of the sidebar and also the color options are available there.
More Info / Download Live Preview
4. Vuestic Admin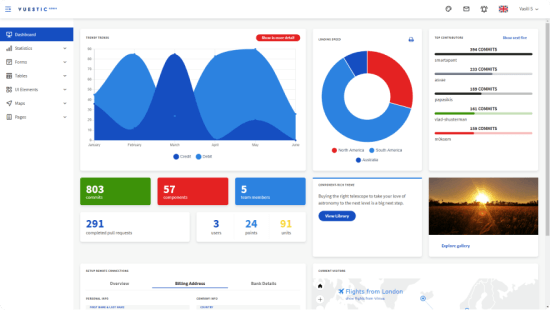 Vuestic Admin is another fantastic, fully responsive admin dashboard template built with VueJS and Bootstrap 4. It boasts a stylish and appealing design with a fresh green color palette. This VueJS admin template is free and includes 36 elements, 18 pages, and 18 custom font icons.
Moreover, these parts have a simple but effective design. Forms, form wizards, UI elements, chat, tables, charts, notifications, icons, progress bars, maps, and more are among the notable features.
More Info / Download Live Preview
5. MaterialPro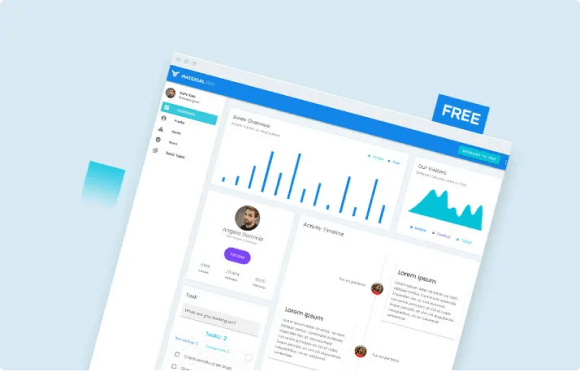 MaterialPro Lite is a simple template. However, it works well for generating a useful admin dashboard. It is perfect for anyone seeking simplicity and minimalism in a free VueJS admin template. The bundle includes a variety of useful items, such as a dashboard design and over ten inner page layouts, as well as 10 UI components, Material icons, and four integrated plugins. Every MaterialPro user also receives free updates for the rest of their lives.
More Info / Download Live Preview
6. Admin One – Vue Tailwind Template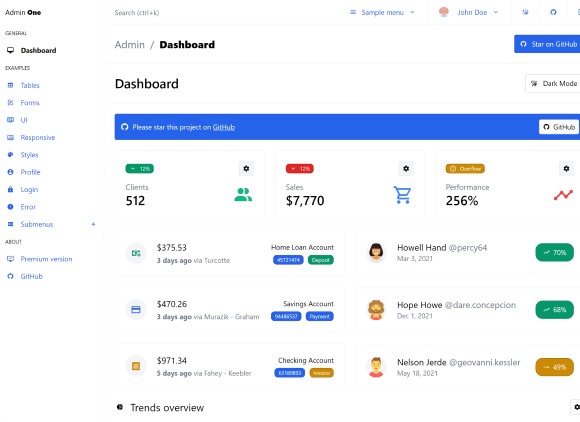 Tailwind 3.x admin dashboard template with free Vue.js 3.x Support. Vite and Vue CLI are supported. There is Laravel integration available. It's incredibly adaptable and simple to use for your projects. Furthermore, because it is responsive, you may use it on a variety of devices. It works well with a wide range of screen resolutions, from small mobile devices to PCs.
More Info / Download Live Preview
7. Xtreme Bootstrap Vue Admin Lite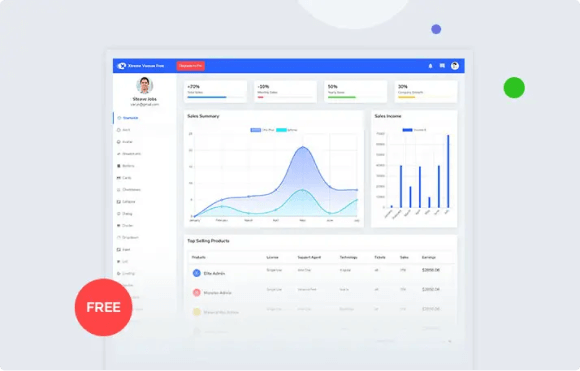 Xtreme is a Bootstrap Vue Admin Lite template that has a clean and modern approach to it. For a variety of reasons, you can choose this free template. For instance, it gives of all the basic features, it can accommodate you a variety of goals, also it allows you to instantly take of care of the admin panel. Moreover, it is a well-responsive template with a very minimal outlook.
More Info / Download Live Preview
8. Monster Vue Bootstrap Admin Lite
Monster Bootstrap can be one of your go-to solutions for a very simple dashboard. the basic dashboard has a free admin template bundle that is well designed. Remember it lacks some of the capabilities offered in paid items in this category.
However, Monster Bootstrap includes more than 11 templates as well as 7 UI components to get you started. This template's premium edition definitely includes more features. As a result, you have the option of upgrading to the premium version whenever you are pleased with the features of the free version.
More Info / Download Live Preview
9. Core UI – Vue Admin Template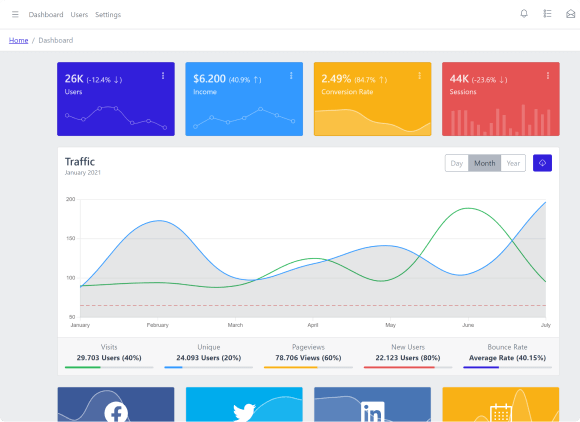 CoreUI is a well-known beautiful free Vue Bootstrap admin template. It can help you to create an amazing UI. The template is open-source yet it contains over 50 ready-to-use customizable UI components. Thus, the development process will take less time than usual.
Moreover, it has other useful components, widgets, charts, tables, forms, etc, so that you can run your dashboard properly. However, if you are not satisfied with what the free version has to offer, you can for sure scale up to the premium version and unleash more features to fill you up.
More Info / Download Live Preview
10. Vue Notus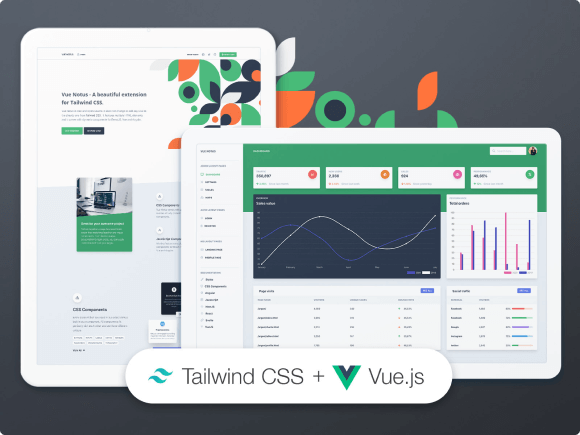 Vue Notus is another awesome free VueJS admin template that provides a ton of helpful information. First and foremost, Vue Notus has a full UI kit as well as an admin panel, allowing you to develop the entire project, front- and back-end, with this tool. The design is likewise contemporary and basic, ensuring that everyone enjoys browsing through the data.
More Info / Download Live Preview
Conclusion
Finally, it appears that your quest for the best free VueJS admin templates is over. If you require a greater variety of functionality, go with the premium versions of the same templates. They all have high-quality code and lifetime updates. These also grant access to all premium UI kits, components, and elements that can be changed.
Thank you for your time.
About UI-Lib
UI-Lib is a template and web application development company. We attempt to make the lives of programmers easier. In minutes, you can create full-stack applications by using our templates. Furthermore, our staff has extensive experience and a proven track record in JavaScript engineering. We're all about delivering services that make coders' lives easier by streamlining and modernizing them.