If you're looking for Free & Premium Tailwind CSS Themes & Templates, we're here to help you. In this blog, you're about to find out the market's most impressive open-source & premium Tailwind CSS Themes & Templates for 2022.
Customizing and styling your web project is a lot of hassle and costly. So, buying or downloading a free or open-source Tailwind CSS theme or template might save you from a lot of unwanted risks. It is because templates come with a ton of in-built features and facilities such as responsiveness, smooth UX, various pre-built applications (to-do, calendar, etc.), clean code, well documentation, long-term technical support, and so on. Therefore, for those who are looking for a faster result and a cost-effective approach, buying Tailwind CSS themes or templates could be the best decision for your projects.
The Tailwind CSS framework allows you to customize and style your web project in the shortest amount of time possible. However, the results appear to show that you put a lot of time & effort into it. With its powerful theme customization, it's undeniably a fantastic framework.
Best Tailwind CSS Themes & Templates
Without further ado! Let's take a look at the best Tailwind CSS Themes & Templates in 2022. Please keep in mind that the list is in no particular order. So, you can undoubtedly try any of these themes or templates. Although, with the free and open-source templates you'll have community support, but the premium ones are way better in terms of features, functionality, and support.
Aatrox – TailwindCSS Admin Dashboard Template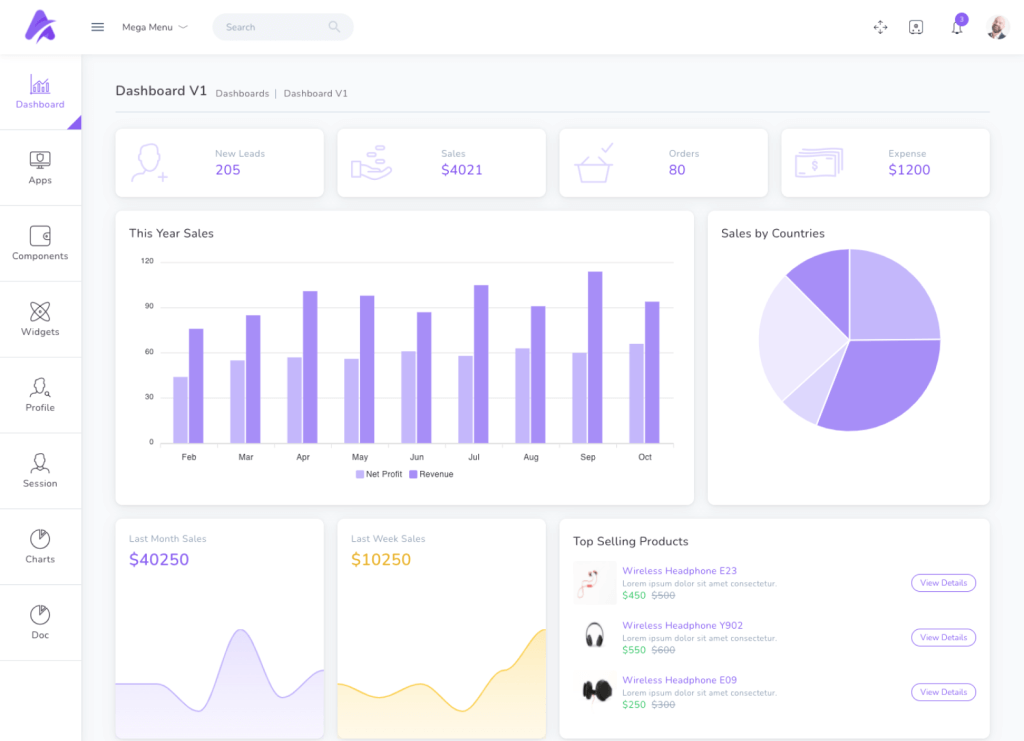 Aatrox – A Tailwind CSS 2 Admin Template with Laravel by UI-Lib. Although, Aatrox comes in three different versions. However, we have chosen this version for our today's list. The template has some beautiful dashboard examples with features that are very useful for Admins. Some of its features for admins are accounting software, project management, chat, calendar, charts, Inbox, Chat, Data tables, form layouts, todo, invoice, eCommerce backends, CMS, CRM, ERP, or SAAS.
Moreover, for the developers, it has features such as full SASS support, HTML5, CSS3, JavaScript plugins, Gulp, Babel, BrowserSync, etc. It has NO JQuery, easy-to-customize options, and a fully modern design approach with a minimal outlook. Besides, it offers RTL, and LTR options with Dark & Light Themes. So, definitely make sure to check out.
Details / Download Live Preview
Bostami – Tailwind CSS Personal Portfolio React Template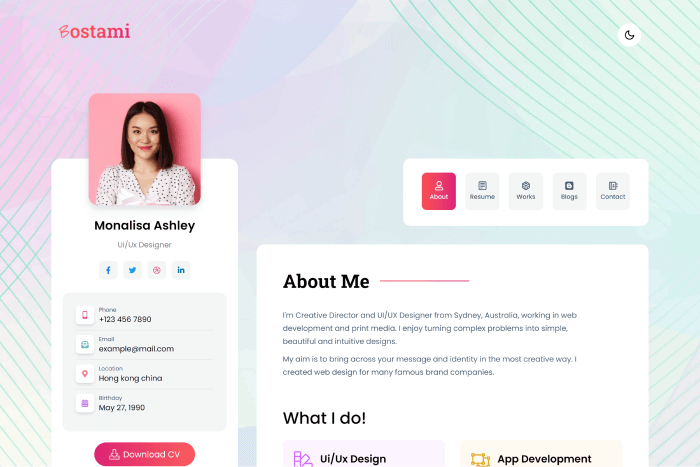 There are numerous uses for the Bostami Personal Portfolio Tailwind CSS React Template. It has a unique, simple, and elegant design. And, it will be perfect for professionals from different skill backgrounds.
For example, designers, developers, specialists, content writers, teachers, photographers, freelancers, software engineers, and other professionals who wish to showcase their work in a digital format will be great. Besides, the template is 100% responsive and lightning fast, thanks to the use of the most recent versions of React and Tailwind.
Details / Download Live Preview
Amiso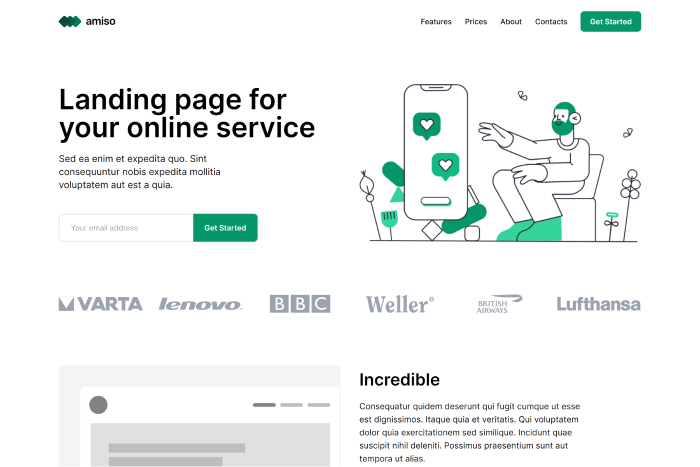 Amiso is an elegant landing page template for promoting your online and consulting services with simplicity and ease. It has a lot of pre-built components that are going to get you up and running very quickly. Also, it will allow you to focus on improving your service rather than showcasing only a bunch of technical details.
Details / Download Live Preview
Mosaic Lite – React Tailwind CSS Admin Template (FREE)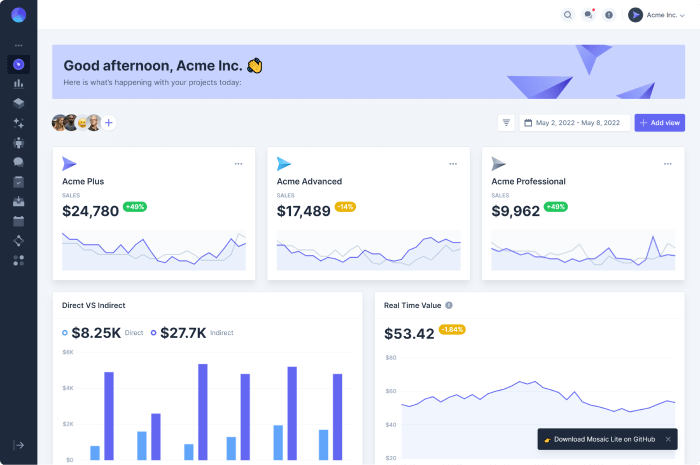 Mosaic Lite is a free and open-source responsive dashboard template built with TailwindCSS by Cruip.com. It is entirely written in React.js. The template includes a number of charts (Chart.js 3) and widgets. Besides, it's an excellent starting point for anyone looking to create a user interface for SaaS products, administrator dashboards, modern web apps, and so on.
Details / Download Live Preview
Techwind – Tailwind CSS Multipurpose Landing Page Template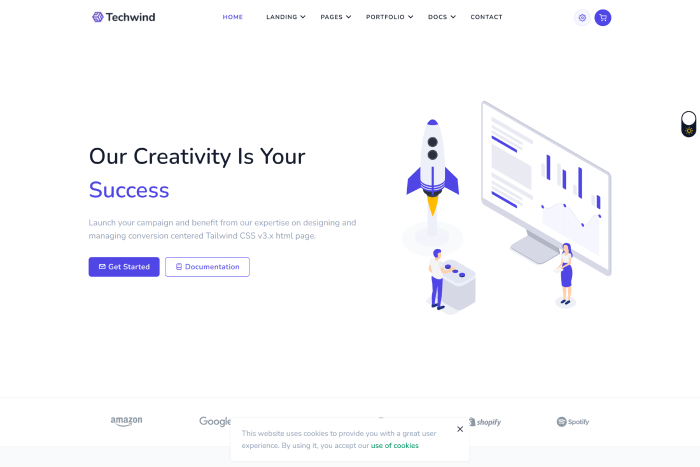 Techwind – A Tailwind CSS Multipurpose App, Saas & Software Landing Page Template. It is built using Gulp.js, Yarn Packages, HTML5, and Tailwind CSS v3.x. Moreover, it is perfect for any startup, cloud hosting, company, corporate, single product, portfolio, SaaS, SMM, digital marketing/agency, email templates, marketing, agency, etc.
It features a modern design approach and is a completely responsive template with an excellent user experience (UX). Additionally, its components can be combined and customized with other components pretty easily. Both the light and dark variants are included with the template.
Details / Download Live Preview
Yeti – Tailwind CSS Admin Template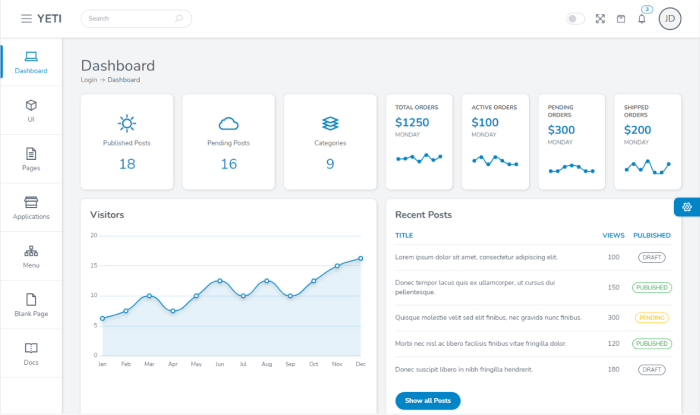 For developers, the Yeti Tailwind CSS template was created with simplicity in mind. Every page and app can meet the needs of any admin or online app. All the JavaScript functions in Vanilla.js. Some of Yeti's exciting features are Dark mode, RTL support, a ton of color themes, eight font combinations, multiple layouts, custom UI components, and so on.
Details / Download Live Preview
Fuse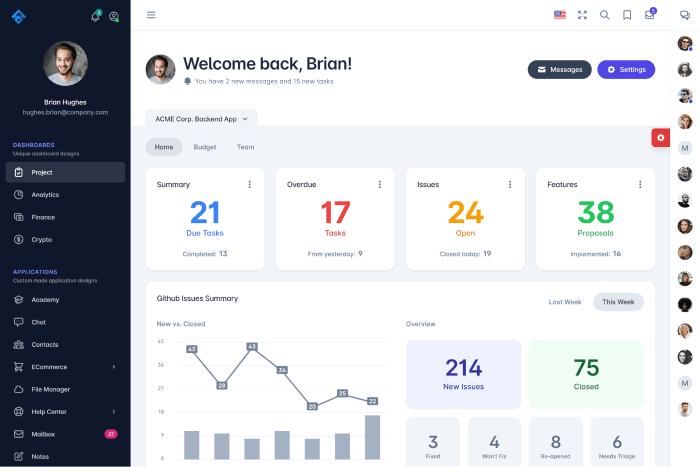 Fuse is a popular admin template that comes with a lot of different technologies & frameworks. In today's selection, we've picked up the Angular 14+ Tailwind CSS version. The template has custom application and page layouts, UI elements, and UX best practices.
It allows you to enable multiple template layouts without affecting the template's overall structure. You can use a different layout for each route. Among its many amazing features, its number of pre-built applications and various pages are surely going to make your day.
Details / Download Live Preview
Midone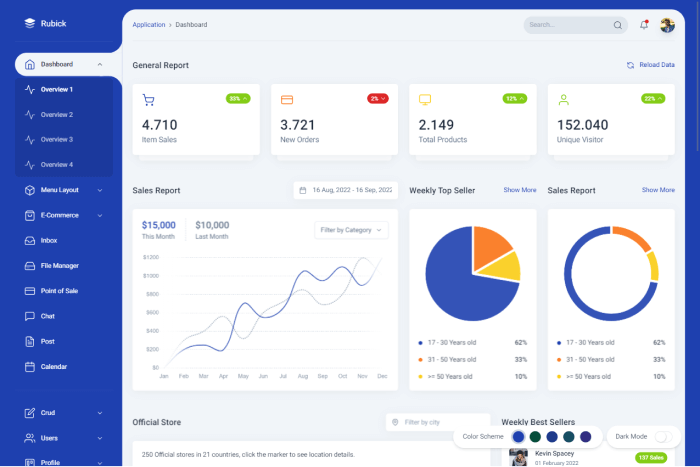 The responsive admin template Midone uses the TailwindCSS 3+ utility-first CSS framework. Midone is among the top products on the market if you're a developer seeking an admin dashboard with pre-made Tailwind components that is also developer-friendly and highly customizable. The UI elements of the template will be simple to customize without leaving the HTML code, even if you are unfamiliar with the framework.
It is a distinctive, cutting-edge, and adaptable dashboard template to create backend applications, information systems, CRMs, or even to launch a brand-new, easy project and get acquainted with TailwindCSS. React 18+, Tailwind CSS 3, 50+ pages, different layouts, a large number of pre-built applications, Vite2, Recoil, PostCss, etc. are among its most helpful features.
Details / Download Live Preview
Windmill – Tailwind CSS Dashboard (FREE)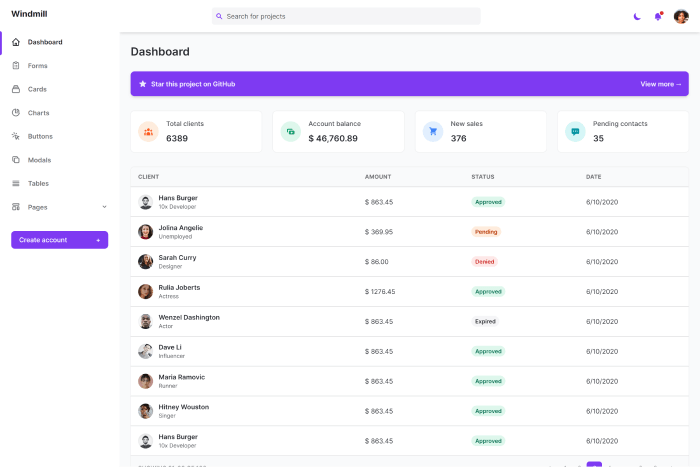 The Windmill is a multi-theme, fully accessible Tailwind CSS dashboard, complete with components and page examples. The dashboard was designed with a11y in mind from the start. Its features include every text passing the WCAG Level AA, being fully keyboard navigable, using focus trap techniques to improve focus while navigating via keyboard, and being mobile-friendly.
It employs the most basic theming plugin. In addition, theme auto detection based on the user's OS preferences is available. Furthermore, local settings storage is enabled by default.
Details / Download Live Preview
Admin One – Vue Tailwind Dashboard Template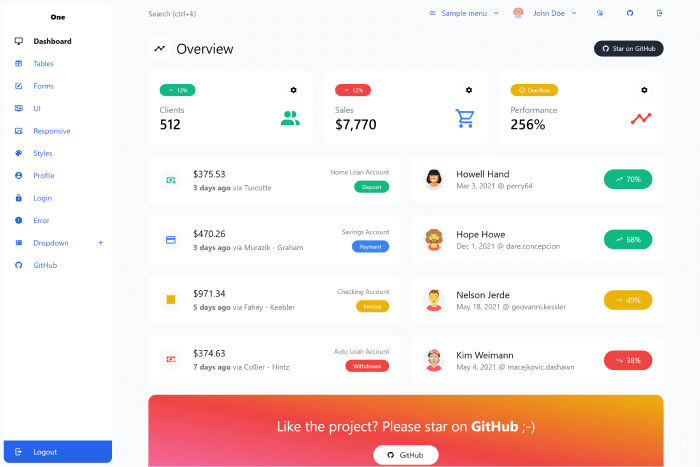 A straightforward and beautiful admin dashboard template for CRM software is called Admin One. It has a compact laptop configuration with a show/hide option, a concealed aside menu, collapsible cards and tables, a classic format with aside features on the left, and more. For quick theme adjustment, Tailwind CSS and Vue.js were used in the development of Admin One.
Details / Download Live Preview
Skilline – Tailwind CSS Landing Page Template (FREE)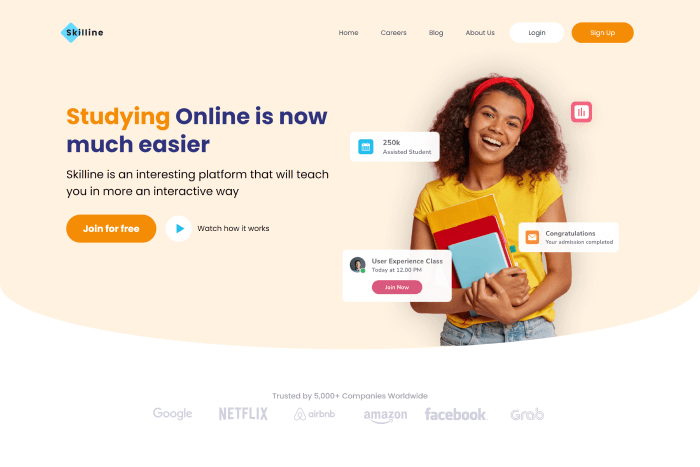 The Skilline free landing page template uses Tailwind CSS and includes images of people smiling from several stock libraries. Given the popularity of this template, it is preferable to incorporate it into your design and add additional CSS if required. It is simply a fantastic tool for both non-technical and technical persons because of its accessibility and simplicity of usage.
Details / Download Live Preview
K-WD Dashboard – Tailwind & Alpine.js (FREE)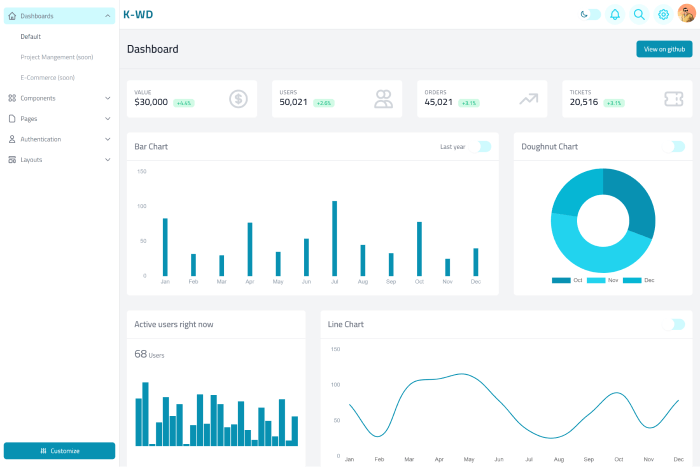 K-WD Dashboard – Tailwind CSS admin dashboard template for building web apps with Tailwind CSS and Alpine.js. it has multiple dashboard options that they are releasing pretty soon, plus various components and pre-built pages. The product now includes over ten individual pages with a few components you can choose from and combine. Soon it will have more features. So, keep an eye on this minimal and simple free dashboard template.
Details / Download Live Preview
V-Dashboard – Admin Dashboard Website Template (FREE)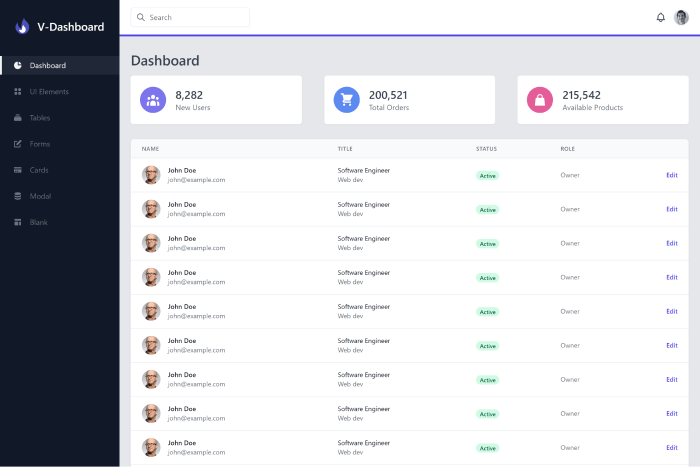 V-dashboard is a Tailwind CSS admin dashboard website template. Also, it includes some cutting-edge frontend technologies such as Vite, Vue 3, and TypeScript. Because of the fully responsive design, the template looks flawless on any device, regardless of screen size. Moreover, you can easily use it to build a control panel, an admin panel, and an online software dashboard.
The template includes features like UI elements, tables, a search option, various types of forms, widgets, modals, card UI design, and many more.
Details / Download Live Preview
Cleopatra – Responsive Tailwind Admin Template (FREE)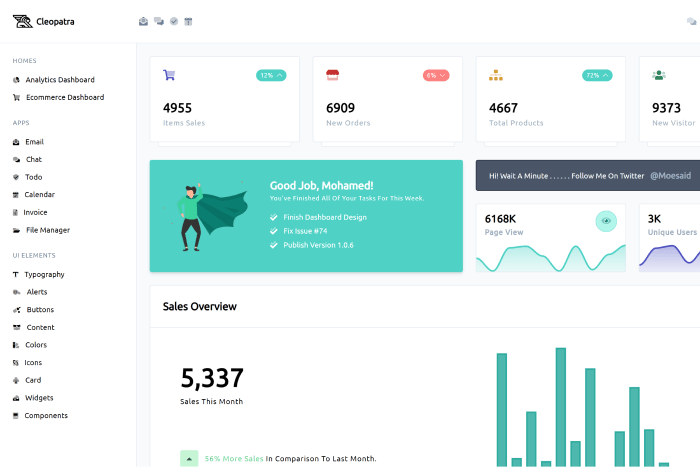 Looking for a template designed specifically for your app? Take a look at Cleopatra. A strong admin dashboard template built on tailwind CSS with a large header image, smooth transitions, and a lovely typographic layout. The home page displays recent posts or services that you can easily customize with the click of a button using a workflow.
The Cleopatra template contains a lot of useful apps, UI elements, and two dashboards (Analytics and eCommerce).
Details / Download Live Preview
Tailwind Awesome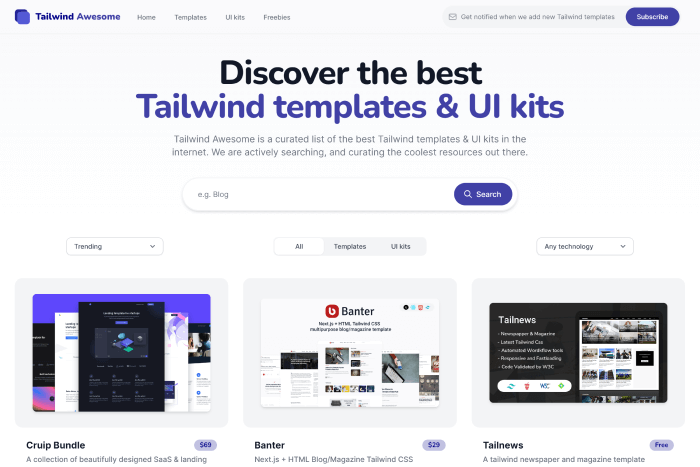 Consider this website as a bonus addition to this blog post. The Tailwind Awesome is not a template. It's actually a curated list of some of the best Tailwind templates and UI kits. We are constantly looking for and curating the most interesting resources available. You will find all sorts of tailwind CSS templates and UI Kits here such as trendy, free, premium, high price, low price, latest, popular, etc. The website now contains over 170+ Tailwind CSS templates & UI Kits. So, don't forget to go through the site.
Tailwind Templates (FREE)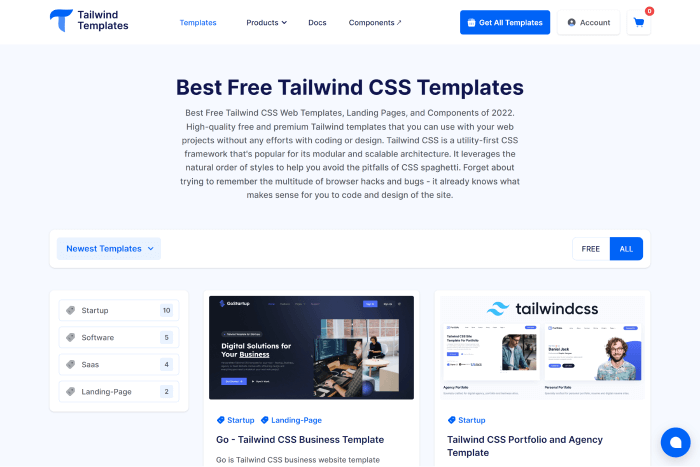 For startups, apps, SaaS, landing pages, and business websites, Tailwind Template is your go-to website that offers both free and premium Tailwind CSS templates. With the help of these ready-to-use and well-developed Tailwind Templates, you can quickly create and deploy your web projects.
It has a good number of templates, including 2 landing page templates, 5 software templates, 10 startup templates, and 4 SaaS templates. Besides, with just 69 US dollars, you can have lifelong access to this template collection with no restrictions, saving you 90% of your cash!
Wrapping Up
Finally, your search for the best Tailwind CSS Themes & Templates in 2022 appears to be over. Finding the best solution for your project is difficult as the market is flooded with so many poor-quality templates. As a result, in addition to these template listicles, we have written an article about 'How to Choose an Admin Template'.
Although the title suggests that the blog is only about admin templates, it will give you an overview of how to choose any type of software-related template following a few basic tips & tricks. Make sure to check that out. 
Our Premium VueJS 3 & Tailwind CSS Admin Template
Other Tailwind CSS Blog Posts