Creating a landing page from scratch is a tough challenge. It could take a week of hard work and end up completely fruitless. As a result, it is simple to use a template and work over it to create a professional landing page. This will take only 1/10 of the time and will produce far better outcomes. Therefore, today we will show you some of the Best Tailwind CSS Landing Page Templates that can actually save your time.
There are two major advantages to using a pre-made template. For starters, you will receive a high-quality design that will attract a large number of visitors who will stay on your website for a longer period. Second, you can save a lot of time and focus on other aspects of your business.
We have a gift for you. 😇
An Open source VueJS 3 & TailwindCss Admin Dashboard Template. 👇
Best Tailwind CSS Landing Page Template (Free & Premium)
So, if you're tired of presenting your products with a boring and poorly designed landing page. This is a list of the Top Tailwind CSS Landing Page Templates. Which have a wide range of applications and meet a number of your common requirements. These templates are of high quality, and simple to use. I hope you find one or two that you can use today.
1. Oliver – Tailwind CSS & Bootstrap 5 Landing Template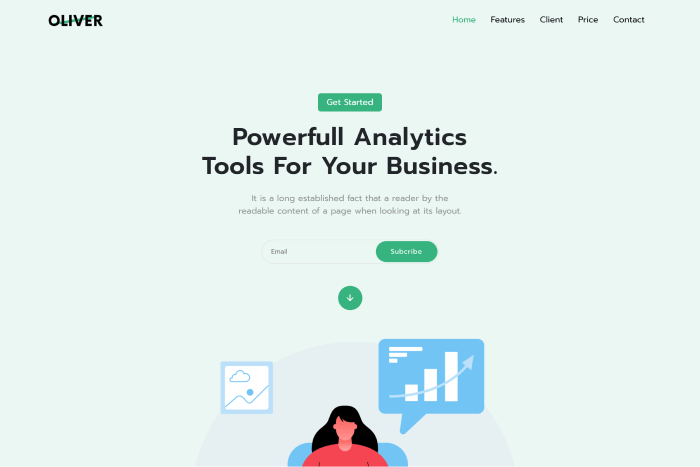 Oliver is a multi-purpose landing page template. A perfect ready-made template for startups, digital studios, and innovative businesses. As it has Tailwind CSS & Bootstrap 5, you will get a well-responsive output. This is a single page where you can enter your information. All records and code have been efficient and smooth for being easy to change.
Details / Download Live Preview
2. Monst – NextJS Tailwind CSS Landing Page Template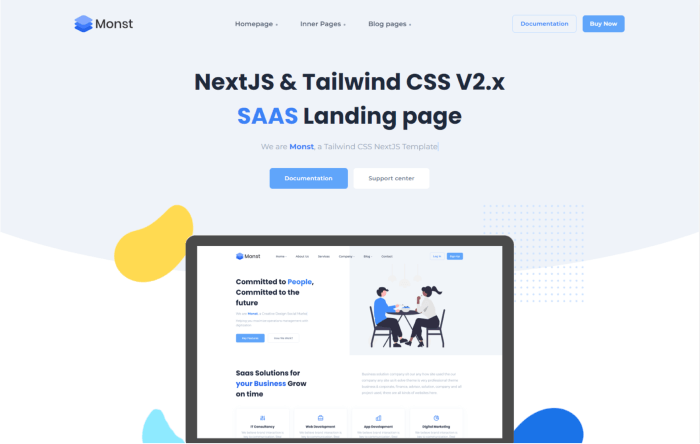 Monst is a SASS, Agency, and Startup template that uses NextJS and Tailwind CSS 2.x. It comes with a variety of pre-designed home page and inner page layouts. This provides you with the most customizing options.
Now, using the template, you may now avoid costly web development and reduce your design expenditures. Also, it includes styled components and custom-created components. As a result, its creators don't have to compromise on performance. Styled-Component also makes it simple to adjust the overall appearance of the website.
Details / Download Live Preview
3. Dorsin – Tailwind CSS Landing Page Template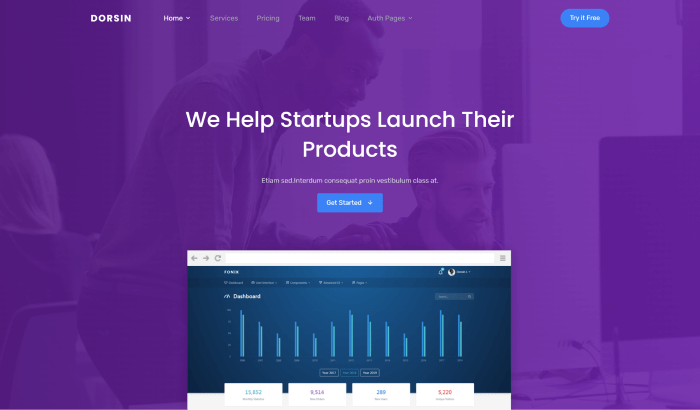 Dorsin is a landing page template that is entirely responsive. It can be an excellent alternative for any device, whether you are a fresh startup or an established company. It's made with the most recent version of TailwindCSS (v3).
You may easily alter the template's contents, graphics, and SCSS to reflect your company's details. It also includes 9 distinct sorts of layouts, which should suffice for your needs.
Details / Download Live Preview
4. Shine – Tailwind CSS Template (Free)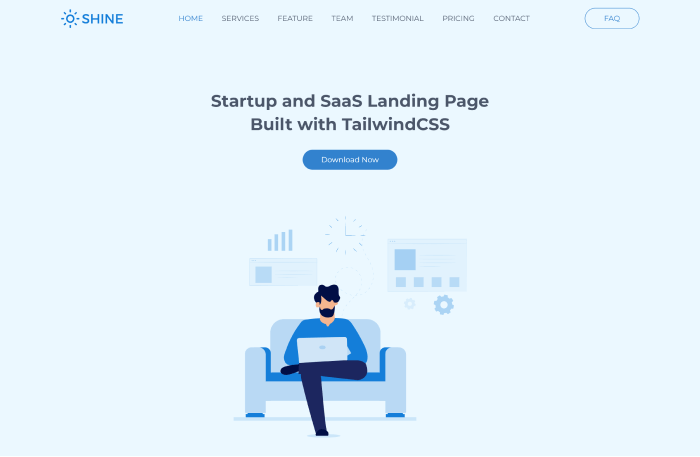 Shine is a free CSS Startup and SaaS Landing Page Template from Tailwind. It's ideal for startup SaaS, business, and app websites in particular. It's a one-page template with all the parts and elements you'll need to construct a variety of one-page websites.
Furthermore, it offers a fresh and straightforward style for any type of website thanks to the tremendous power of Tailwind and its rich typography, refreshing design, and solid UX.
Details / Download Live Preview
5. Tailblocks – Ready-to-use Tailwind CSS Blocks (Free)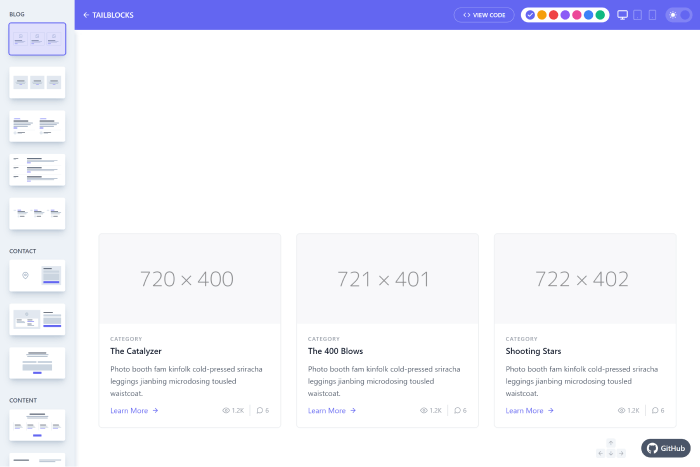 Tailblocks is a robust landing page builder based on ready-to-use Tailwind CSS templates and blocks. This project has several well-organized parts and features that you can quickly integrate to create a completely new website.
It has palette variations and dark mode support. Also, you can easily copy/paste sections into your project. And finally, it has an open-source license.
Details / Download Live Preview
6. Simple Light – React Tailwind CSS Landing Page Template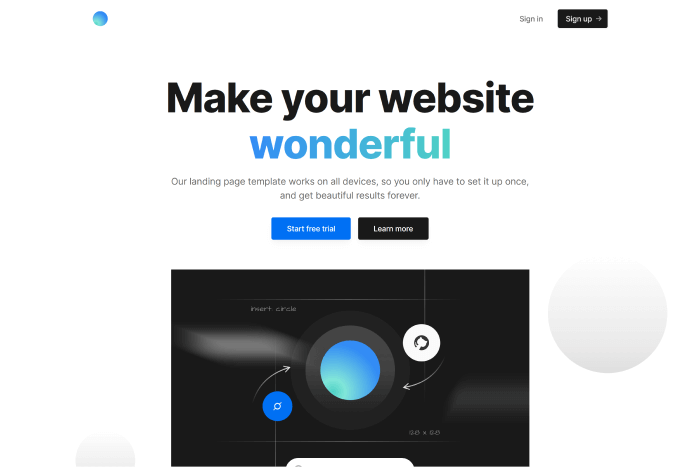 The light version of Simple is a free landing page template with React and Tailwind CSS. It comes with all of the important elements that require to create a landing page. SaaS products, internet services, agencies, and other comparable niches fall under this category.
So, it's a free template that comes with all the modern and useful features. Don't miss out.
Details / Download Live Preview
7. UptimeMate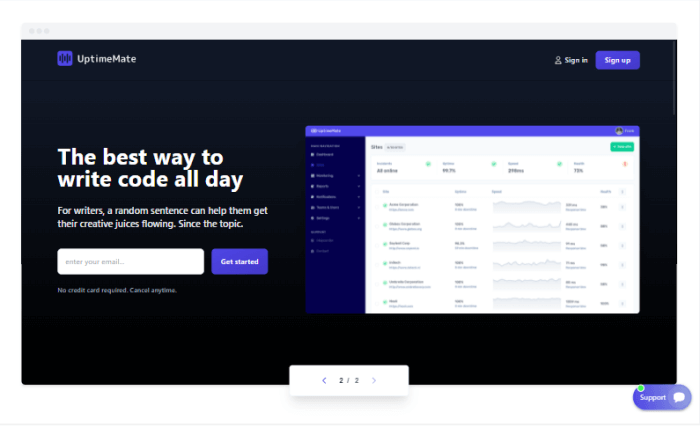 UptimeMate is a Tailwind CSS 2.x landing page template. With the template, you can easily create a beautiful, proper landing page for your SaaS business. It has two color options, dark & light. Also, it is a super responsive and user-friend landing template. The feature icons you can see here are from the fantastic heroicons library.
Details / Download Live Preview
8. Tailwind UI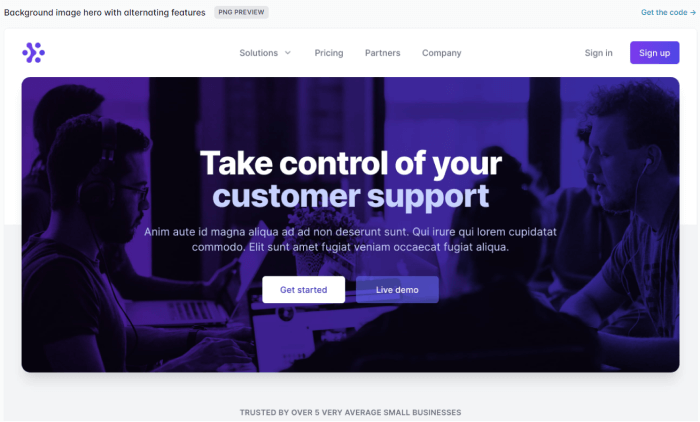 In Tailwind UI, there are three ultra-sleek one-page landing page designs. It is more than just landing pages. It's a growing library of professionally designed, pre-built, fully responsive HTML snippets. These are what you can use in your Tailwind projects quite easily. Also, there is Background Image Hero with alternating features.
Details / Download Live Preview
9. Appy – Tailwind CSS Landing Page Template
Appy is the perfect mobile landing page template. It's made with the most recent version of Tailwind CSS. It has eight pre-made pages as well as a toggle to switch between dark and white layouts. This will make it much easier for you to get your idea off the ground. Also, there you will find scroll reveal animations.
Details / Download Live Previews
10. Open PRO – Tailwind CSS Landing Page Template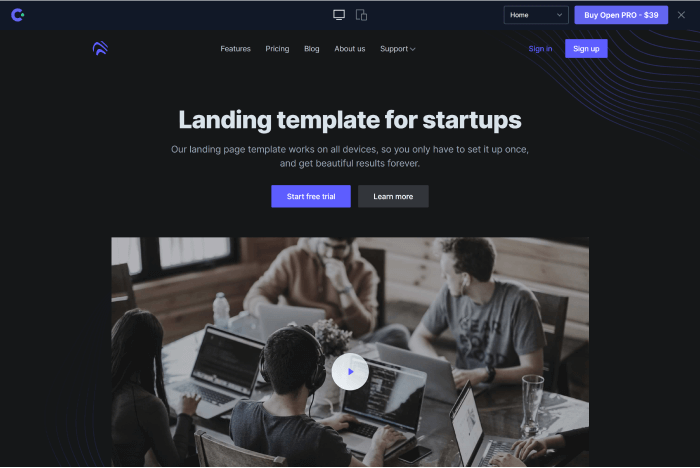 Open PRO is a fantastic landing page template that features a completely black style and a simple user interface. This solution is ideal for anyone wishing to create SaaS apps, corporate websites, and more, thanks to the inclusion of many pages and components.
Details / Download Live Preview
Wrapping Up
Now, your search for the best Tailwind CSS Landing Page Templates has come to an end. These templates offer features that would take a programmer a huge amount of time to implement. Also, we know it takes a good amount of effort for anyone to create a perfect landing page with an excellent user experience, SEO-friendliness, and cutting-edge technology. So, we hope that these will aid/assist you in increasing your or your client's business.
Thank you for reading!
Our Premium Tailwind CSS Products
More Articles