Are you looking for some of the best Bootstrap Admin Templates to start your backend project? Look no further we have you covered. Here, you will find the most compelling and resourceful ones. All of these free and premium templates are easy to fit in.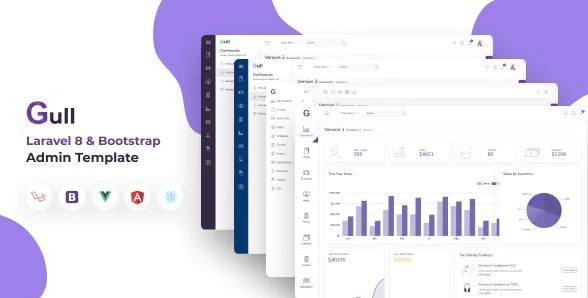 As we know, Bootstrap is a popular open-source CSS framework in the industry. So, in this blog, we've handpicked the most valuable admin templates made with Bootstrap 4 & 5. Each of the templates is unique and specialized for different purposes. Some of them provide a large number of customizable components, while others have the best features. But, all of them are fully responsive and mobile-friendly.
Thus, these simple yet powerful dashboard templates will serve as a solid foundation to support your admin area.
1. Gull – Bootstrap Admin Template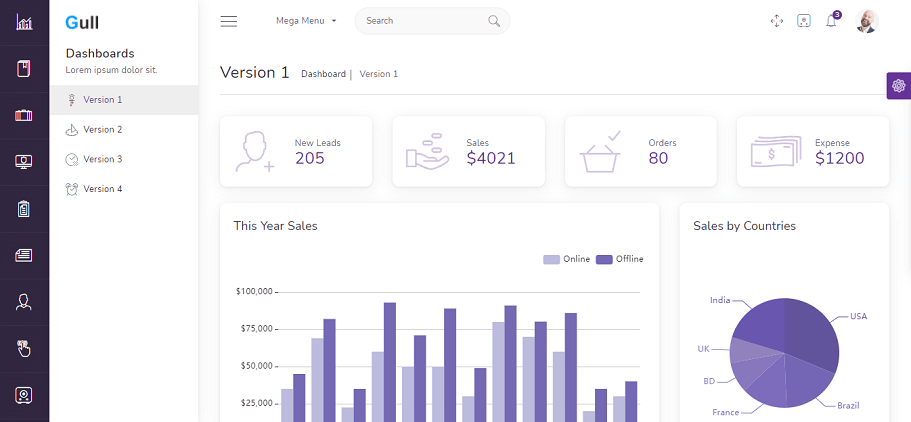 Gull is a Bootstrap 4 HTML & Laravel Admin Template. It contains a hoard of components, elements, and widgets. Besides, Gull offers you to choose from 4 different dashboard versions. So, you can find the best layout for your purpose right away! Moreover, it is flexible enough to modify and customize with your preferences.
More than 2000 premium iconsmind icons, 30+ card widgets, Datatables, full-screen search, you name it, Gull covers it all. Once you unbox the template, you will gain access to its customizable color schemes, prebuilt apps, echarts, and a lot more.
Last but not least, this modern Bootstrap admin template provides six months of technical support and lifetime update.
2. Star Admin (free)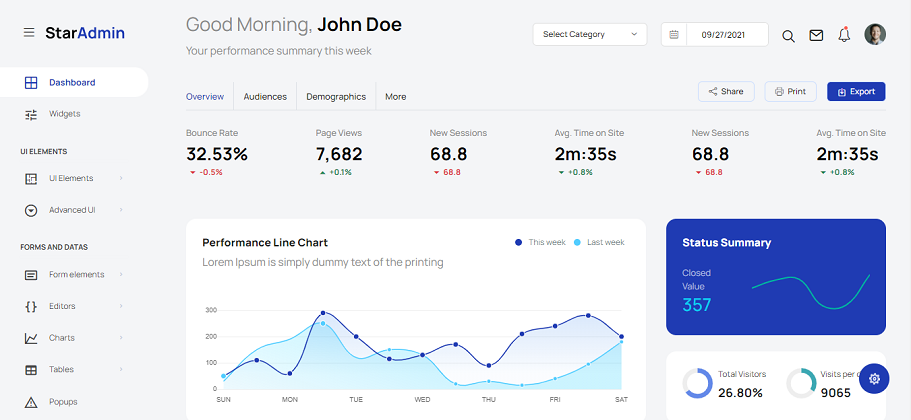 Star Admin 2 is a feature-packed admin dashboard template that is built with Bootstrap 5. It is a modern revamp of the original Star Admin. Also, the template comes with a clean, modern design. It features multiple pre-built pages that you can customize easily.
Moreover, the code is clean and super easy to work with. Star Admin 2 is regularly updated with new layouts and other upgrades, providing extreme value. Finally, you also get premium customer support for a year and free access to all future updates.
So, do not forget to experience this beautiful admin template from the links below.
Demo / Download Premium Version
3. Arctic – Bootstrap Admin Template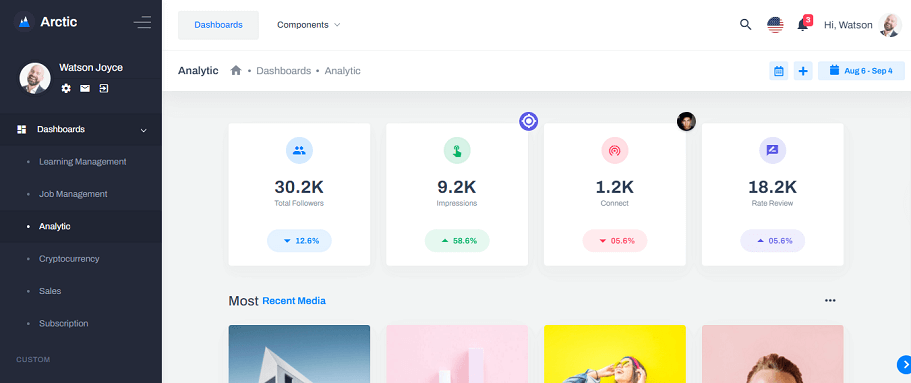 Arctic is a beautifully designed Bootstrap admin template. With better code quality and customizable options, the template offers a broad spectrum of components and features. If you are planning to start a new online or application project, Arctic is the one that you should not miss.
This clean and minimal Bootstrap 4.x multi-purpose admin dashboard offers 100+ screens, 90 components, 04 layouts, and many more. From 6 dashboard versions, you have to pick the one that suits you the most. What a dope collection that is!
Same as Gull, after the purchase, Arctic provides six months of support and a lifetime update. You will get a friendly team of experts, who will be very happy to guide you. Also, you can extend the support with just a few bucks for more months if you want to.
Make sure to check out and experience the Arctic from the button below.
4. Porto Admin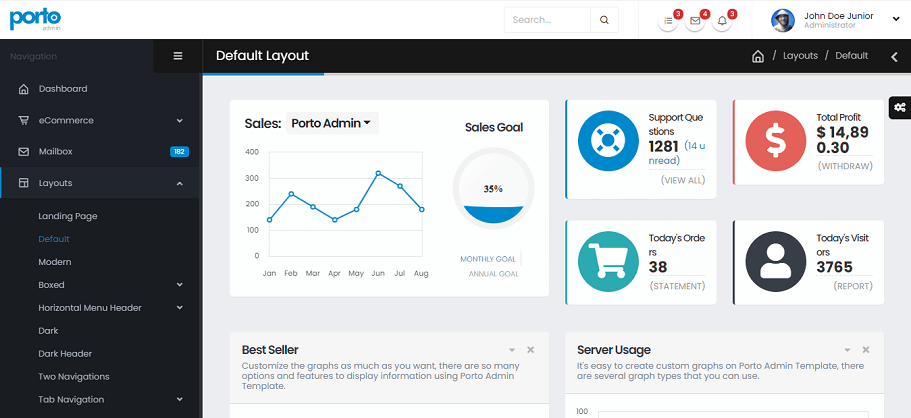 Porto is one of the most customizable and tested admin templates updated with Bootstrap 5. It comes with 20+ ready-to-use dashboards, 60 HTML pages, 50+ plugins, interactive chats, etc. Currently, the template has more than 8000 sales.
It does not matter what your app is about; the template efficiently caters to all of your ideas. Furthermore, after buying the Porto Admin, you will get dedicated, friendly, and expert team support.
Check out Porto Admin and see if it's worthy or not.
5. Material Dashboard – Bootstrap 4 Admin Template (free)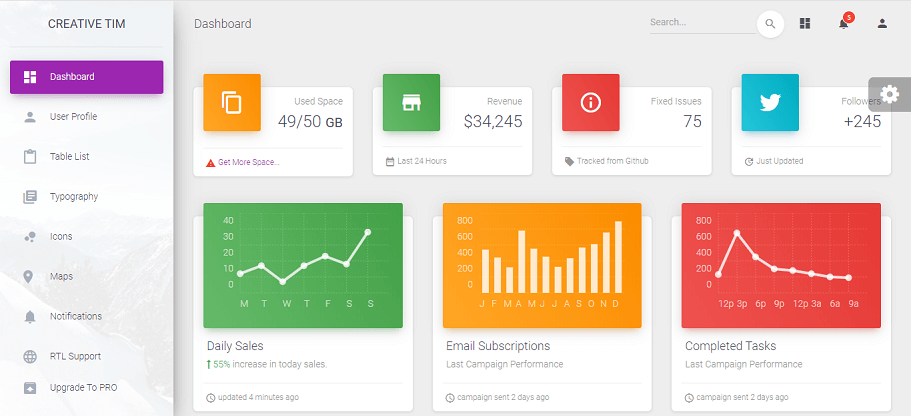 Material Dashboard is an open-source material bootstrap four admin template. The remarkable fact about the dashboard is it followed Google's Material Design. The template used a couple of third-party plugins and redesigned them to work with the rest of the elements.
The free version contains 60+ elements, 3 example pages, two plugins, and documentation. And, it includes five excellent color filter choices. You can use it for projects like CRM, CMS, admin panel, etc. And finally, it will save plenty of your time and energy.
Download the template for free from the button below. There is also a premium version available of this template. Check that out too.
Demo / Download Premium Version
6. Falcon – Admin Dashboard & WebApp Template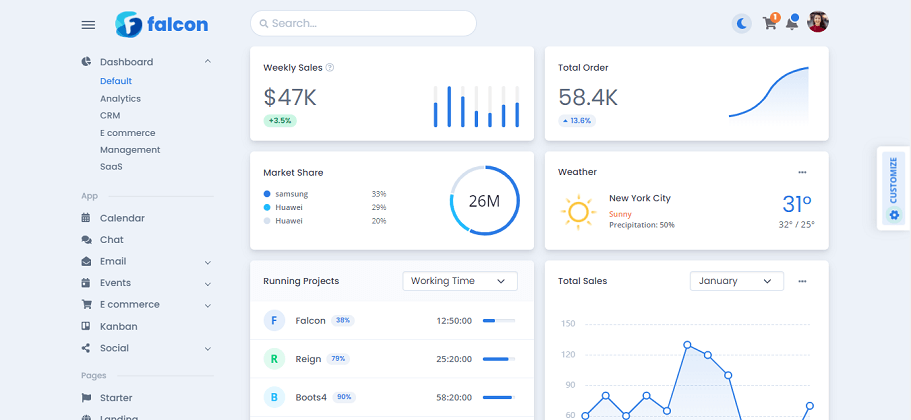 Falcon is a feature-packed admin template based on Bootstrap 5. It also has a Bootstrap 4 version. With the template, you can directly work with any screen size by default. Besides, the modification potentialities of Falcon are at your fingertips.
This slick & beautiful template contains 100+ UI components, 35 plugins, and 04 sets of icons, and has both the Dark & Light version available.
Additionally, the Falcon admin template provides lifetime free updates. And, it holds a lot more than this short blog can describe. So, have a detailed inspection and experience this super cool modern Bootstrap admin template.
Demo / Download Bootstrap 4 Version
7. Soft UI Boostrap 5 Dashboard (free)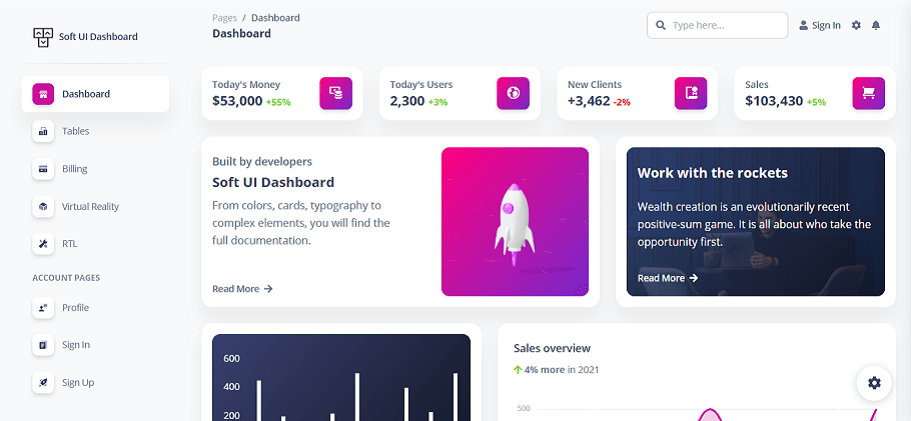 Soft UI is one of the most complex and innovative Bootstrap dashboards. It specialized in helping developers to create stunning websites and web apps. For those who like bold elements, this is their go-to admin template.
The template provides one plugin, 07 example pages, and 70 individual elements like cards, alerts, buttons, inputs, navbars, etc. As all the required elements are here, you can secure time while moving from proto-type to full-functional code.
Experience the free and premium versions directly from here.
Demo / Download Premium Version
8. Remark – Responsive Bootstrap 4 Admin Template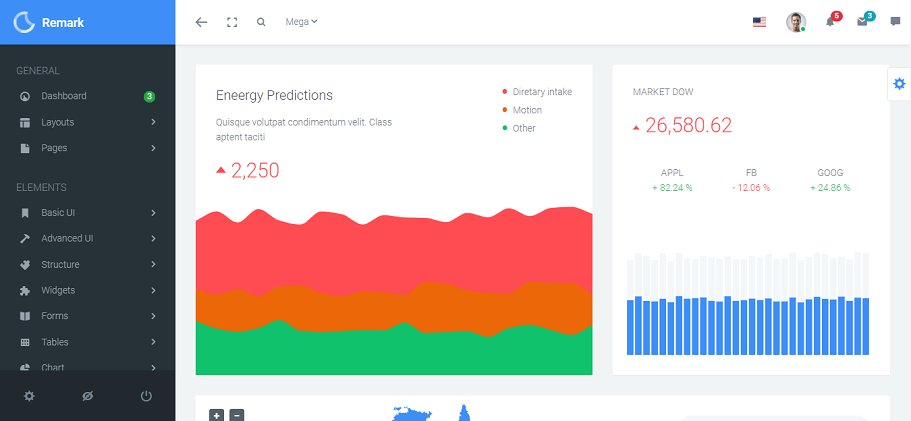 Remark is a Bootstrap 4-based responsive admin template. With highly reliable libraries, the template contains more than 1000 UI components. 100+ Widgets, 13 Apps, 10 Chart plugins Support, and 09 Table Plugins are also there.
So, if you want to create a masterpiece with a smooth and fully responsive design, head towards Remark. You will have the best experience, no doubt.
Learn more about the template from here.
9. Monster Bootstrap Admin Template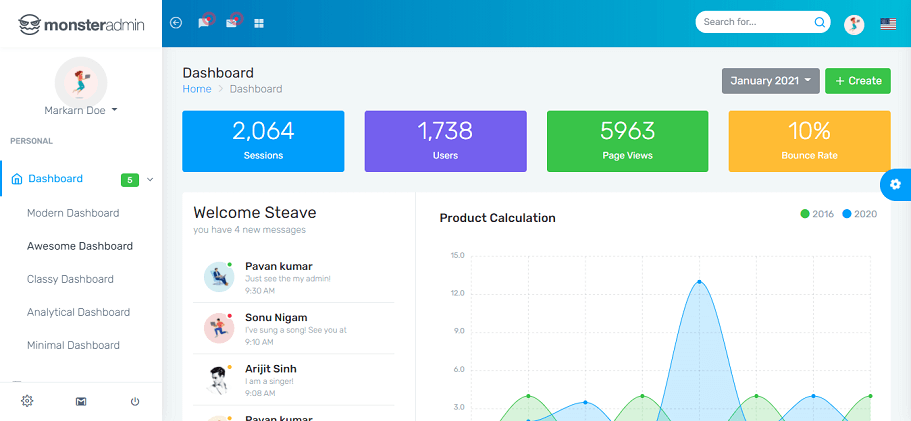 Monster Boostrap Admin Template package provides 3000+ font icons, 900+ page templates, 500+ UI components, 100+ integrated plugins. Also, there are 09 application designs, 07 highly customizable demos, 05 dashboards, light and dark variations, and a landing page.
In addition, a team of experts will give technical support for 06 months and 06 months of free updates. Therefore, it speaks for itself. You will have everything you need in this admin template package.
Truly, this template package is a monster.
10. Adminto – Admin Dashboard Template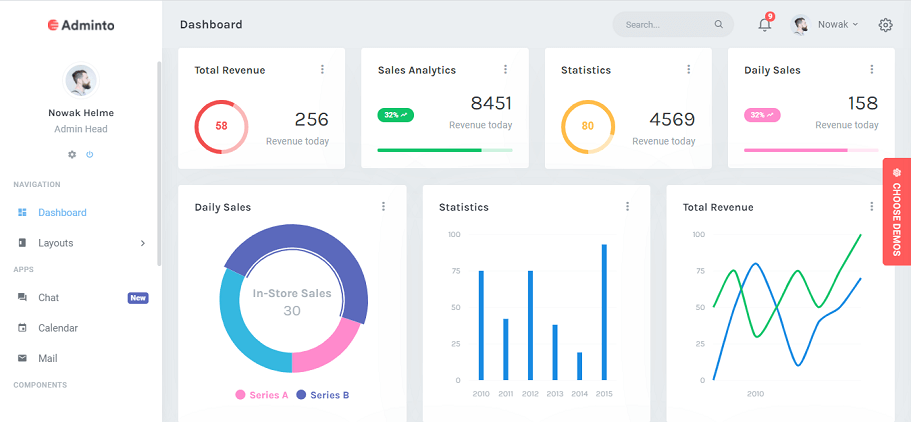 Adminto is a modern admin template made with Bootstrap v4.5.0. It is a premium template with 4000+ font icons, and 55+ pages, including a landing page, 03 menus, and light & dark modes. Moreover, it provides rich form, widgets, wizard, validation, waves effect, unlimited layouts, etc.
This theme is well responsive and customizable. The code is also easy to understand for the developers to shape into a solid web application. Therefore, go and experience it by clicking the orange button.
11. Gentellela – Bootstrap 4 Admin Dashboard Template (free)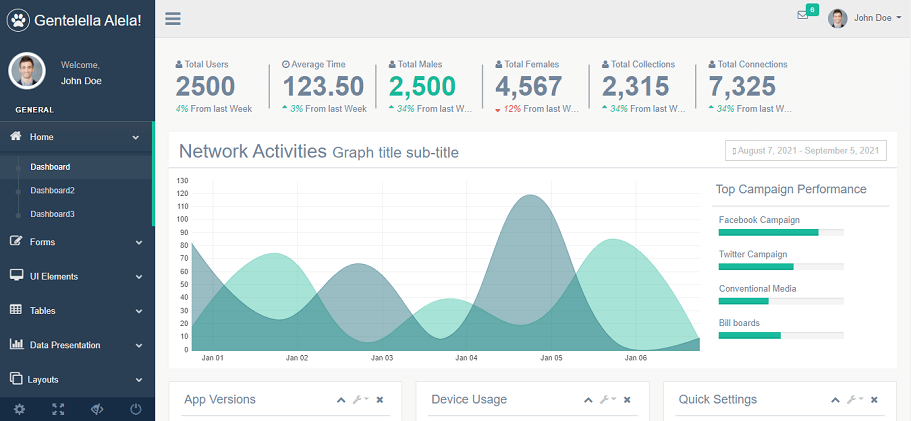 Now, this is a unique template. The title marks its characters. Gentellela is a free admin template with libraries for charts, form validation, Date range, and more.
Besides, it has powerful jQuery plugins. Creators of Gentellela mentioned that they would love to see how you use this template. So, don't forget to check them out.
Also, you can notify them about your app, service, or site by simply tweeting at Colorlib.
Your Search Ends Here!
Finally, it seems that your search for Boostrap Admin templates is over. Fortunately, we have collected all 'Best Bootstrap Admin Templates Free & Premium for 2022'. Since there are different requirements in the market, we carefully curated some of the best free and premium Bootstrap Admin templates available. Therefore, you can create the most beneficial Bootstrap admin dashboard within your guidelines.
About UI-Lib
At UI-Lib, we develop both free and premium Admin templates, UI Kits, Landing Pages, and Design Systems built with React, Angular, Vue, Bootstrap, Laravel, HTML, and more. At present, we have 9k+ sales on Themeforest.
Suggested Blogs:
React Admin Templates (Free & Premium)
Vue.js eCommerce Template (Free & Premium)