Are you looking for an online business solution? Here are some of the best Vuejs eCommerce templates to help you with that.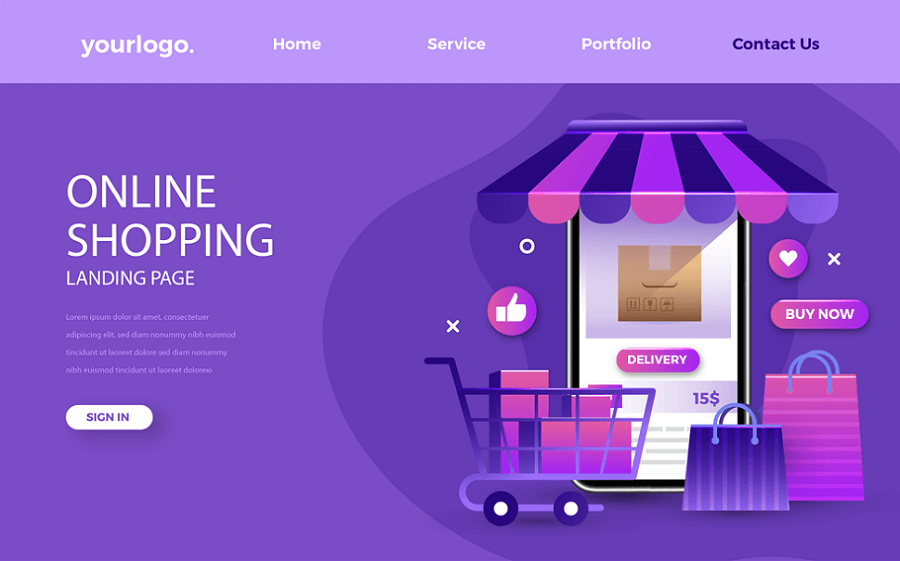 Vue is one of the most progressive JS frameworks for developing UIs. The pros of Vuejs are great. It's only 18 kilobytes away from your download button. Unlike React or Angular, to develop a project with this framework, you only need the basics of HTML, CSS, and JavaScript.
So it is no doubt for a quick, easy, and ultimate online solution, Vue can be a reliable option. Besides, giant companies like Alibaba, Louis Vuitton, and Storefront UI will keep you motivated in the process. As they too have the same JS framework.
Now, if you really want to create an online shop with Vuejs. Then make sure to check out our list of the best free & paid Vuejs eCommerce templates to help your business go viral.
Bonik – Ultimate Ecommerce Pro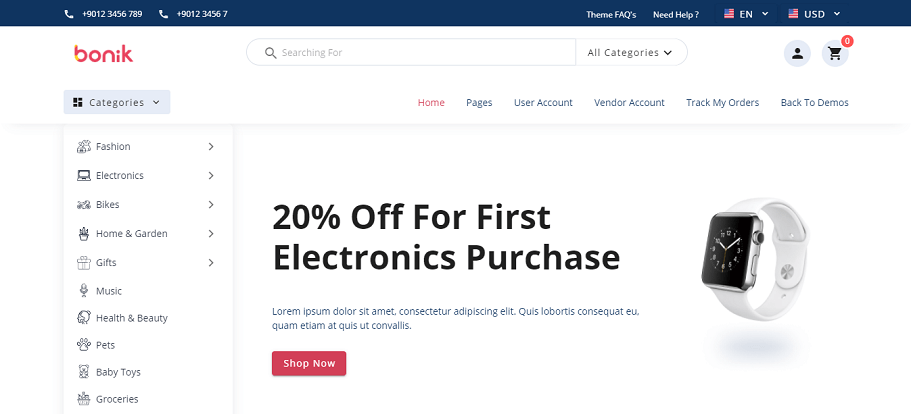 Bonik is a multipurpose Vuejs eCommerce template. Though it is comparatively new in the marketplace, its users have already showered it with compliments.
Powered by Nuxt.js, this SEO-friendly template has everything you need for an online shop. It offers an admin/vendor dashboard, user account dashboard, multiple homepages, and many more. Again, its blazingly fast action and clean codebase will bolster your project's vision.
However, the best thing about buying this template (with a license) is, that you will get all the technical support from its developers' team for six months. Furthermore, a year full of free updates. At present, the Vuetify Store is featuring Bonik.
In a word, this template can be a surefire way to your success and beat out every competitor there is!
Multikart – Responsive VueJS Ecommerce Template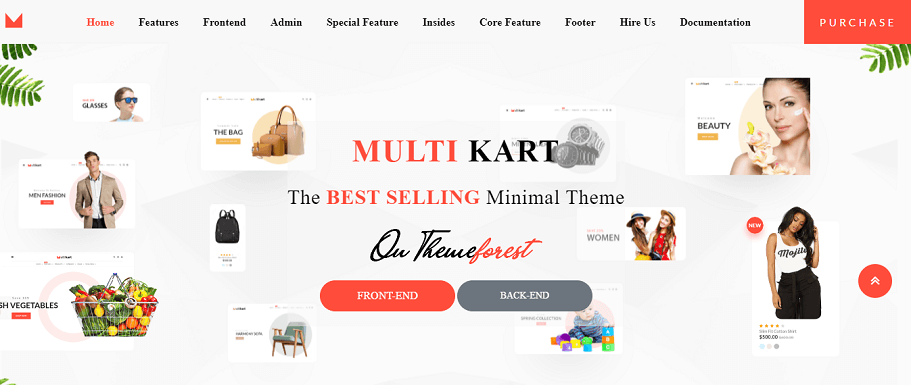 From electronics to Fashion products, you can build every type of online shop with Multikart. It is a complete online solution. This specially designed template helps you run multiple online businesses at the same time.
With the template, you will have 12 color options, 16+ homepages, 8+ shop pages, 30+ inner pages, 10+ hover pages, and a lot more than we can imagine.
Martfury – Marketplace VueJS Ecommerce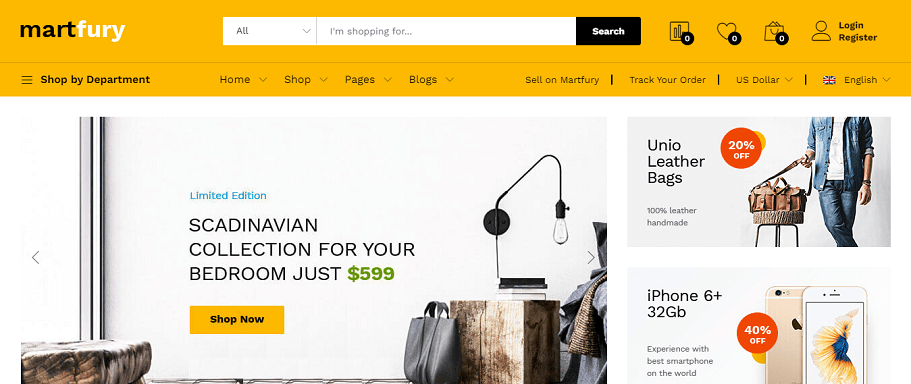 Just like Amazon or eBay, with Martfury, you can also build a marketplace that allows vendors to sell their products. It offers a responsive design with four unique homepages, featured video options, a built-in mega menu, and a hundred different things.
Surely, Martfury's high-speed performance will help you sell anything online.
Molla – VueJS eCommerce Template
Molla is an online solution built with Vue.js, Nuxt.js, VueX, and SCSS. The template has high-speed performance, a responsive design, and features that allow you to create your niche store.
Here, you will get 30+ exclusive demo concepts, skeleton features, various mega menu styles, and high coding standards. Also, the template has another hundred different things that you need to check out by yourself from the link below.
Bolster – Vue Nuxt.js eCommerce Template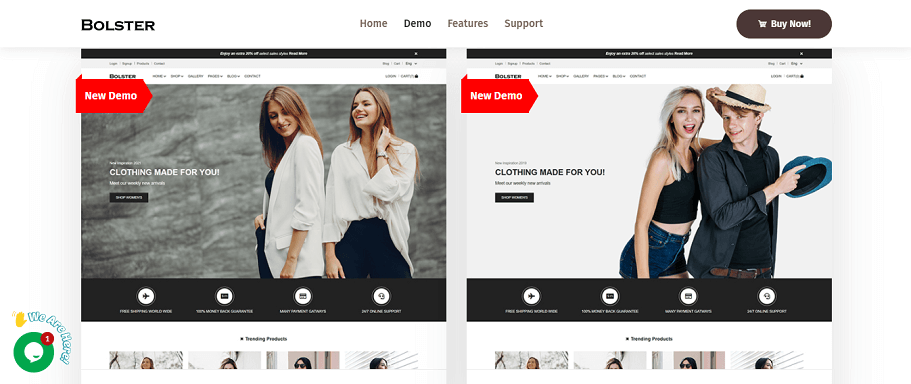 Bolster is an eCommerce template for individuals and companies who want an international reach. It is based on the Vuejs and Nuxt.js including Vuex, ES6+, Bootstrap v5.0.2, etc.
The template not only offers some of the best design features. Moreover, it gives you a lightweight, clean, and valid source code. It contains 11+ demo variations, smooth transition effects, a creative layout, etc.
Hence, get yourself on the front row in online business with Bolster eCommerce Template.
Embryo – Vuejs Material Design eCommerce Template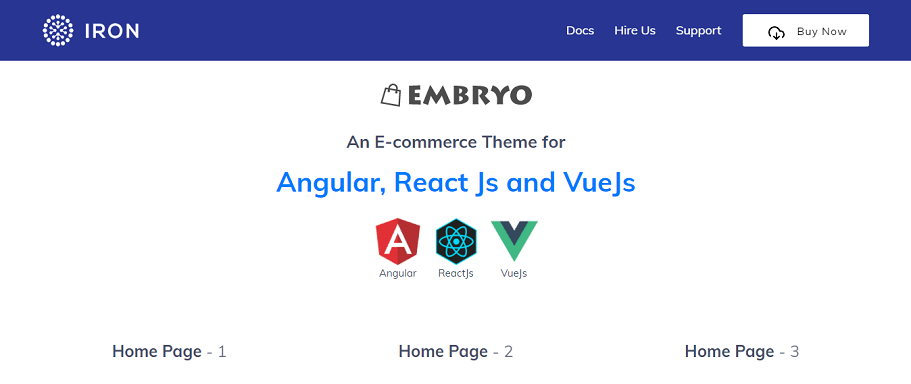 Embryo is a material design eCommerce Template built with the latest technologies like Angular 10, React.js, and Vuejs. Here, you have all the control to maintain your eCommerce with the introduced JavaScript.
Its responsive design will allow users to use it on any device. And its clean codebase will give you the power to customize as you want. This material design eCommerce contains three home pages, 20+ inner pages, an admin section, and many more.
In short, Embryo has all the basic functionalities to work for an online shop. So, you can grab this template and jumpstart your next project.
Porto – VueJS eCommerce Template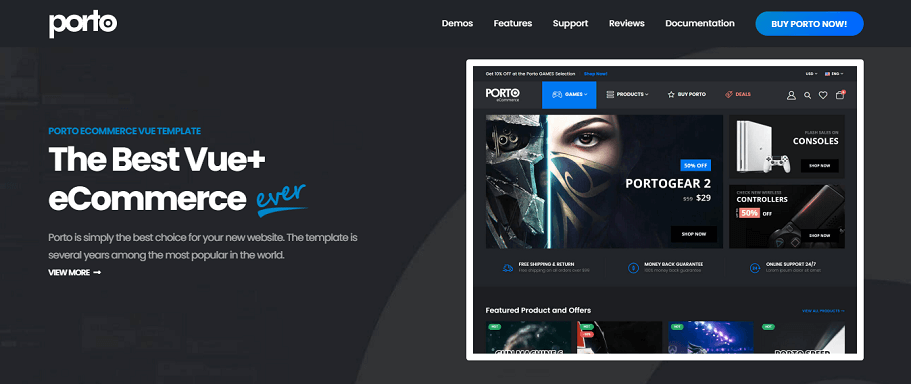 Built with Vue.js, Nuxt.js, VueX, Strapi, and SCSS, Porto is another ultimate online solution. Porto can be a good option for you, as it is well responsive and provides excellent UI & UX. Moreover, with the template, you can avoid expensive web development costs.
So far, more than 60 thousand people are using Porto eCommerce. Now that's quite an indicator of how much its creators are capable.
Vuemmerce – Free eCommerce Template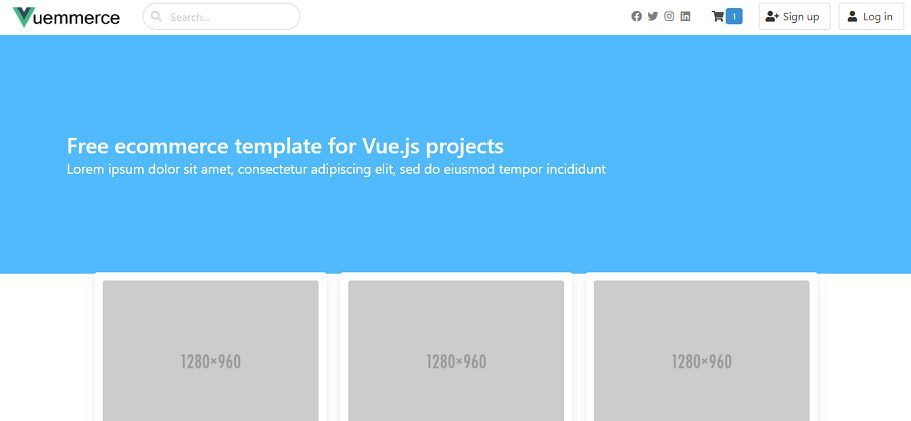 Vuemmerce is a free eCommerce template contributed by Ivan Lori. Built on top of Vue and Nuxtjs, this simple template has a fully responsive design. You can download this for free from the GitHub link given below and customize it by your project's standards.
An Alternative
Aimeos – Open-Source eCommerce and Shop Framework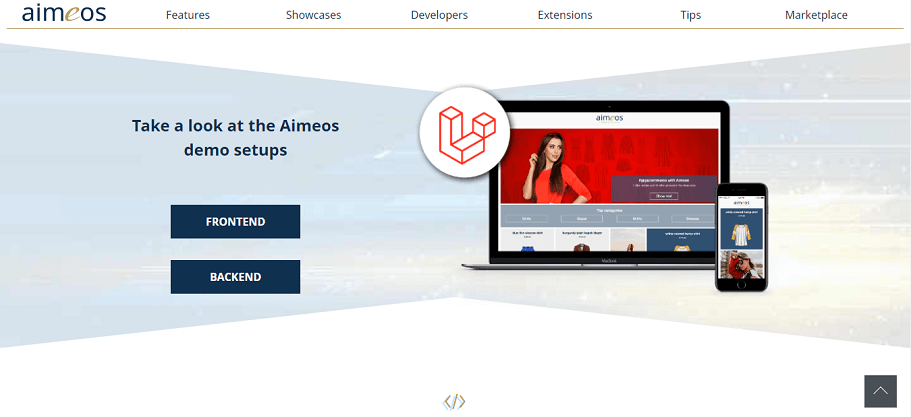 Aimeos is available both as an application and also as a framework. This is not solely a Vuejs-made eCommerce solution. Rather, only the admin backend is Vue-based. However, it contains Vue.js components for a large number of building blocks. So, you can reuse them in custom panels easily.
Also, based on Vuejs, you can create a beautiful frontend. It offers an excellent JSON REST API to manage and retrieve data. That API will allow you to build a Vuejs frontend with the same feature set as the HTML frontend.
For this reason, make sure to visit the links below to explore more about Aimeos and its immense possibilities.
Your Search for Vuejs eCommerce Template Is Over
In closing, we would like to say, Vue is getting more popular day by day, and to have an eCommerce built with Vuejs will not disappoint you in the long run. Your Vuejs eCommerce should be optimized for great engagements while still having a beautiful design and responsive layout.
Thus, choose from the Vuejs eCommerce templates mentioned above. And drag more customers to your online shop.
Currently, Vue has 30k forks and 187k GitHub stars.
About UI-Lib
At UI-Lib, we develop both free and premium Admin Dashboards, UI Kits, Landing Pages, and Design Systems built with React, Angular, Vue, Bootstrap, etc. And now, we have more than 9k sales on Themeforest.
Now, if you're also interested in Vuejs Admin Dashboard, then we got your back! Check out two of our beautifully crafted Vuejs admin templates, Gull & Octavia.