Are you looking for Laravel Admin Templates to create your next backend project? Then Look no further; we have you covered. Let's find out which one suits your project the best.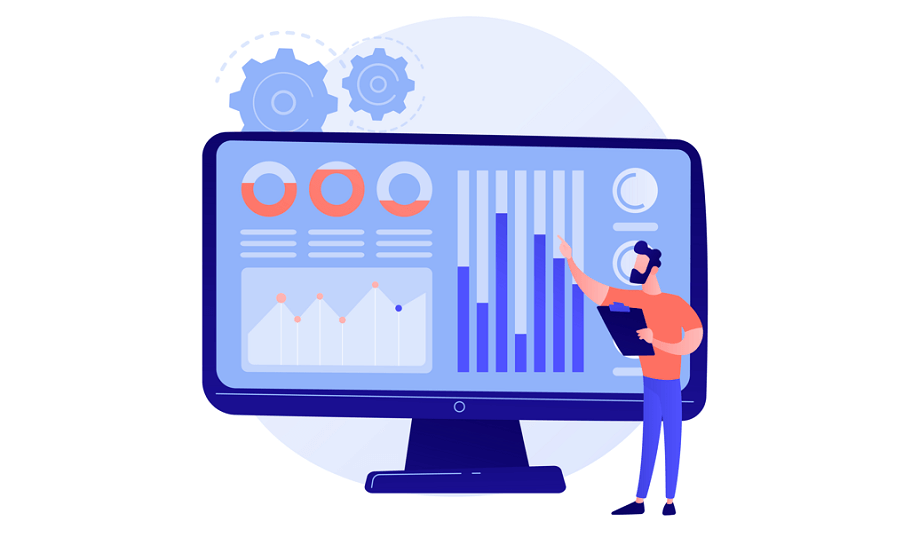 Admin templates are one of the best ways to jumpstart a backend project. With the help of these free and premium Laravel admin templates, you will be able to create your backend project pretty quickly. And, they are perfect for creating backends for user portals, SaaS products, apps, etc. Moreover, all of these are easy to customize.

Though the free templates have fewer features than the paid ones, they are still worth checking out. Who knows, you might find all the things you need for your next project in one of these free templates.

Also, both the free and paid templates can be helpful for those who want to learn more about building apps. The templates provide complete documentation of these works. Thanks to their developers!
1. Gull – Laravel Admin Template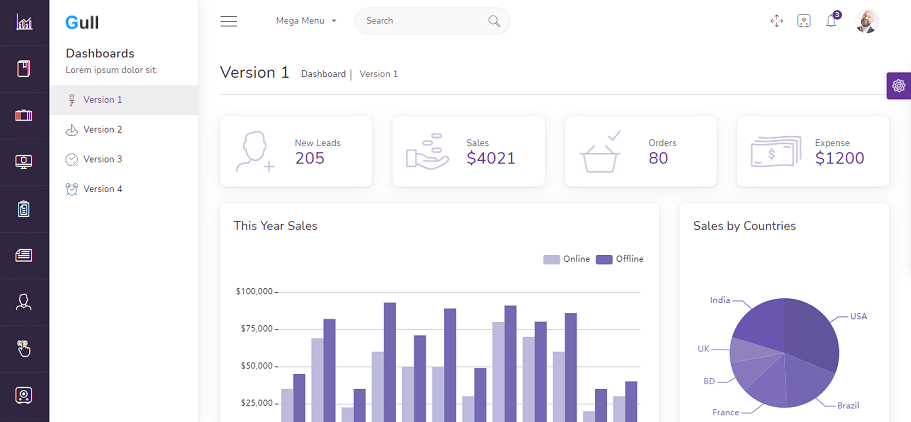 Gull is the best admin template and UI framework with Laravel 8 & Bootstrap 4. It has 4 dashboard versions, pre-built apps, more than 2000 premium iconsmind icons, 30+ widgets, and many more. Also, things like customizable SASS color schemes will give you every opportunity to create your color scheme.
Importantly, Gull offers you all the UI to input and visualize every database from small to big. Thus, you can easily build all kinds of Cross-platform apps' backends with the admin template. Make sure to explore its full potential from the button below.
Additionally, Gull provides free updates for one year and technical support for six months.
2. Vuexy – Laravel Admin Dashboard Template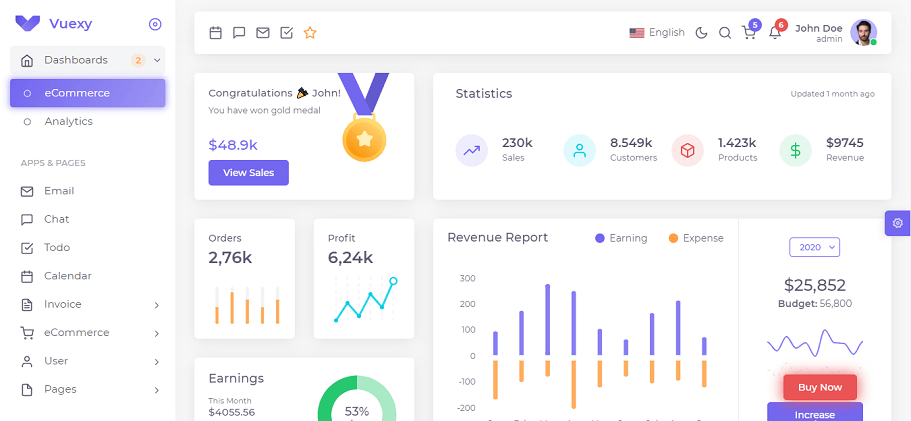 Vuexy is the most powerful Laravel Admin Template in the market. It has highly customizable and versatile features. Here, you can create SaaS platforms, education apps, eCommerce backends, and more.
It offers light & dark modes, no Jquery dependency, two chart libraries, multilingual support, unlimited color options, etc. Furthermore, this provides two dashboards and nine carefully crafted applications. Hence, to create a flawless admin dashboard, you can easily rely on Vuexy.
Click here to learn more about it, Demo / Download
3. Skote – Laravel Admin Dashboard Template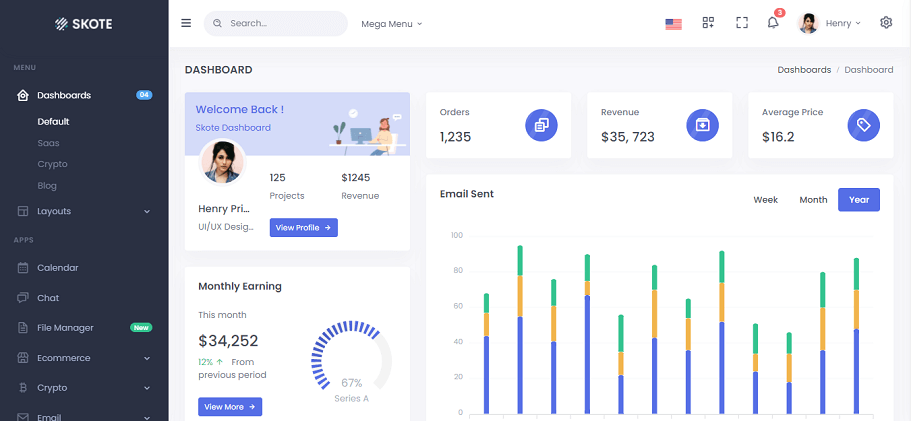 Skote is another great admin dashboard template. It contains 3 type modes, 8 different layouts, LTR and RTL support, complimentary design files, and assets. Also, it has multi-lingual support and few reusable components.
Just like Gull and Vuexy with Skote also, you can create all types of web application backends.
4. Argon Dashboard Laravel (free)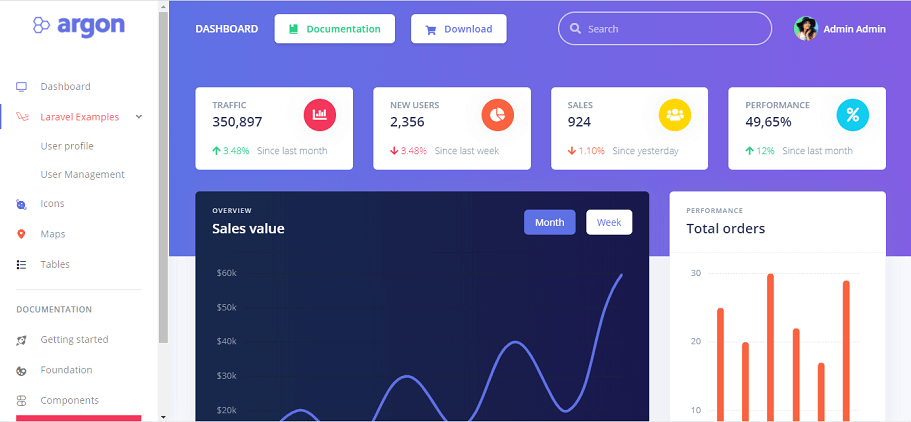 Argon is a Laravel admin dashboard with Bootstrap. The package contains great frontend templates with integrated Laravel backends. The color schemes available here will give your dashboard a vibrant and bright look. It comes with 100 elements, four plugins and 16 example pages, full SaaS support, well documentation, and many more.
So with this, not only you will get good looks but also some of the best features. Also, with a large number of features, it has got a premium version too.
5. Material Dashboard Laravel (free)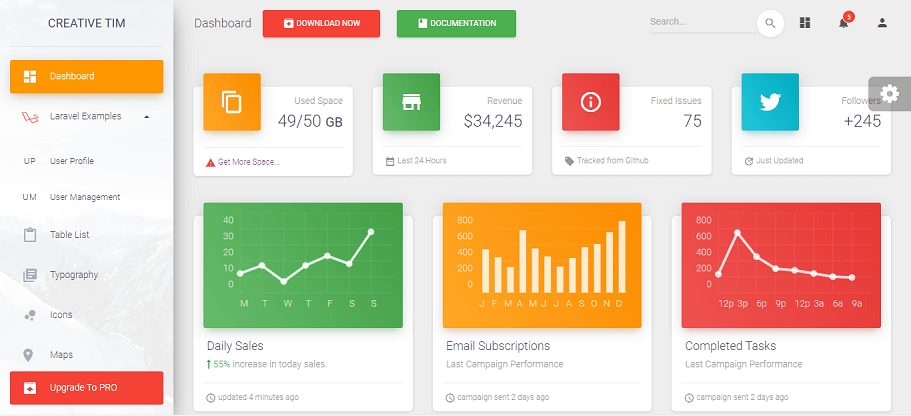 Material Dashboard Laravel is a free admin template inspired by popular Material Design from Google. If you're on a short budget but still want to give the dashboard a great look, this is your best option.
Here, you will get fast loading design style, animations, ripples, notifications, 60 frontend components, and a lot more. Google has used Material Design Style with similar interfaces for their products like Android, Google Docs, etc.
Thus, this Laravel Dashboard template will help you use the material design style for free.
6. Core UI Laravel (free)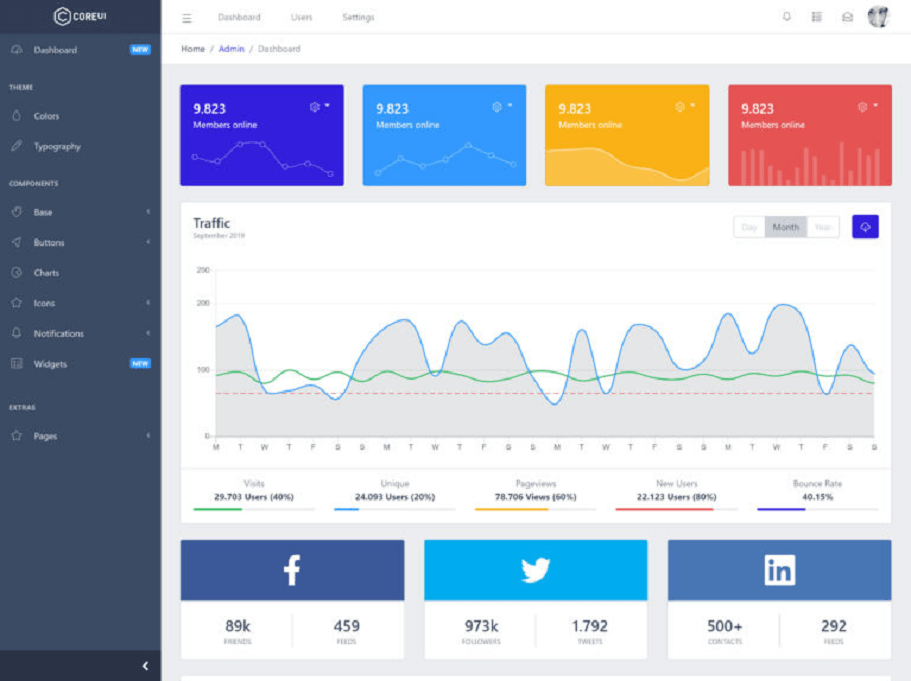 With Core UI Laravel, you will get the chance to create your admin area for free. You can complete your project or at least make a good start with this template. This template has great features like light & dark modes, RTL support, and a large set of components.
By purchasing the premium version, you can unlock more components. Check out and learn more about the Core UI Laravel template from here,
7. Cuba – Laravel Admin Dashboard Template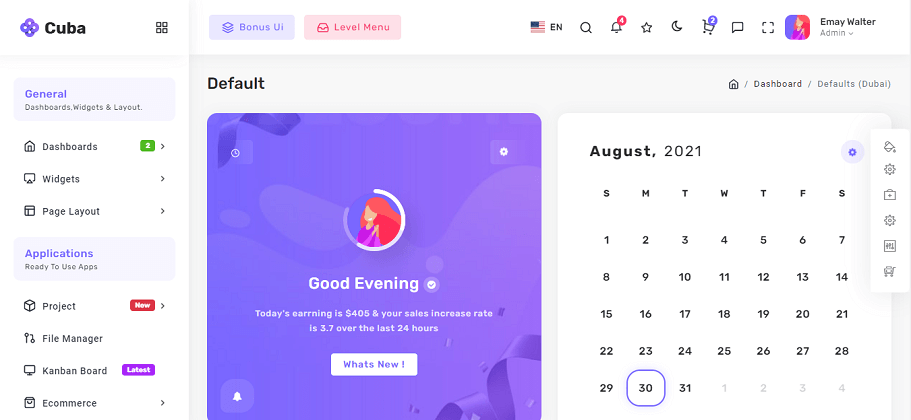 Cuba is a modern Laravel admin dashboard template. The template is developer-friendly, has custom pages, and has a clean design. It offers you premium support and detailed documentation for the developers.
This package has 12 unique layouts, 2 dashboard versions, 26 latest widgets, 30 components, and a lot more than we can expect at this price range. Hence, don't forget to check out their demos.
8. Arctic – Laravel Admin Dashboard Template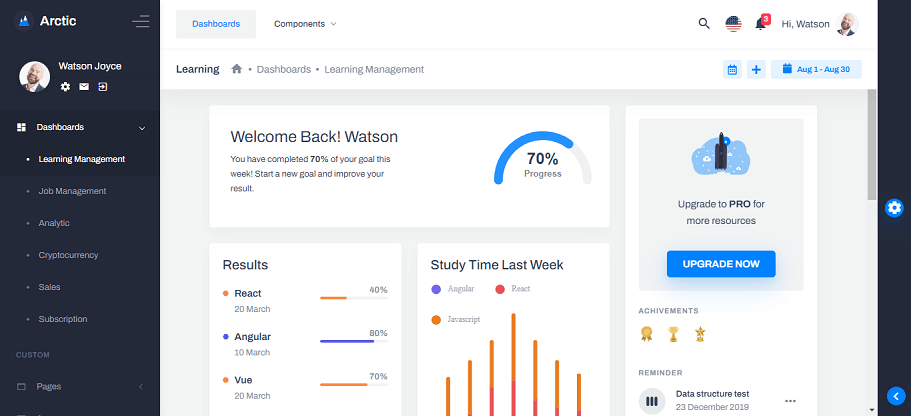 The Arctic is another outstanding Laravel admin template by UI-Lib after Gull. It is a clean and minimal-looking multipurpose admin template. It comes with 6 dashboards, 8 pages, 90 components, 100+ screens, 4 navigation, and a lot more.
In addition, the template is fully customizable and has light and dark mores, RTL version, custom color schemes, etc. And most importantly, it followed global guidelines.
Buy or experience the template from here.
9. Poco – Laravel Admin Dashboard Template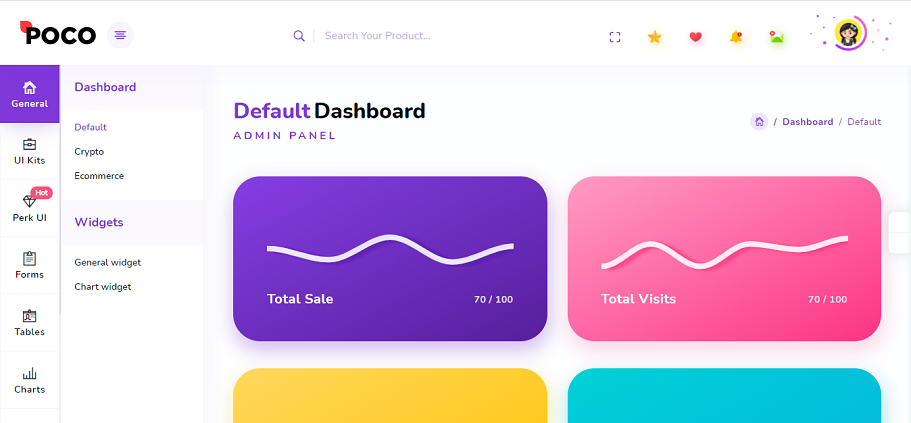 Poco is a multi-purpose, premium Laravel admin template. It provides a large number of reusable UI components. Undoubtedly, you can build all types of web applications with this template.
The template contains 10 applications, 04 cards, 42 components, 178 pages, and more. Unique features like light & dark mode are also there. Its developers' team is continuously updating and adding new features to it.
So, there is a good chance you will have excellent customer service from Poco's developers' team.
10. Now UI Dashboard Laravel (free)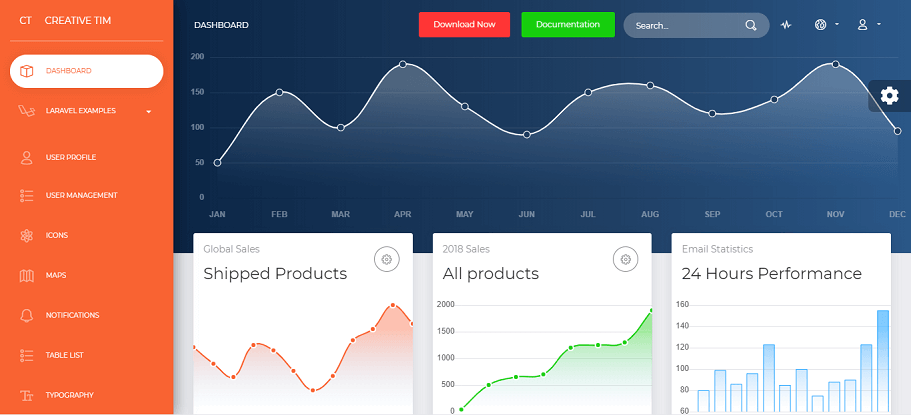 Now UI Dashboard Laravel is a free Bootstrap 4 admin dashboard integrated with a Laravel backend. As it seems, the template got inspired by Now UI Kit, which is a good UI Kit developed by Creative Tim and Invision. Under the MIT license, you can use this template for personal and commercial projects.
This free version contains 16 elements, 03 plugins, and 7 example pages. The paid version offers more than that; for example, 160 components, 13 plugins, 28 example pages, etc.
So, you can create a modern-looking clean admin area with this template. That is going to be a perfect fit for today's flat design.
Wrapping Up
Finally, it seems that your search for Laravel Admin templates ends here. We have successfully gathered all 'Best Laravel Admin Dashboard Templates for 2022'. Please keep in mind that there are various sorts of demands in the developing industry. That is why we have created this list with both free and premium Laravel Admin Dashboard templates. So, you can find the best Laravel admin dashboard template within your criteria.
About UI-Lib
At UI-Lib, we develop free and premium Admin Dashboards, UI Kits, Landing Pages, and Design Systems built with React, Angular, Vue, Bootstrap, and more. Along with that, we have more than 9k sales on Themeforest.
You might also like these articles: