Are you looking for some of the Best React eCommerce Templates? Look no further! Here, you will find out the finest ones.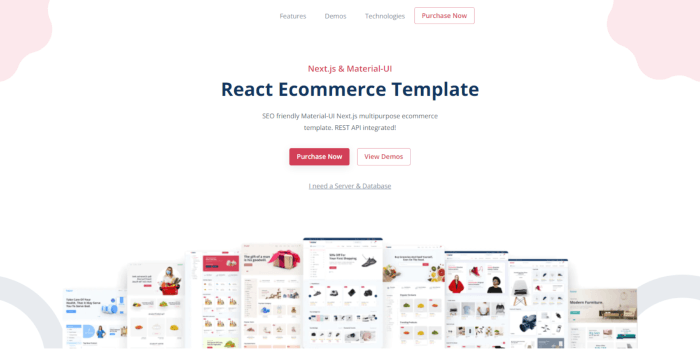 React is now the most popular & easy to learn JavaScript framework for front-end compared to others. And, when it comes to delivering a blazingly-fast UI and a smoother user experience, you'll not find a better one.
Therefore, we are showcasing the best budget-friendly React eCommerce Templates available on the internet. Check out these simple & multipurpose templates for your next eCommerce website development project.
Best React eCommerce Templates
All of these templates are up to date on the most recent web design trends and mobile-friendly. However, please remember that the list below is in no particular order. So, don't hesitate to pruchase any of these templates for your next eCommerce project.
Bazar Pro – Multipurpose eCommerce Template with React, Nextjs & TypeScript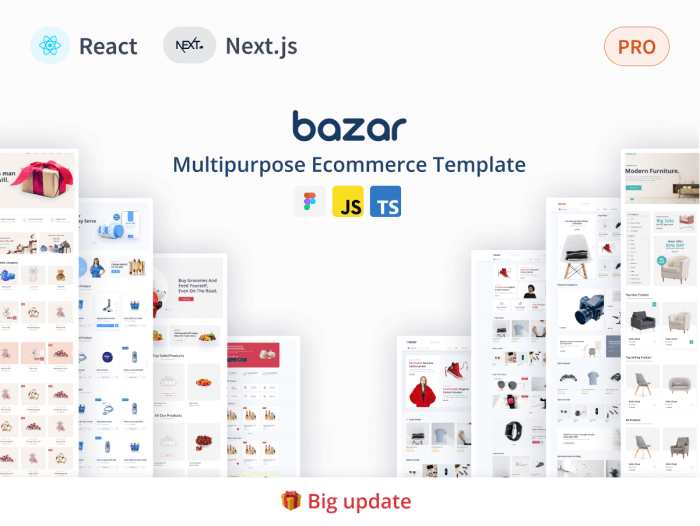 This is a multipurpose eCommerce template built using React & Nextjs. It contains several pages and a simple design style.
The template's code base is uncluttered. So, you can easily understand its structure. Its use of MUI, one of the most well-liked React User Interface libraries, is another fantastic feature. Bazar Pro has features like homepages, multi-vendor pages, user account dashboards, vendor account dashboards, etc.
You will also receive a few other helpful tools that will help you build a top-notch eCommerce website. For instance, MUI Core v5, ChartJS, and Figma file ready.
Bonik – Multipurpose React eCommerce Template with Nextjs & TypeScript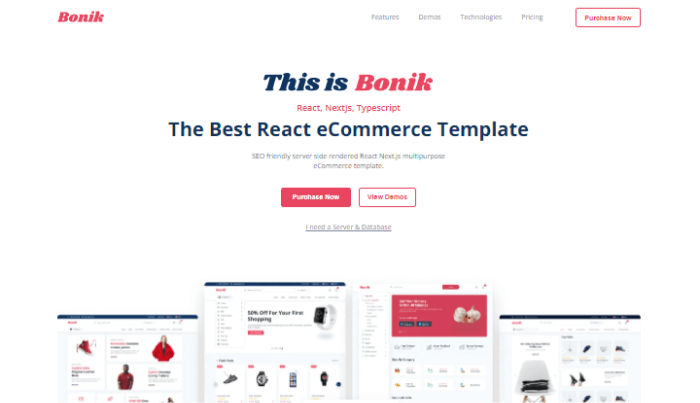 Another React Nextjs multipurpose eCommerce template by UI-Lib. It aims for improved SEO, high-quality code, and quick performance.
To offer a simple approach to modifying the website's overall design. The company used styled components and other custom components for stable performance.Also, it has internal pages, such as multivendor and user accounts, as well as four different shop versions (Superstore, Grocery delivery, Niche Market version 1, Niche Market version 2).
Wokie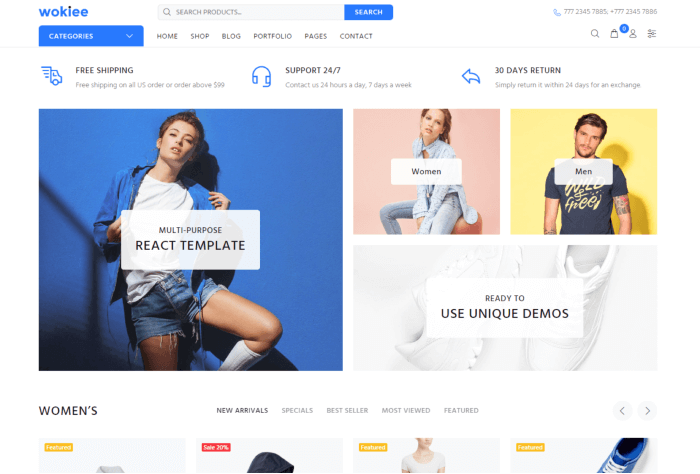 Wokiee is another ideal template for helping you in creating your online store. It is quick and simple to use. And, w ith the many pre-built home variations, you can modify every page of your website. With over 60+ homepage options coming shortly, there will be at least one that fits perfectly into any niche!
Moreover, it's quick and responsive as React Next JS powers it. Besides that, it has NO jQuery and functions flawlessly in any browser or device.
LEZADA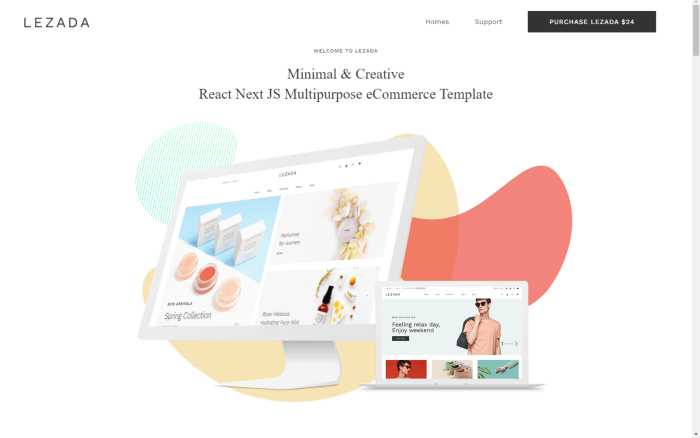 LEZADA offers a simple user interface that will keep your customers happy during their entire session on your website. The template is built using React & Nextjs along with other essential technologies. So far, it has added 25 parts, 3 header styles, 10 home variations, 7 store pages, and 3 footer designs. This implies that your internet store will have limitless opportunities. It has No JQuery dependency & has cross browser support plus a ton of amazing features.
Multikart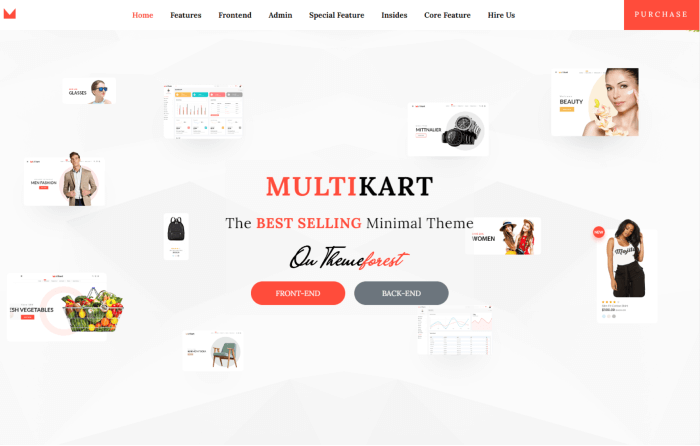 Multikart was one of the best React eCommerce templates throughout 2020 till 2021. The template is for multifunctional websites. Websites that offer anything from apparel to accessories to fashion-related goods. It has many great features and built using React Nextjs.
React CLI, RTL support, Paypal gateway integration, 12 color options, translation-ready, multiple currencies, blog pages, simple documentation, several custom pages, and an off-canvas sidebar are a few of its features. Also, it contains endless scrolling, a giant menu, blog variations, responsive design, multiple layout possibilities, SEO-friendly design, etc.
Novine – React eCommerce Templates with Nextjs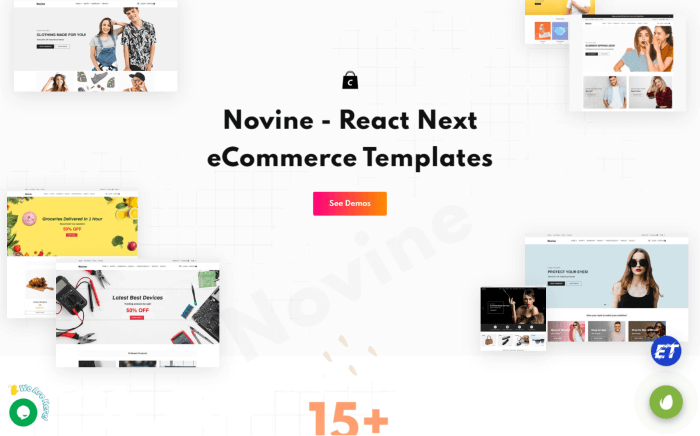 Novine is a simple and modern React Next JS eCommerce template for fashion businesses. It is built using Bootstrap 5.x, ES6+, Sass, Next.js, React.js, and React-Redux. The template offers quick checkout and Stripe payment options. It has outstanding Retina Ready visual UX/UI and responsive stunning design layouts. Also, it includes over 15 demo variations with numerous inner pages.
Moreover, its source code is written with a clear and extensive approach. And, also it comes with a complete documentation. These will help you bring out the best within the template.
CiyaShop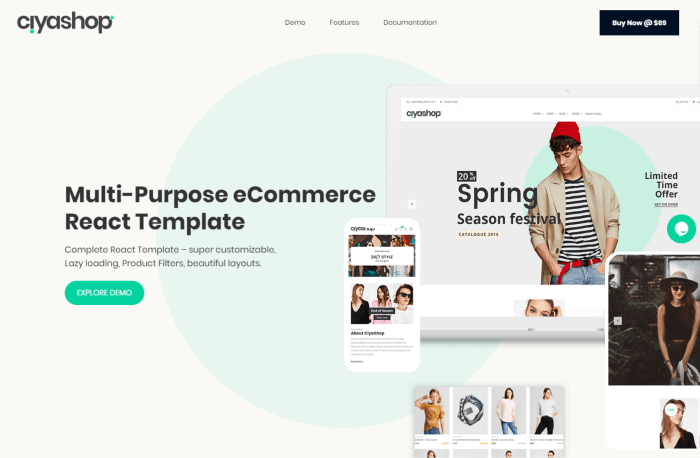 CiyaShop is yet another robust and responsive static eCommerce template with excellent modules, a wealth of practical features, and a beautiful look. Because of how easily the code can be modified, this theme offers a lot of flexibility.
Besides, it offers four eCommerce application home pages and tens of other module pages covering the static admin side of the life cycle of an eCommerce application.
Stroyka – Tools Store React eCommerce Template
Stroyka is a React JS eCommerce template for tool store websites. For creating online stores that offer car parts, electronics, tools and instruments, and a range of other things, is ideal.
There are several features available in the template. Features such as a fully responsive design, support for LTR and RTL, HTML5 and CSS3, Bootstrap 4, CSS3 Animations, SVG Icons, Font Awesome Icons, and many more.
Murtfury – React eCommerce Template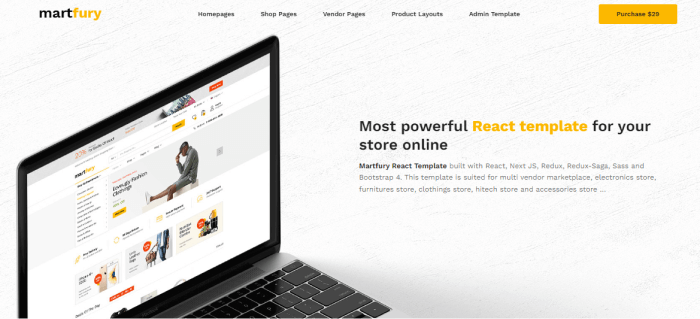 Martfury is a React Nextjs eCommerce template. It also has technologies like Redux, Redux-Saga, Sass, and Bootstrap. The multi-vendor marketplace, electronics store, furniture store, clothing store, Hitech store, and accessories store are the best fits for this template.
Create your marketplace using Martfury and let sellers sell their products, just like they do on Envato, Amazon, and eBay.
Livani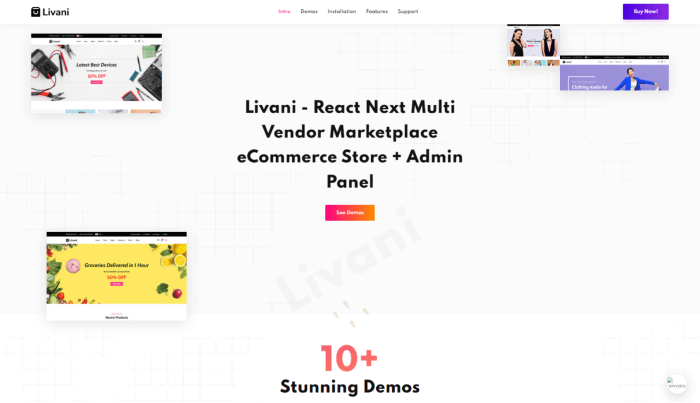 Livani is a React Next Multi-Vendor Marketplace eCommerce Store + Admin Panel. It is a clean and modern React & Next.js-based Multi-Vendor Functional eCommerce template. It is built with React, Next.js, PostgreSQL, Redux, Cloudinary, and other technologies. The template has a quick checkout functionality and Stripe payment.
All products are displayed on the front side of the template from the backend database. Features like Demonstrated Functional Pagination It is possible to register and log in using React-Redux and JS cookies. Additionally, it has features like Real-Time Stripe Checkout, Adds to Cart, and Products Quick & Details View.
Molla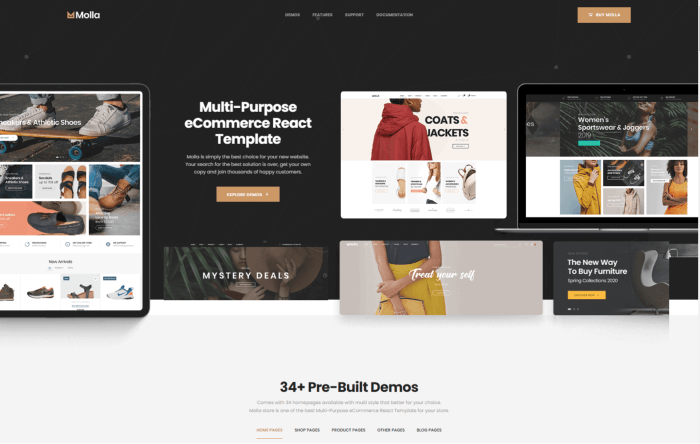 Molla React eCommerce template contains all the essential tools and functionality to construct a super fast responsive e-commerce. It comes with an excellent UI and UX experience. It has more than 30 examples of layouts. Its modern design-based skins will allow you to develop your niche store. By using the template, you may avoid costly web development and reduce design expenditures.
Flone – Minimal React Template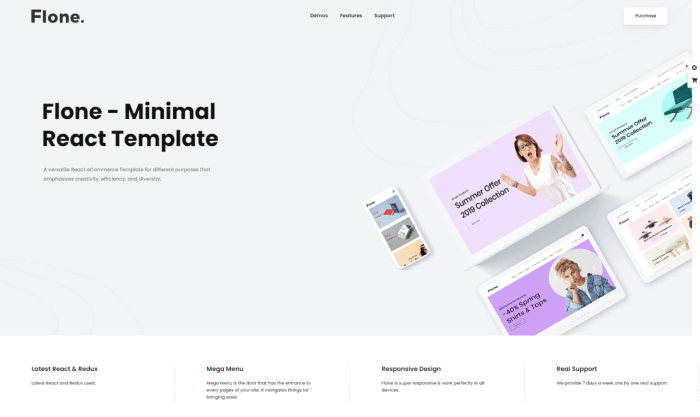 Flone is a React-based, minimal, very flexible, and innovative eCommerce template. You'll discover the best demos for your website here because the business attentively studied the market and predicted the upcoming trend in this sector. It has several top-notch features and convenient qualities.
The template includes more than 38 Sections, 7 Header Styles, and more than 3 Footer Styles. And, its best features are the combination of multiple currencies, multiple languages, cross-browser compatibility, and responsive design.
ChawkBazar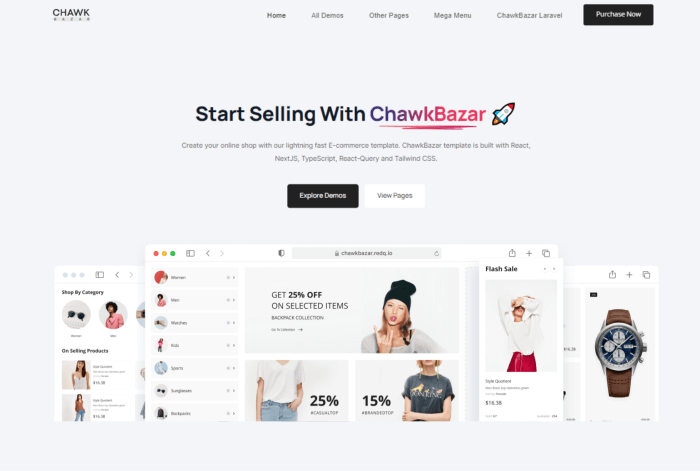 ChawkBazar is a lifestyle ecommerce template with React, Next, TypeScript & Tailwind. The template is built using demo json data, so you will know how to connect it with the actual data. Also, deploying this template is pretty simple. Besides, it has superb configuration abilities. With the template, you will be able to overwrite it to use your style. Because of how quickly it works, your consumer will undoubtedly enjoy using it.
Porto – React eCommerce Template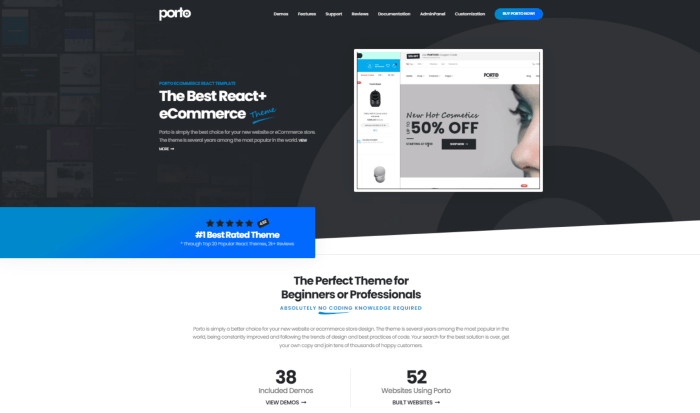 Porto – React eCommerce template is perfect for various online stores. It offers all the tools and features needed to build an incredibly quick, responsive online store with fantastic UI and UX. Moreover, you can build your own specialized store using one of the 25+ demo layouts and contemporary design-based skins.
RedParts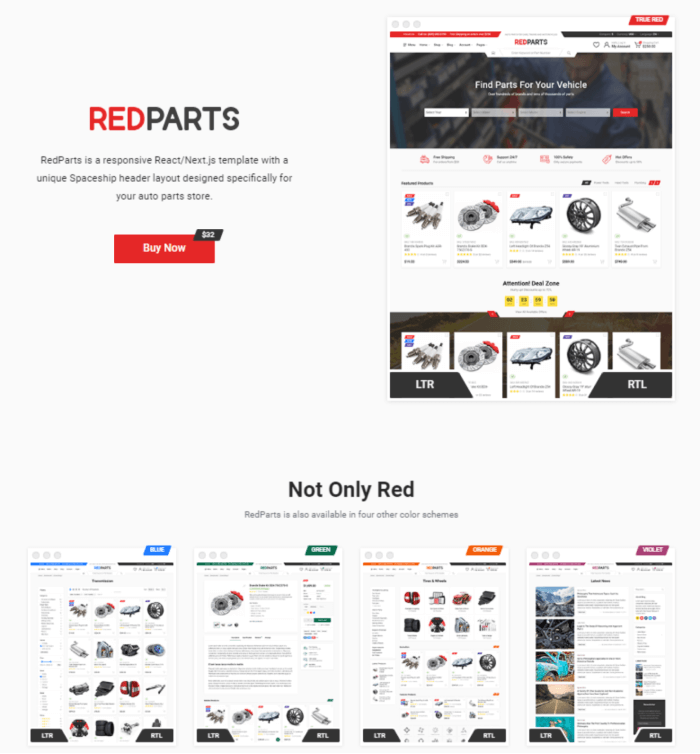 RedParts is a React Nextjs eCommerce template written in TypeScript. If you want to create an auto part store, try RedParts. It features a special spaceship header layout. You can use the template for electronics store websites or a store for sporting goods, tools, and more. It utilizes React hooks, and the components are here in a functional approach.
Blog Suggestions