If you're seeking the finest admin templates that use the well-known technologies Bootstrap and Vue, you've come to the right place. Here you'll find the top 18 latest free and premium Bootstrap Vue Admin Templates for 2023.
Best Bootstrap Vue Admin Templates
1. Gull – Bootstrap Vue Laravel Admin Dashboard Template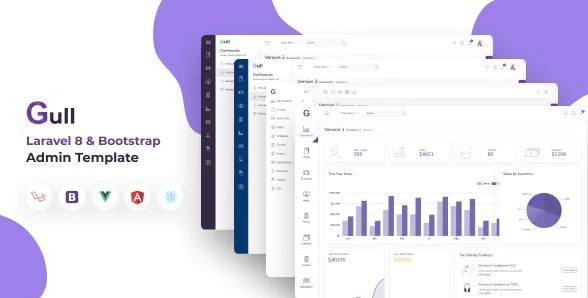 Gull – A next-generation Bootstrap Vue Admin Template with a ton of features and easy-to-customize options. Some of Gull's out-of-the-box features include NO jQuery dependency, BootstrapVue Components, over 200 widgets, multiple charts, different layouts, light-dark modes, RTL, LTR support, etc.
The template can be a good option for developers looking into creating cross-platform applications, web app backends, project management, accounting software, eCommerce backend, CMS, CRM, SASS, ERP, and other projects similar to that.
Details / Download Live Preview
2. Skote – Vuejs Admin & Dashboard Template + Sketch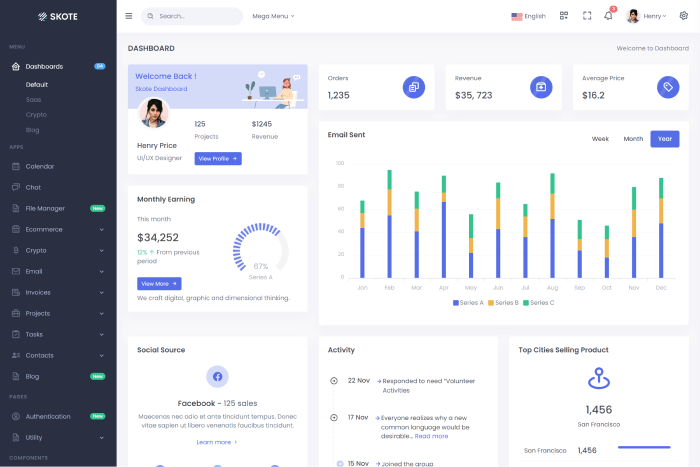 Skote is a high-end Laravel and VueJs admin template with developer-friendly code scripts. It uses the Vue CLI and Vuex component framework, supports several languages, has Firebase and backend authentication, and excludes jQuery. Along with reusable parts, the template also includes Sketch, Figma, and XD files.
Additionally, the admin dashboard is simple and elegant with RTL choices and Dark and Light Layouts. You can create any kind of online application, including eCommerce, CRM, CMS, project management tools, Admin Panels, and SaaS-based interfaces.
Details / Download Live Preview
3. Star Admin Vue (Free)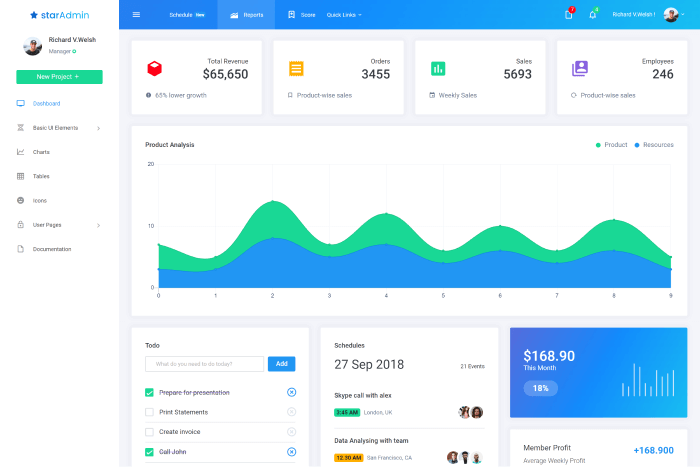 Star Admin Vue – A Vue Bootstrap admin template. It is built using the Bootstrap-Vue framework. Moreover, it is a fully mobile-first and responsive admin template that offers a solid framework for any Bootstrap + Vue.js project. Also, it is a free admin template that allows you to design better user interfaces for your admin panel that is highly configurable.
Details / Download Live Preview
4. Cuba – Admin Dashboard Template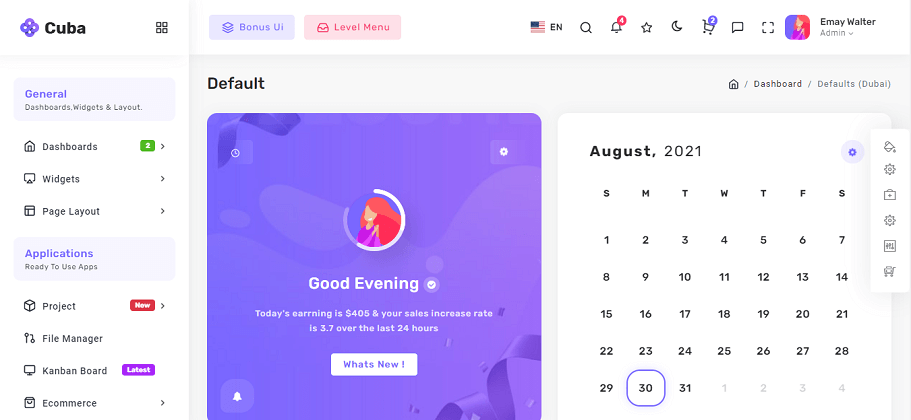 Cuba is a Vue Bootstrap admin template with jQuery. There are reusable UI Components that take advantage of the latest jQuery Plugins. Also, you can use the template for projects such as a CMS, CRM, or the backend of an app. There are also two dashboards, HTML with PUG, SASS style, color options, data tables, responsive layouts, light and dark themes, form wizards, chat apps, chart options, and much more.
Details / Download Live Preview
5. Metronic – Admin Dashboard Theme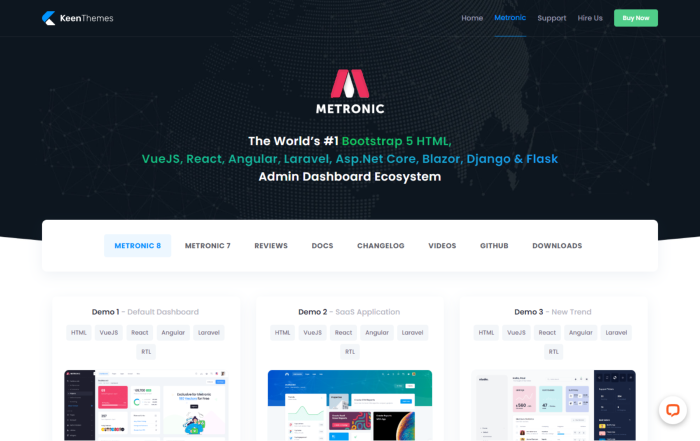 Medtronic is one of the most updated admin templates with various modern technologies. It has multiple versions available, like Bootstrap HTML, VueJS, React, Angular, Asp.Net, Django, and Laravel. So, with the purchase, you are getting all technologies in one for your future admin panel projects.
Along with the technologies, it offers features like 30+ top-notch layouts, UX-friendly Navigations, a ton of menu options, 20+ dashboards, rich data visualization, 12 useful apps, tech support, lifetime free updates, and more.
Details / Download Live Preview
6. Velzon – Admin & Dashboard Template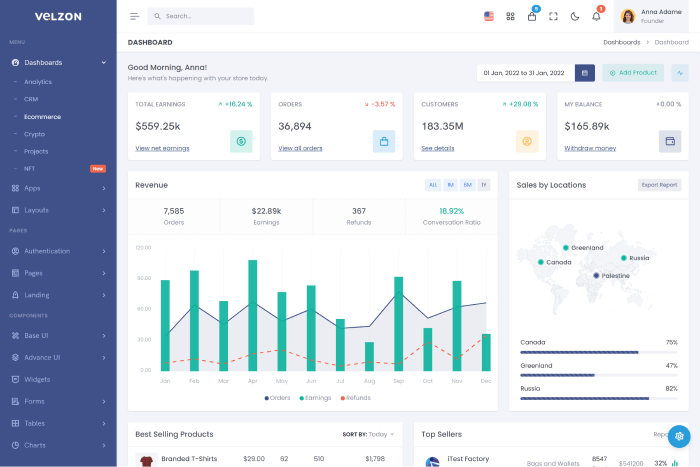 The Velzon admin template is available in many different technologies. As a result, there are numerous options to pick from in a single package. Moreover, it contains features such as RTL support (except Ajax, PHP, Symfony & Nodejs). The template includes seven demos and five layout types with many options.
You will receive six dashboards, over 11 apps, light-dark modes, and Landing Pages for any projects. Also, there are 150 pages, more than 40 components, 60+ charts and widgets, fully responsive design, and more.
Details / Download Live Preview
7. VueStudio – Bootstrap 5 Admin Template
VueStudio is one of the latest fully responsive Bootstrap 5 Vue 3 admin templates. It is based on the FLAT design style with a very clean and neat design. Moreover, it has over 30 styled plugins, 30+ unique pages, and a lot of reusable widgets. So, don't forget to check out the template from the buttons below.
Details / Download Live Preview
8. SocialV 5.0 – Social Network & Community Admin Template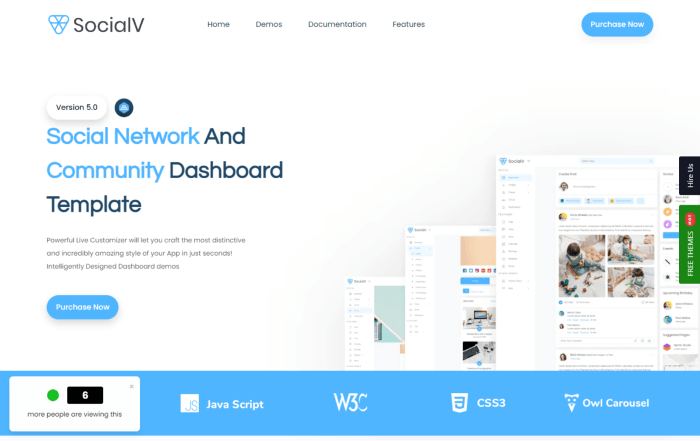 SocialV is a pre-built social network and community dashboard template that is simple, clean, and modern. A site will look elegant with the template as it has a clean design with many more pre-builts features that are on their way.
All popular web browsers, tablets, and smartphones are compatible with the template. Your design will look fantastic on any device. It is because every one of its pages is super responsive.
Details / Download Live Preview
9. OneUI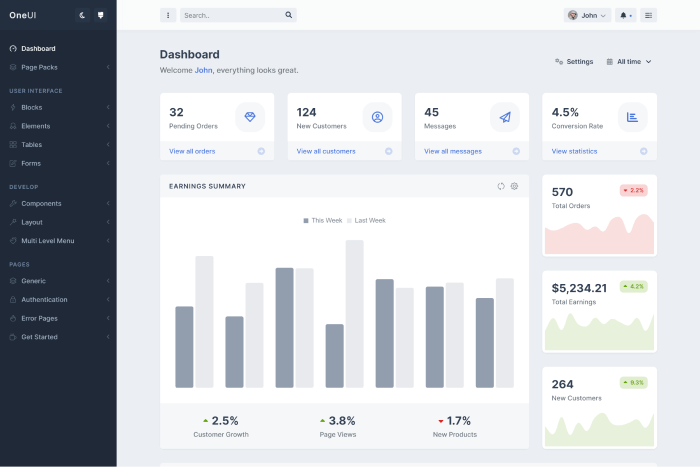 OneUI is a UI framework and adaptable admin dashboard template. It is entirely modular, has special features, and can be used to develop your next brilliant concept. You can use the template to create the User Interface for a variety of projects, including web applications, backend websites, websites, custom admin panels, admin dashboards, CMS, CRM, or even portfolio, blog, and business websites.
Details / Download Live Preview
10. Yoda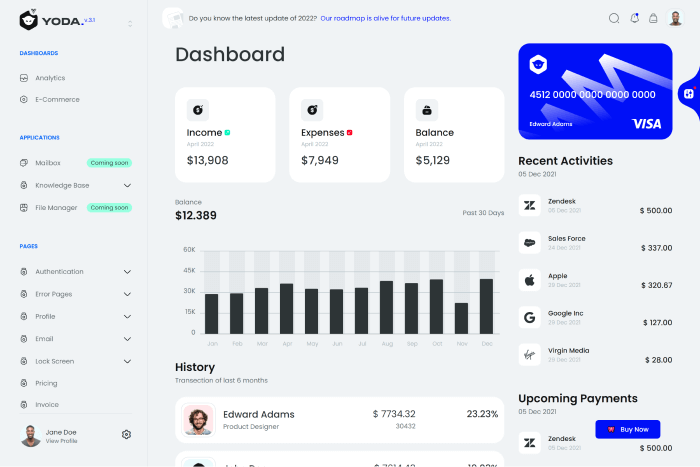 Yoda is a user-friendly admin template. If you're a developer looking for all the required features, check out Yoda. Here, customization of the dashboard template is possible. The template is not only quick and simple to use, but it also meets high industry standards. With Yoda, you will have versatility because of its configurable feature. Its features include charts, several apps, a unique interface, RTL, color options, etc.
Details / Download Live Preview
11. Cork – Vue 3/2, Bootstrap 5/4 & Laravel Admin Dashboard Template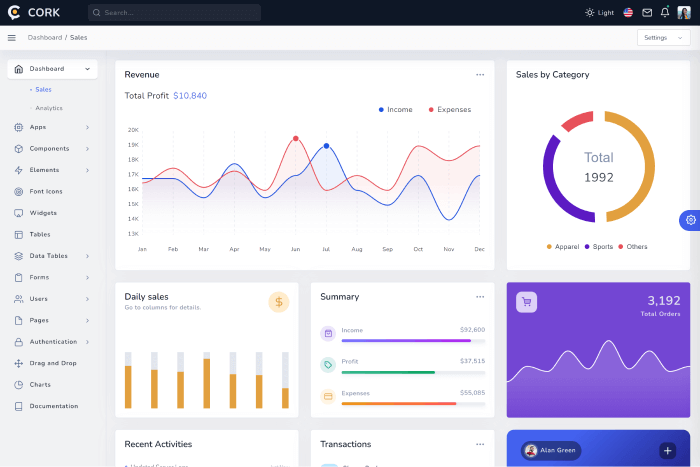 Cork is a CRM admin dashboard template on Bootstrap 5 & Bootstrap Vue, and Sass. You can use the template for all kinds of back-end projects. The design of this template is 100% responsive and adapted to mobile devices of all sizes.
The template comes with working apps to build your next back-end application. Also, it offers a variety of reusable components like buttons, maps, charts, widgets, forms, tables, and a bunch of elements you can include in your project.
Details / Download Live Preview
12. HiliteUI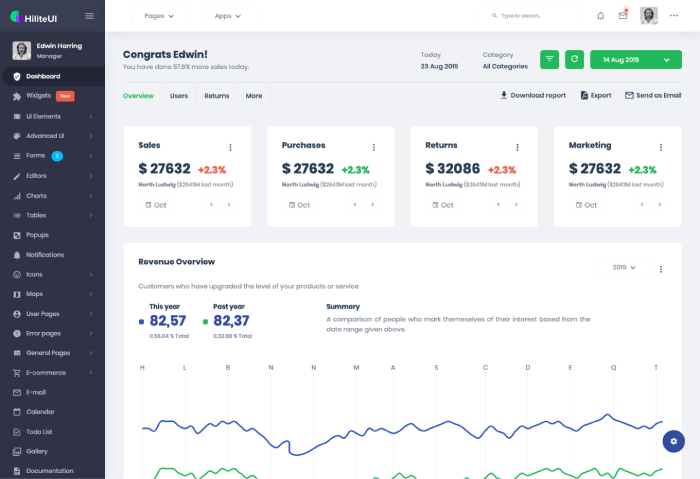 HiliteUI is another user-friendly, feature-rich Admin Template that is well-responsive. It guarantees a great user experience on both mobile devices and desktops. The template is built using the Bootstrap framework, SASS, jQuery, HTML5, and CSS. Also, it has React, Angular, and Vue.js versions as well.
Besides, it has some common features like UI elements, theme styles, color schemes, cross-browser compatibility, etc. You can use the template to create an admin dashboard, application backend, CRM, CMS, and other web applications.
Details / Download Live Preview
13. HUD – Vue 3 Bootstrap 5 Admin Template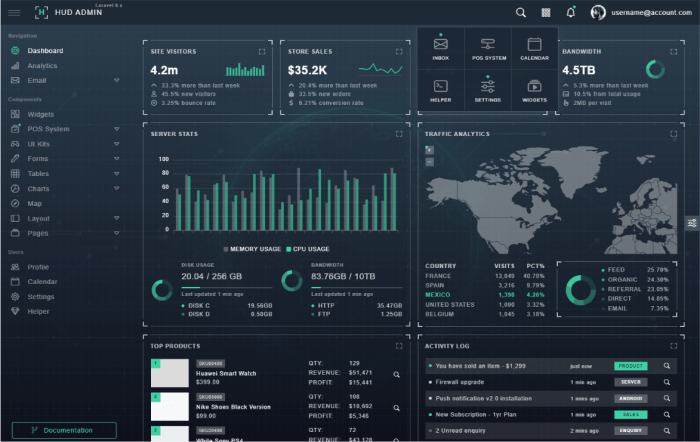 Built on the well-known Bootstrap 5.2.0 framework, TypeScript, and Vue.js HUD is the first hud-style admin template. The HUD UI design is the inspiration for the design of HUD Admin, which has a sleek and elegant look. Moreover, it includes several external plugins, reusable widgets, and other crucial features. Therefore, be sure to look at this unique admin dashboard template.
Details / Download Live Preview
14. ArchitectUI – Dashboard Vue (Free)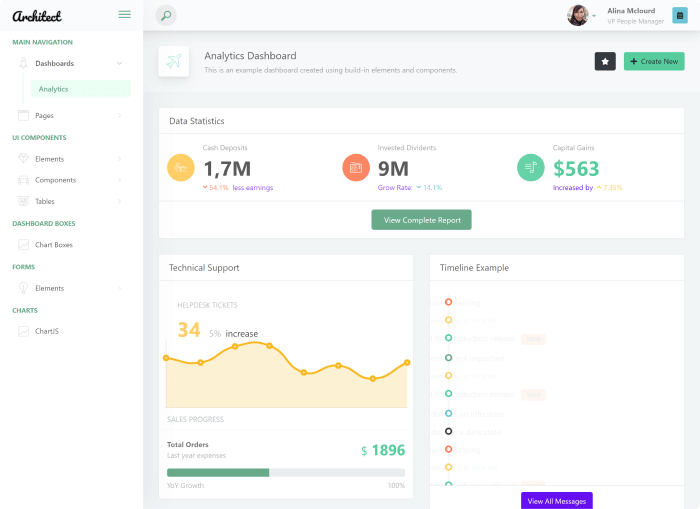 ArchitectUI – A free Bootstrap Vue Admin template with nine unique dashboards, 15 Vue widgets, and more than 200 components. Setting up the design of your dashboard has never been easier than it is with ArchitectUI. The template offers a variety of layouts. You can select the layouts you like most.
Moreover, it is entirely responsive, and the design quality is the same on screens of any size. Also, you can choose from ten color schemes that are available here.
Details / Download Live Preview
15. Start Vue – Admin Dashboard Template (Free)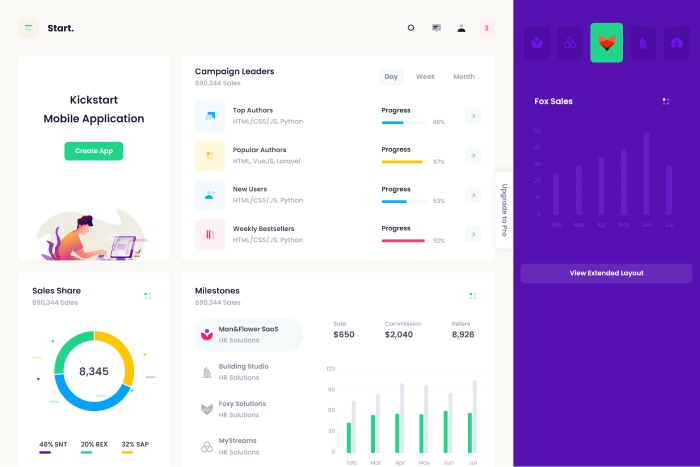 Start Vue Free is a Vue.js 3 and Bootstrap 5 Admin and Dashboard theme. IT is jam-packed with plugin choices and uncountable UI elements. Moreover, it has an outstanding design, and its cutting-edge layout elements are tailored to work with every contemporary web application. The Vue Admin Template for bootstrap 5 is very customizable.
Details / Download Live Preview
16. MDB – Vue Admin Dashboard Template – VueJS & Material Design (Free)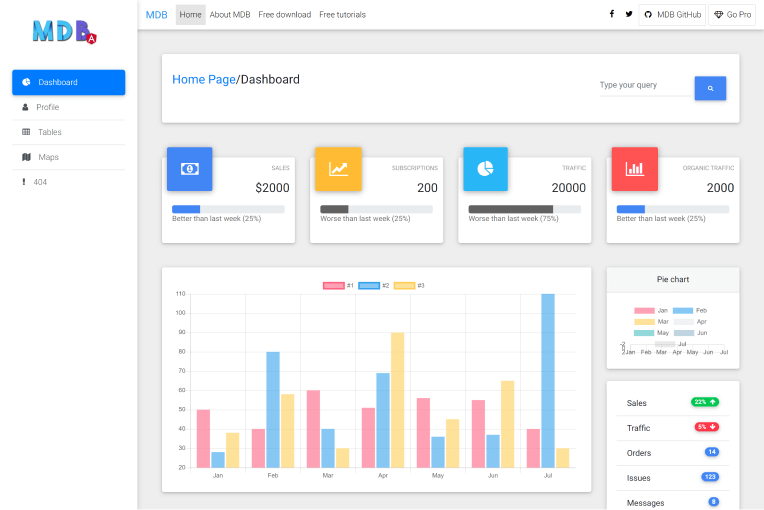 MDB – Vue admin dashboard – A free template built using Bootstrap, Vue.js, and Material Design. It has several elements, various dashboard designs, and data presentations. And it is perfect for both private and professional use. There are more than 600 material icons, 400+ material UI elements, 74 CSS animations, and a lot more.
Details / Download Live Preview
17. Sing App Vue (Free)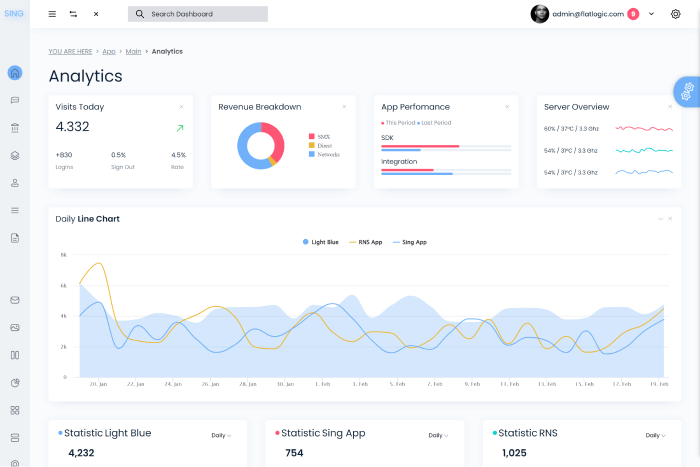 Sing App Vue Dashboard is another free Bootstrap Vue admin template. You can easily utilize the template to build a dashboard using the latest Vue.js development stack, so you won't have to learn everything from scratch!
If you want to construct SASS, E-Commerce, CMS, or CRM platforms, here is a wonderful place to start. All necessary components are available for use. As a result, this Vue.js Admin Template GitHub may be the perfect option for you.
Details / Download Live Preview
18. Shreyu – Admin & Dashboard Template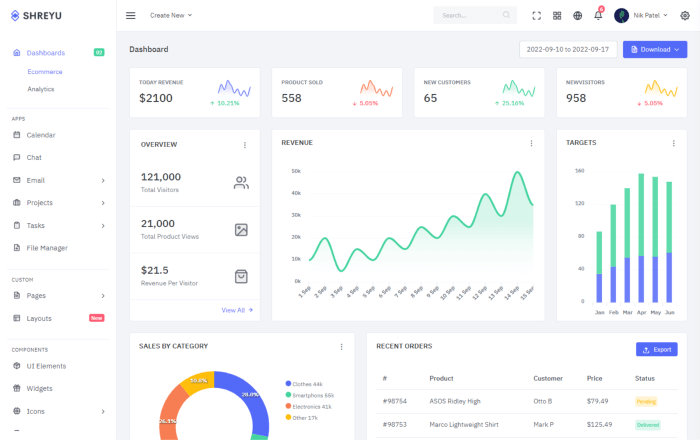 Shreyu is an admin dashboard template made with Bootstrap 5. It offers customizable components, UI elements, application pages, and more. All browsers and devices are compatible with the template. Also, with the template, you can quickly create an online application. Besides, it is a good option for any modern web app, including dashboards, CRMs, CMSs, e-commerce panels, SASS-based user interfaces, etc.
Details / Download Live Preview
Similar Blog Posts