The point of sale, or POS, is where you deal with customers. It also goes by the name "Point of Purchase." A POS System is almost definitely something you've encountered if you've ever gone shopping at a mall, online store, or grocery store. When you check out online, go to your checkout counter, or choose an item from your stand or booth, they are at the point of sale. Hardware and software are what enable a business to generate revenue.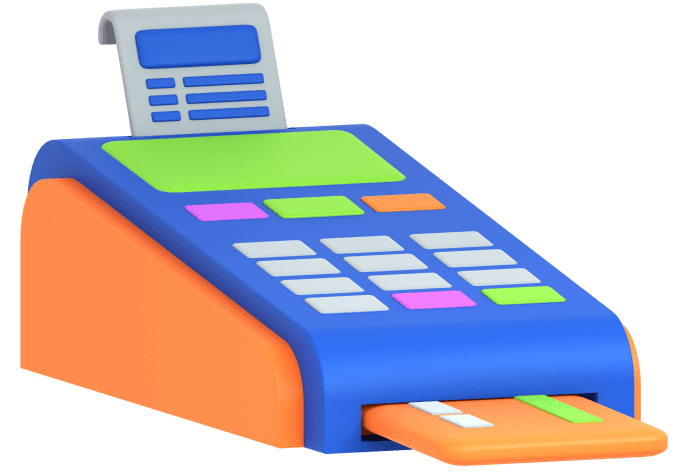 So, if you have a retail business, having an efficient point of sale (pos) system can go a long way in making sure that all your operations are working together. Those retailers who spend the time and resources to implement such a system before they go into selling will surely reap its benefits.
Without further ado! Let's discuss how a POS System works.
How Does A POS System Work?
A POS system in simple terms is just a store's cash register. But the POS of today is much more than that. It enables you to check out a customer from any location in addition to enabling your business to collect payments from customers and keep track of sales. You will need a POS app and an internet-capable gadget to make that happen.
Despite being quite simple, the configuration can function in a variety of ways. The main factor is whether you sell exclusively online, only from a physical store, or simultaneously from both.
A POS system goes through four steps, which are as follows:
Step One: When shopping online, the customer first chooses their items, puts them into the cart, and then hits the checkout button. The customer brings the items to the counter or a salesperson in a physical store. The salesperson then scans the merchandise using a bar code scanner or a camera included in the item selling device.
Step Two: The POS system determines the cost of the items in the following phase (including sales tax or discount – if any). The inventory count is then updated by the system to reflect those products as sold.
Step Three: The third stage is when the customer completes the transaction by paying for the goods. In a physical store, a consumer has the option of paying with cash or a card. If it's an online store, the customer uses a card or a mobile banking app to make a purchase. 
Final Step: When the sale has finally been made formally, the payment is processed, and a digital or printed receipt is generated. The company then hands over or ships the goods to the customer.
POS Hardware & POS Software
If you run an online business, all your sales will be online, negating the need for POS equipment to facilitate payment processing. However, you might require a register and a credit card reader if you own a cafe or something like that. If you own a food truck, you might only need a phone or tablet to take orders.
Here is a list of typical POS hardware and software types that might assist you in estimating the overall cost of your POS system. Remember that your business will determine what you require.
POS System – Hardware VS Software
| | |
| --- | --- |
| POS Hardware | POS Software |
| Register – Helps to calculate the money or process a customer transaction. | Payment Processing – This function processes the transaction online like a Register in a physical store. |
| Connected Device – A monitor, computer, or portable device like Tab or Mobile Phone. | Inventory Management Software – It allows you to keep tabs on all of your items. Shows sales data, scarcity, level, etc. |
| Credit Card Reader – This machine lets your customer pay securely. | POS Reports – It shows you, how much your business is selling. A detailed report on sales. |
| Cash Drawer – A safe spot to keep the cash payment safe. | Employee Management – This is for your team management. Giving them various access to different tasks and showing how they are performing. |
| Receipt Printer – A paper receipt showing detail about the purchase. | CRM (Customer Relationship Management – You can view what your consumers purchased and when they made that purchase using the CRM tool. |
| Bar Code Scanner – Reads the item and its details, shows the price and its stock level, etc. | Online Receipts – This shows the purchase details and its history for your customer. And, it makes the processing of refunds easier. |
Now that you have a better understanding of the POS systems, you're ready to discover the best POS solution for your company, regardless of what or where you sell.
The Best Inventory Management with POS System & HRM! 👇🥳
Stocky – Inventory Management with POS & HRM by UI-Lib 😍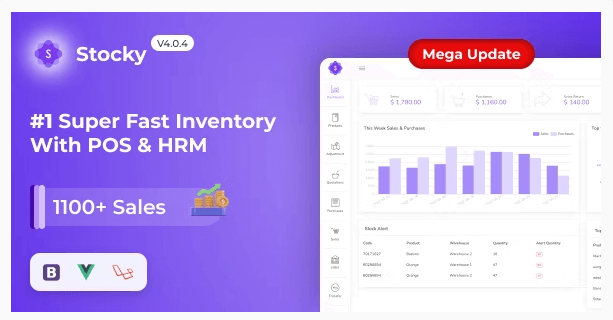 Details / Download Live Preview
Stocky – One of the most popular Inventory Management systems, featuring Point of Sale (POS) and Human Resource Management capabilities (HRM). It handles inventory, sales, purchases, customers, invoices, payments, and human resources. And more regardless of time or location. Stocky is the ideal solution for managing inventory, purchases, and sales – all in one super responsive web application – whether you run a small or large business.
Key Features 😮
Stocky comes with a massive amount of excellent features out of the box, including:
Easy POS and Dynamic dashboard
Human Resouce Management System
Items, Adjustments, Transfer
Quotations, Sales, Purchases
Returns Customer & Supplier
Users, Customers, Suppliers
Currency, Units, Category, Backup
Payment Sales, Purchases
Payments Report
Overview & warehouse stock charts
Purchases & Sales report
Customers & suppliers' reports
Product quantity alerts
Mail notification system added
Uses Structured And Customizable Sass Code
Integrated With Vuex, Vue Router
Dark Version Included
Multilingual 14 languages and more will be added soon
RTL Support Added
Pure Vue Js, No JQuery
Clean And Organized Code
Well Documented Code
Standard Folder Structure
6 Months Support
Life Time Free Updates
etc.
Other
Essential Blog Posts