Are you looking for an easy solution to connect your Gumroad Page to your WordPress Site? Don't look any further! In this blog, we will show you the top 3 simple ways to connect Gumroad with the WordPress site. But first, for those who are unfamiliar with Gumroad, let us define it simply.
Gumroad is a platform where virtually anyone can sell almost anything. The process is pleasantly simple and transparent, with none of the headaches associated with some of the more popular platforms.
There are more than 98,994 creators who have sold their works on this platform for over $500 million. These creators work in a variety of fields, including education, IT, music, sports, and comedy. On Gumroad, even dance and theater fans can find a home.
Benefits of Gumroad
Gumroad is one of the best tools for individuals and startups looking forward to selling their products directly to customers. It gives you the access to know and understand your customers better by providing data and analytics about the product's sales.
Buying and selling products are simple for both sides, especially for non-tech people. Most importantly, the payment method is straightforward to understand. You can also sell products for no cost and collect your customers' email addresses as assets.
We know that many sellers find it challenging to implement a personal payment method system on their websites. Gumroad helps you with that.
However, there are drawbacks, such as a lack of options or features. Furthermore, selling services, which are sometimes necessary and directly related to product sales, is not an option. But, for the time being, let's put these concerns aside and concentrate on the benefits of connecting Gumroad with your WordPress site.
Benefits of Connecting Gumroad with Your WordPress Site
WordPress websites are the best option for non-technical and even technical people who want to create a website quickly. They have no competitors in terms of design because thousands of designers create new designs for WordPress sites every single day. You can easily apply them to customize your WP site. According to Digitial.com, 35% of websites in the world today are WordPress websites.
Moreover, WordPress also has Woocommerce for eCommerce websites. It works within WordPress to convert it into a very customizable and fully functional eCommerce site. Gumroad is fantastic, but it is limited in terms of customization. Therefore, to make your Gumroad page look the way you want it to, you must hire a developer.
So, there is a constraint that you will face with Gumroad. If you integrate your Gumroad page with your WordPress or Woocommerce site, you can easily customize the design without any coding knowledge while also getting all of your products listed and structured in a proper user-friendly way. As a result, we can say that "Gumroad is good, but integrating the Gumroad page into your WordPress site is even better".
You can combine the two if you have your website and products on Gumroad. After that, you can add a link to your website from your Gumroad products page. Customers who visit your website can thus purchase products that are available on Gumroad directly from your website without having to go to Gumroad.
A Gumroad page will appear when a customer clicks on a product link. They can then purchase the item or add it to their shopping cart. They can use different options if there is a selection option for them.
Ways to Connect Gumroad with WordPress Site
Now, let us examine how these methods function and compare them at the end of this blog post. It is to determine which one will be the best option for you.
1. Gumpress By UI Lib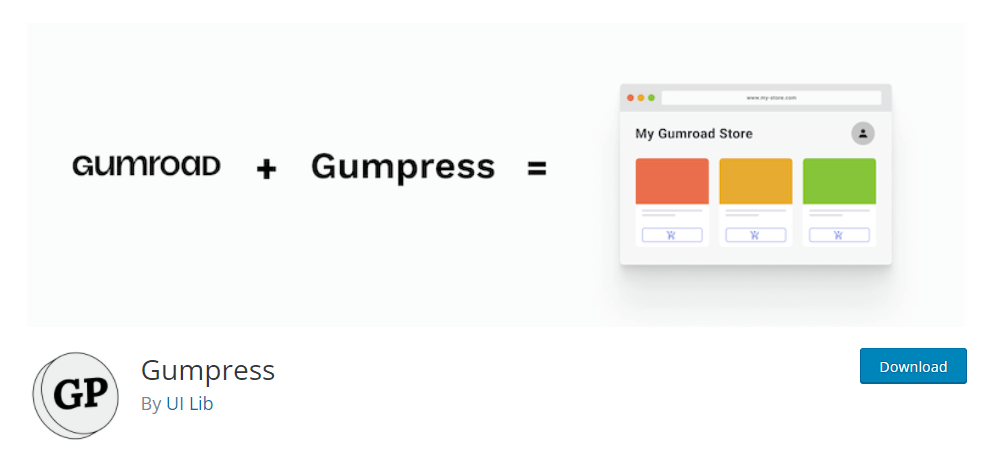 Gumpress is a woocommerce extension that lets you import Gumroad products into your store. It allows you to create a customized gumroad storefront using any woocommerce theme.
Customers can buy your gumroad products from your woocommerce store. Gumpress replaces woocommerce's default buy button (checkout system) with the gumroad checkout popup.
To update your Gumroad product, simply go to your WordPress admin panel and click "Sync Products" (product thumbnail, description, price, etc.). Furthermore, all of your products will be synced at the same time.
Gumpress syncs your gumroad product versions with your woocommerce variable product. As a result, you will see a price range on your woocommerce single product page and shop page.
Main Features
It Imports products from Gumroad
Integrate Gumroad checkout with Woocommerce
Varaible product support
Use any Woocommerce theme to build your Gumroad storefront
Compatible with Woocommerce shortcodes (Details in the link)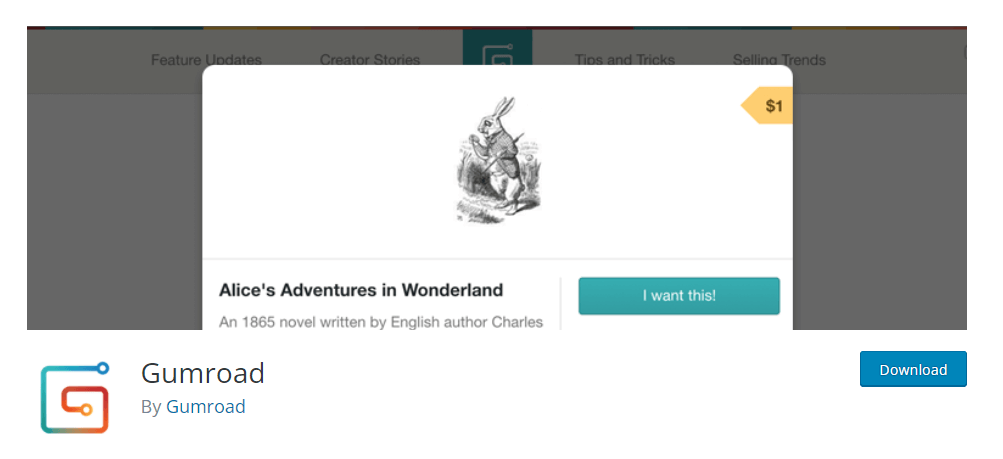 Gumroad is the original plugin made by Gumroad for WordPress sites. The plugin lets you embed Gumroad into your website, using Gumroad's overlay and embed widgets. If you have no coding experience no worries. It requires no coding skills. However, at the end of this blog, we will find out which one is comparatively better.
Once you install the plugin to your WordPress site you don't need to worry about a thing. It will automatically open the Gumroad Overlay. Means there will be a lightbox popup. If you want to know more about the plugin and how it works. make sure to watch this video. Also, you can use shortcodes. (You'll find them in the details section)
After activating the plugin you can see the full documentation in Settings > Gumroad. For FAQs and other details click the 'Details / Download' button below.
Main Features
Lets you embed Gumroad into your website
It can appear both as a separate page and as a popup
This plugin uses Gumroad.com's javascript modal view to integrate with them. It will include the JS required to load Gumroad products using the shortcode on any page of your site after installation. This makes it simple to sell products on your WordPress site using Gumroad.
Main Features
Uses Gumroad.com's JS modal view to integrate with them.
Example:[gumroad url="http://gum.co/tweets" title="Specific Tweets Plugin"]
Note: The URL link above represents the link to your product page, and the title represents the link's title.
Best Option?
Three of these plugins are completely free. Gumpress, however, is the most effective of the three. It's because there aren't even any shortcodes to copy and paste. All you have to do is install the plugin and add the link to your Gumroad page to it. It will load your entire Gumroad page on your WordPress site using your current design.
You don't have that option with the other two plugins. Zach Silveira's Gumroad Shortcode hasn't been tested with WordPress's most recent three major releases. As a result, there may be compatibility issues.
Finally, the Gumroad plugin is not designed for Woocommerce sites. As a result, you now know which one to select. The URL represents the link to your product page, and the title represents the link's title.
More Articles