You're probably here in search of Directory Listing Templates with technologies like HTML, CSS, JavaScript, and PHP (No WordPress). If you do so, look no further! Today, we will be showcasing to you some of the best available Directory Listing Templates.
There are several Directory Listing templates accessible on the internet to help you create a high-quality directory site for local business guides, job boards, or advertising events and services. Many directory templates or themes include advanced search tools and Google Maps integrations, making it simple for site users to find what they need in their local area. These themes are frequently monetizable, allowing you to generate cash and charge businesses to advertise on your site in exchange for your management skills.
Here you'll find a collection of 11 feature-rich Directory Listing templates to help you save time and provide a better user experience.
Best Directory Listing Templates
Note: This Directory Listing template is in no particular order. Feel free to choose any of these from here.
Listagram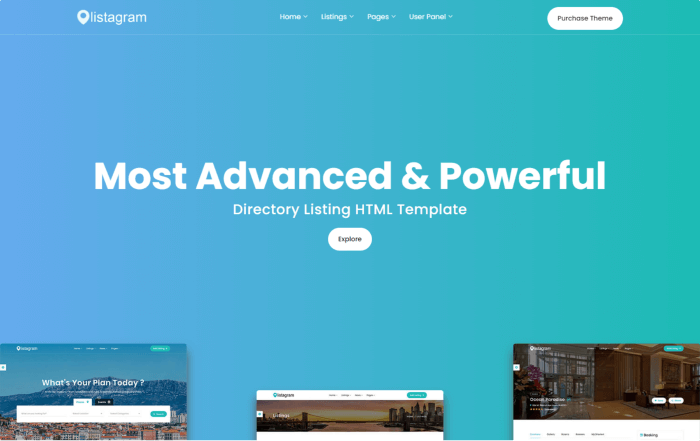 Listagram is an HTML directory listing template by LionCoders. It is designed to simplify your life with useful features, adaptability, and first-rate user experience. The template follows the latest trends and SEO best practices. And it is perfect for business such as hotel booking, travel planner, real estate listing, and other listing oriented websites.
Some of its useful features are responsiveness, cross-browser compatibility, free updates, well documentation, working Ajax/PHP contact form, retina ready, super easy slider & carousel, HTML5, CSS3, Bootstrap, etc. Moreover, there are 70+ valid HTML pages, dashboard, google map, open street map, 10+ home pages, multiple blog & blog detail pages, 20+ filter listing pages, Google fonts, and more.
Details / Download Live Preview
Foogra – Restaurants Directory & Listings Template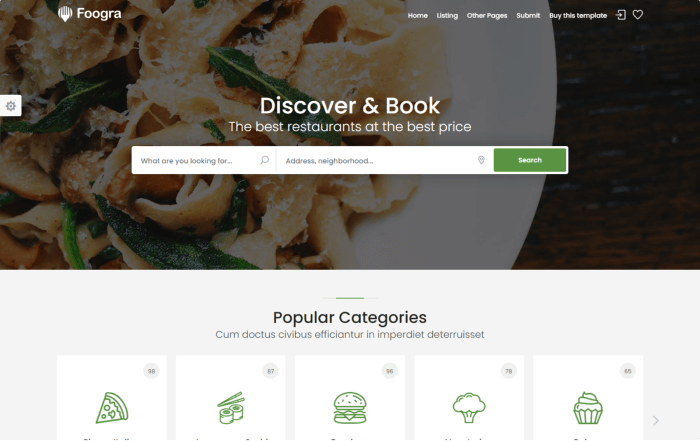 Foogra is a sleek and contemporary HTML5 restaurant directory and listings template. It has great page speed performance as its primary feature.
Google considers page speed a ranking signal that leads to a higher outcome or position on search engines. Additionally, page speed affects user experience. It has clean code, critical CSS load, light weight file sizes. It offers features like 65+ HTML pages, full responsive, Bootstrap5, jQuery text rotator, revolution slider, lazy load images, sticky sidebar, and so on.
Details / Download Live Preview
Listeo – Directory & Listings HTML Template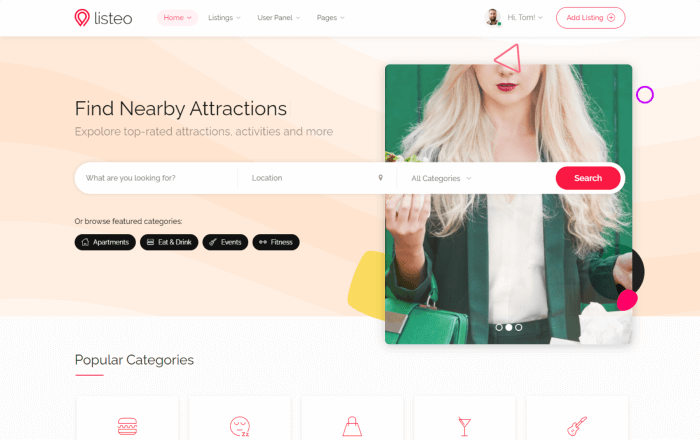 Listeo is another popular Directory Listing template that offers a ton of features. The template is super sleek, responsive, SEO-friendly faster, modern looking, customizable, and contains an admin dashboard for your user panel. So, you don't have to create anything from scratch while you're looking for a directory listing template.
It has advanced booking widgets, a front-end submission form, location auto-complete, invoice complete, Bootstrap Grid, revolution slider, premium icons, Google Maps, and a ton more.
Details / Download Live Preview
Prozim – Professionals Directory & Listings Template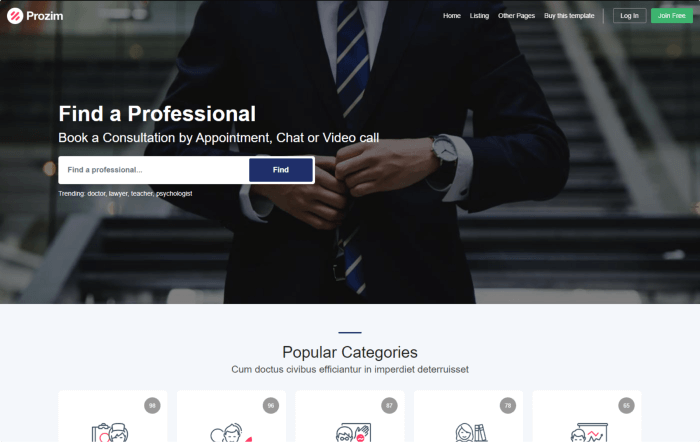 Prozim is a professional HTML5 CSS3 Directory Listings Template. As we all know, Google considers page speed a ranking factor that leads to a better result or position on search engines. And the page speed affects the user experience. So, it maintains a balance between them.
The template has an admin dashboard with SASS files. In addition, 39 HTML pages, a date picker, lazy loading images, icons, a sticky sidebar, Leaflet OpenStreetMap (+Mapbox), and many more.
Details / Download Live Preview
Craigs – Directory Listing Template
Craigs is a directory listing style HTML template for constructing visually appealing and professional listing websites. Built with the quick-loading Bootstrap framework. Your new website will now be fast loading, responsive, and feature a world-class minimalist design that is SEO optimized and provides an excellent user experience.
The template is simple to use, has a great clean look, and is packed with functionality. It has four homepage variations, Google map connection with PHP and MySQL, Auto Complete, Geo Location, three different listing layouts, and much more!
Details / Download Live Preview
Qamous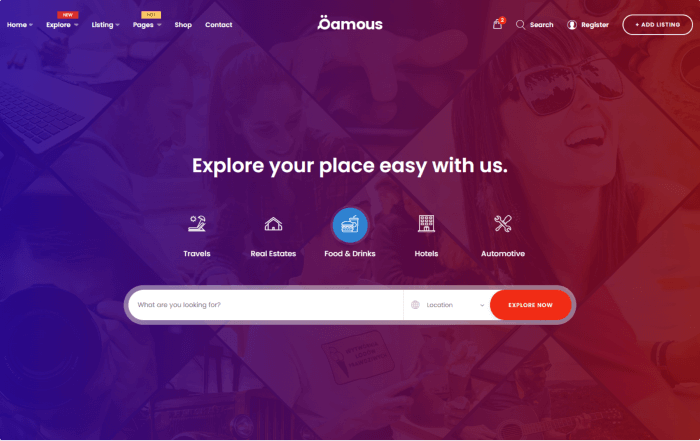 Qamous is an HTML Bootstrap Directory Listing template. You can connect it with any CMS because the code is ready to use. A completely functional HTML template in the style of a directory listing for creating attractive and expert listing websites.
The template has a Google map, AutoComplete, Geo Location, six different listing styles, and more. The template is built with jQuery and Bootstrap 4.
Details / Download Live Preview
Easybook – Hotel Booking Directory Listing Template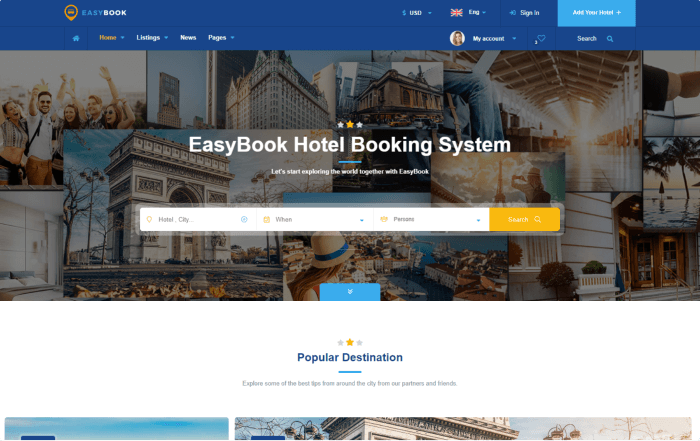 Easybook is a template for a hotel booking directory listing. It can help you establish, administer, and monetize a local or international directory site and is ideal if you appreciate a simple, contemporary style. The template has an ajax MailChimp Subscribe form, a home page with four different styles, five listing pages, special parallax effects, Font Awesome 5 pro, and much more.
Details / Download Live Preview
Sparker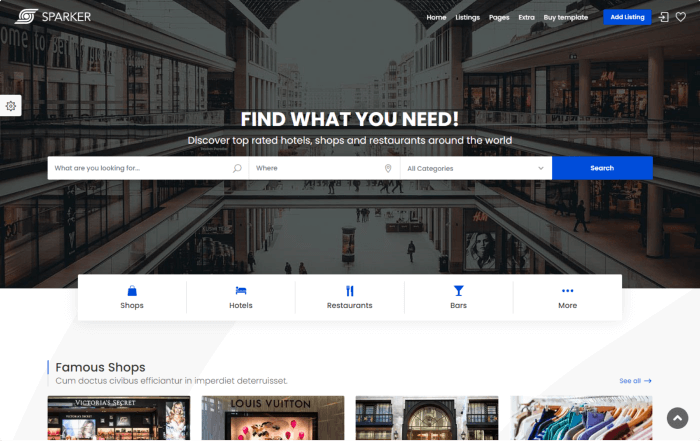 Sparker is an HTML5 directory and listing template that prioritizes mobile usability and the newest web design trends. It includes SCSS files and many layout variations.
It contains a lot of features, including responsiveness, Bootstrap 4, valid and clean HTML5/CSS3 code, 65+ HTML pages, 11 listing layouts, color schemes, and 3 single listing layouts, as well as an admin dashboard, a mobile app view menu, a PHP newsletter, and more.
Details / Download Live Preview
Citybook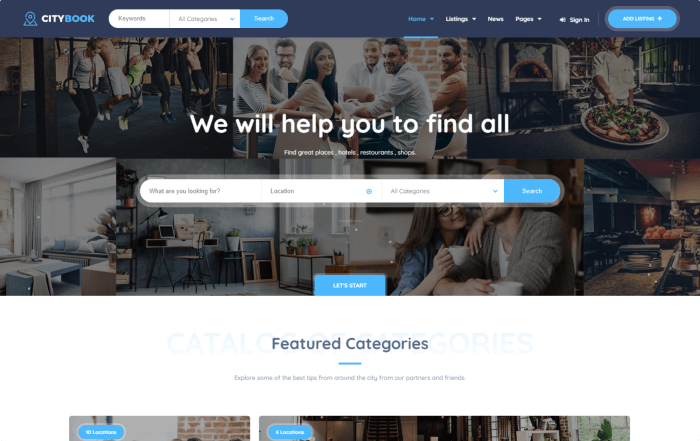 The template CityBook is no different than other directory listing template. Although, the design looks very elegant and modern as well. With CityBook you can easily manage and monetize global or local directory sites.
It comes with 5 different homepage layouts, a solid user admin dashboard, full screen backgrounds, coming soon, 404 page, and a lot more. However, keep in mind that the images you can see in the backgrounds are just for demo, not included in the archive. Make sure to check out.
Details / Download Live Preview
Townhub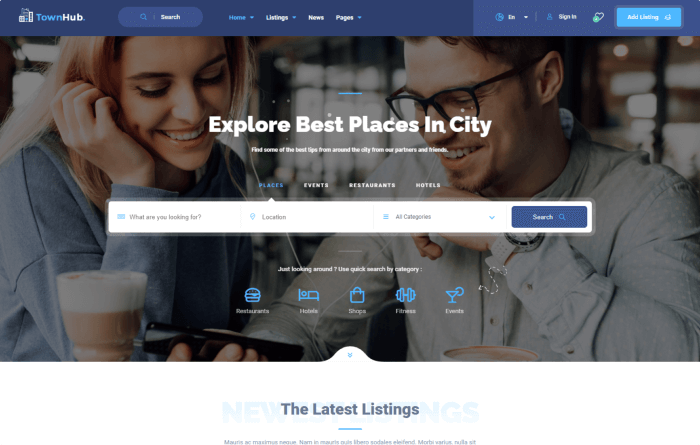 Townhub is a directory listing template that is identical to CityBook but without the look. Its appearance is slightly different, but everything else, both functionally and layouts are just the same.
Details / Download Live Preview
Locations – Directory Listing Template
Locations is another challenging directory listing HTML templates from Themeforest. It has Ajax modals, live map results, attractive markers, a quick view on listings, four map homepages, and four hero homepages. These things make the template very useful. And, because of its gorgeous, clean design approach, your project will stand out.
You can use this template to host directories, coupons, real estate, auto rentals, or any other type of listing page.
Details / Download Live Preview
Similar Articles