Using Shopify Theme for eCommerce businesses is an excellent way to gain access to beautiful designs and simple functionality. However, sometimes you do not need a premium theme to be successful. But premium themes have more features, functionalities, and customization options. For that reason, here we have carefully curated the best premium Shopify themes first and added some of the best free ones at the end of this blog post.
Customers can tell when an online store has a bad UI. While numerous eCommerce marketing strategies will help your Shopify site gain more traffic, the design remains the foundation of the pyramid. If you want customers, your website must be simple and easy to use.
Selecting the best Shopify theme can be a bit difficult & tricky. They aren't always up to date, and some provide better support than others. Therefore, we have compiled a list of the best free Shopify themes that are up to date and available. So you can make your store truly unique.
Shopify Themes
A Shopify theme is a template. It is a template that you can use to customize the look and feel of your online store. Each template has a unique layout and style. By downloading the template, you can personalize it as you prefer.
Though there are different restrictions and technical difficulties that you might face. You customize them by changing fonts or colors, layouts, fonts, and more to match your brand's approach.
Suppose you sell books. You may want your website to appear elegant and stylish in a way that book readers feel comfortable with. Using a specific Shopify theme on an online bookstore will assist you in accomplishing this.
Themes are also a great way to customize your site because they allow you to change it without knowing how to code. Currently, Shopify provides eight free eCommerce templates. You can find them on their theme site.
To pick the right Shopify theme always remember these three points:
Define who is your target audience.
Analyze what type of experience you want to offer.
Figure out the exact features you need to provide for your website.
Lusion – Multipurpose Shopify Theme for eCommerce
Lusion is one of the most distinctive multi-purpose eCommerce themes for online shopping. It has a clean and modern design. It will be a perfect choice for shop owners looking to sell their best products. Without a doubt, Lusion will make your work look more impressive and appealing to viewers. Moreover, it is a Retina-ready theme that works across multiple devices and browsers.
Details / Download Live Preview
Basel – Multipurpose Shopify Theme for eCommerce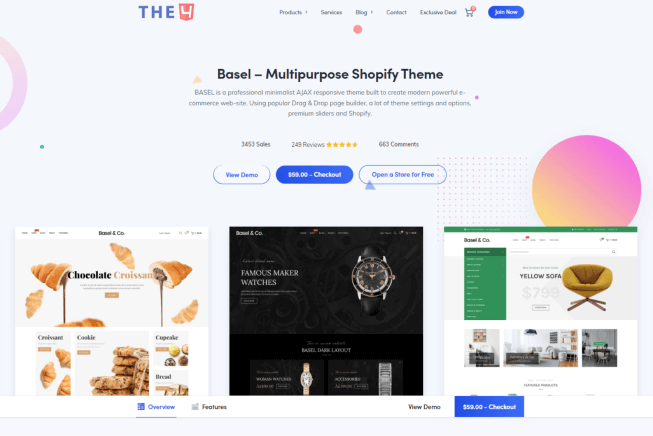 BASEL is a modern and efficient e-commerce theme. It has a minimal design with AJAX responsive design. You can construct a hefty store that looks beautiful on any screen resolution using the renowned Drag & Drop page builder. Moreover, you can use the themes for any type of store.
Details / Download Live Preview
Fabulous – Single Product Shopify Theme for eCommerce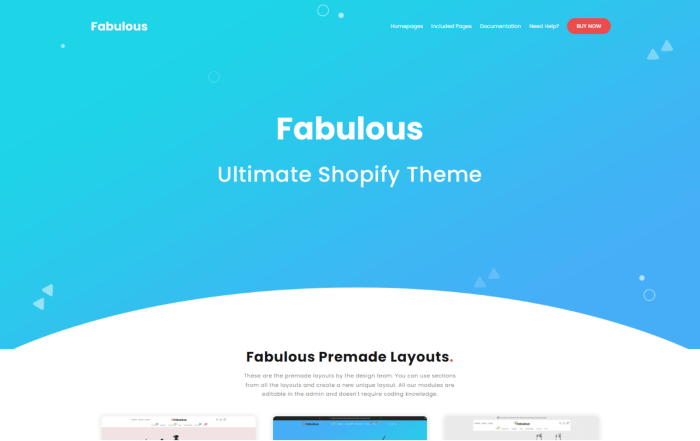 Fantastic is an eCommerce Shopify theme for a single product or series of products. It's contemporary, fully responsive, and simple to personalize. The theme is both adaptable and appealing. Moreover, it offers powerful sections with cutting-edge design that can you can easily integrate into your online business.
Details / Download Live Preview
Mitho – Multipurpose eCommerce Shopify Theme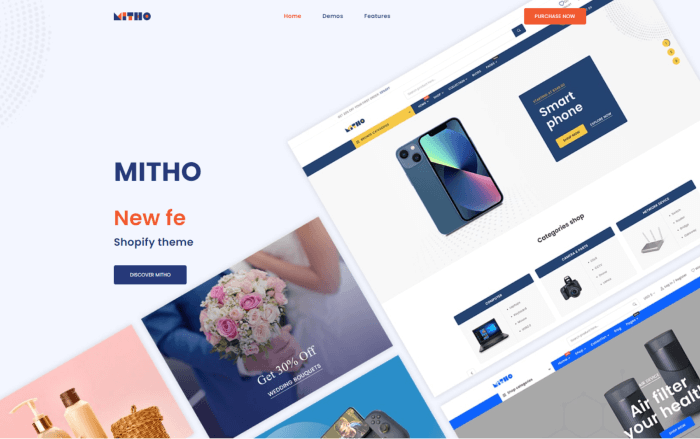 Mitho is a multipurpose beauty, medical, and foods Shopify theme. It contains a good conversion rate for online stores. Store such as beauty, cosmetics, medical, organic food, supermarket, health, and many more. Moreover, the theme is full of amazing features. There you will find multiple homepage layouts, premade layouts, attractive blog sections, custom product filters, and a lot more.
Details / Download Live Preview
Eva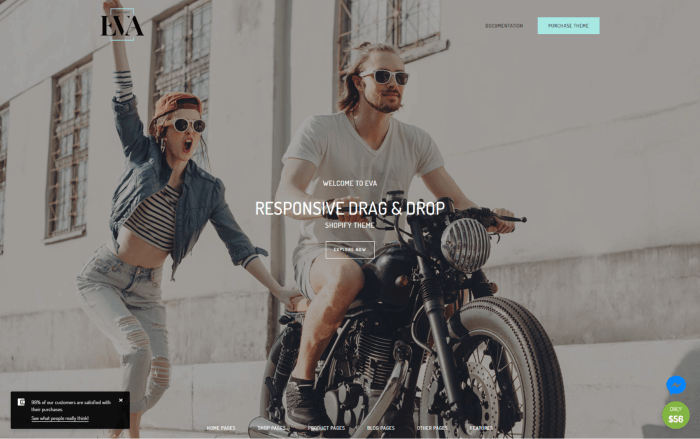 Eva is a gorgeous Shopify theme that is responsive. The theme is excellent for any type of shop, as it has many modules and supports drag & drop The demo material is basic, but it's ideal for quickly creating multiple layouts with a few clicks. The company knows well what clients want. For that reason, they have gathered all the excellent aspects into one. It has got a clean design, easy UI, high functionality, high performance, rich documentation, and quick support.
Details / Download Live Preview
Narrative – Free Shopify Theme for eCommerce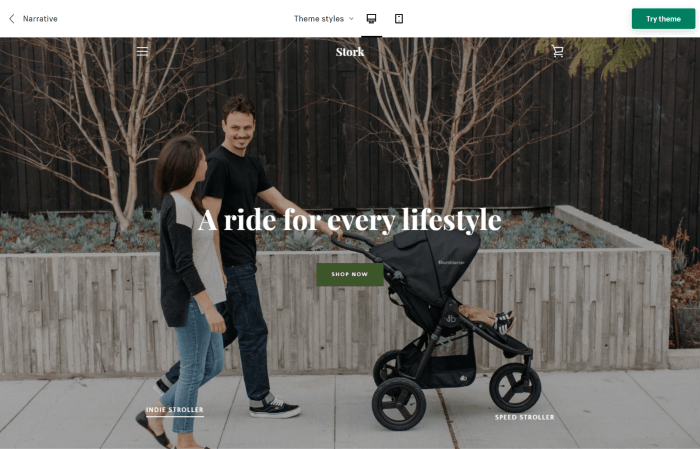 This theme's name isn't just a hint at what it does best. It showcases single products through storytelling. On a single page, it showcases a product and highlights all of its benefits and features. This isn't to say you can't add more. You can, but it works best for single products. If you only need to show one product, this is one of the best options.
Details / Download Live Preview
Brooklyn – Free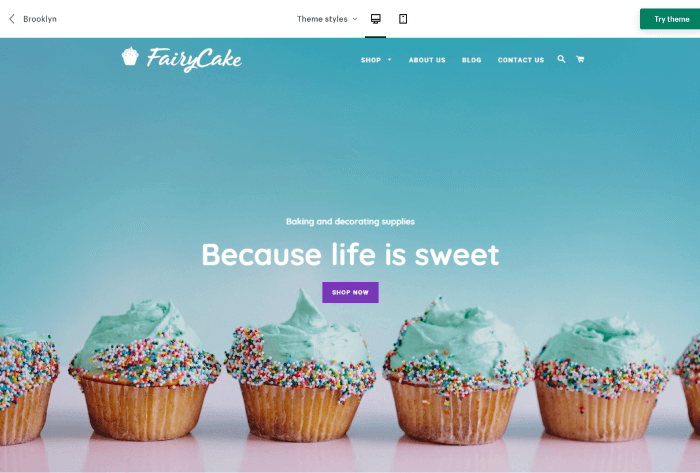 Brooklyn is another theme. It employs a mobile-first responsive design strategy. As a result, even on a mobile device, you can expect excellent navigation. Furthermore, the theme is ideal if you have fewer products rather than a large inventory. The top full-screen slideshow is a visually appealing area where you can display product images.
Importantly, because of its "mobile-first" philosophy, it works particularly well on mobile devices.
Details / Download Live Preview
Debutify – Free Shopify Theme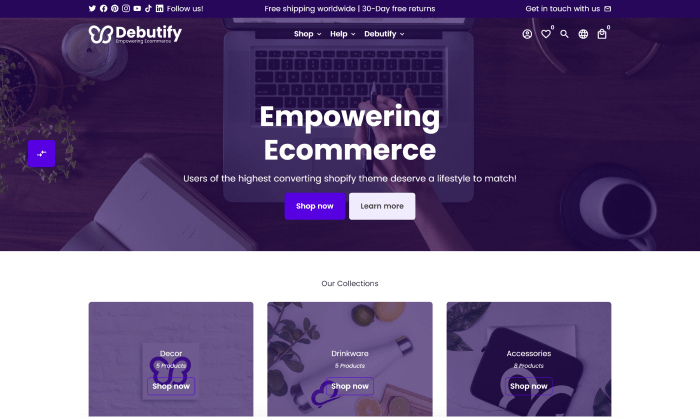 Debutify is a great option if you're looking for a solid alternative to Shopify-distributed themes. The theme does not require coding and has a fast page loading speed. Both of which are important factors in reducing store abandonment.
It includes more advanced features such as a customizable footer and product testimonials, as well as advanced product filters and a featured image slider.
Details / Download Live Preview
Debut – Free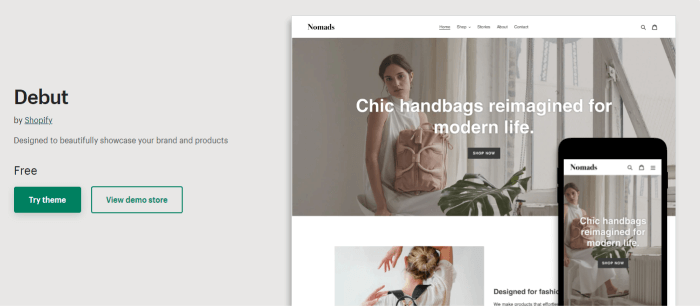 Debut Shopify theme is a popular Shopify theme with highly configurable, fast, and simple to use features. Also, it's a very adaptable theme with a wide range of stores. You never need to worry about the inventory size. Moreover, it looks fantastic on any device. However, this theme is supported by Shopify only. And, they are the one who distributes this amazing free theme.
Fashe – Free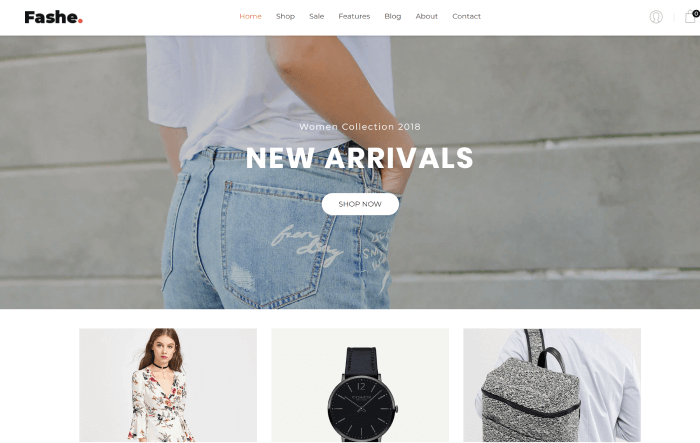 Fashe is from Colorlib. It has a minimalist design, which performs well across a variety of industries, from bakery to electronics. However, the drawback is that it can come across as very basic. If you modify it a bit, you can create a great-looking eCommerce site for a fraction of the cost.
Details / Download Live Preview
Wrapping Up
So, it seems like your search for the best Shopify theme for eCommerce has come to an end. A good eCommerce website is vital for the company. You can build a beautiful Shopify store using a variety of themes, including free ones.
Free themes can feel somewhat limited in terms of design and functionality. However, most Shopify free themes do offer good customization options. It is to give your site the look and feel you require.
lastly, thank you for your time.
We have a gift for you! 👇😊
Gumpress is a free WooCommerce extension by UI-Lib. It lets you import Gumroad products into your store. Moreover, it allows you to create a personalized Gumroad storefront using any WooCommerce theme.