Do you need Laravel Landing Page Templates? Don't look any further! Here, we will show you some of the best Laravel Landing Page Templates that you can easily customize.
Laravel Landing Page
Laravel has generated a noticeable admiration amongst web artisans nowadays. It is because of its appreciable features and the huge amount of packages that it provides us with. Also, coding with Laravel is a hassle-free journey for any web developer. It is because most of our work is handled automatically by Laravel. And, its MVC architecture is quite familiar and easy to work with.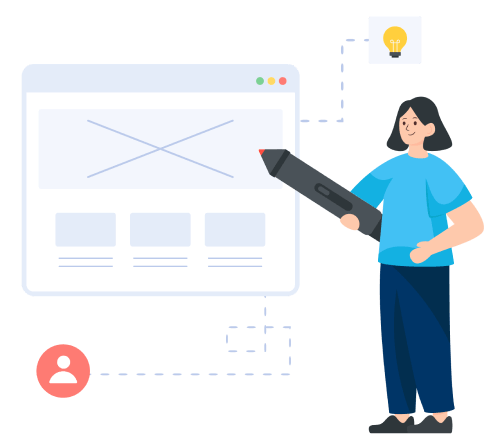 So, web developers working with PHP tend to use the Laravel framework regularly. Laravel automatically implements a landing page for us to start working with. Yes, you have read it right. Creating a project with Laravel doesn't just provide you with a project environment. Rather, it generates a landing page for your project and fixes the routes and controllers by itself.
Therefore, you don't have to create a blade file for your project's landing page, make a controller file and define routes for that landing page. Laravel took care of it all. You just need to find the welcome.blade.php file in your project directory, write code about how your landing page should look like, and serve the local environment to view the landing page.
Without further ado, let us take a look at all of these beautifully designed Laravel landing page templates listed below. Please keep in mind that the following list is not in any particular order. For a more in-depth examination, click the 'Details / Download' button or the 'Demo' button for a live preview.
Tendex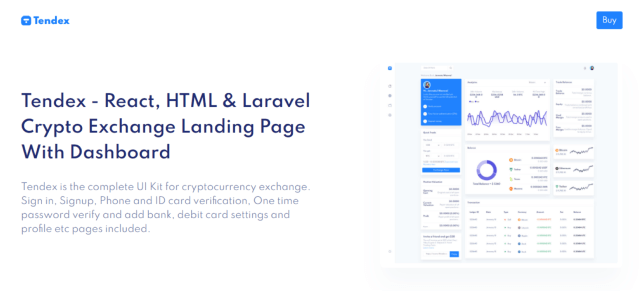 Tendex is a complete cryptocurrency exchange template. It has all the essential pages and a dashboard section for your ease to jump-start with Crypto Exchange.
However, the template is built with HTML, React, and Laravel. And, if you need anything from Authentication page examples to terms & conditions pages, everything is in there.
Details / Download Live Preview
Elaenia – Crypto Laravel Landing & Dashboard Template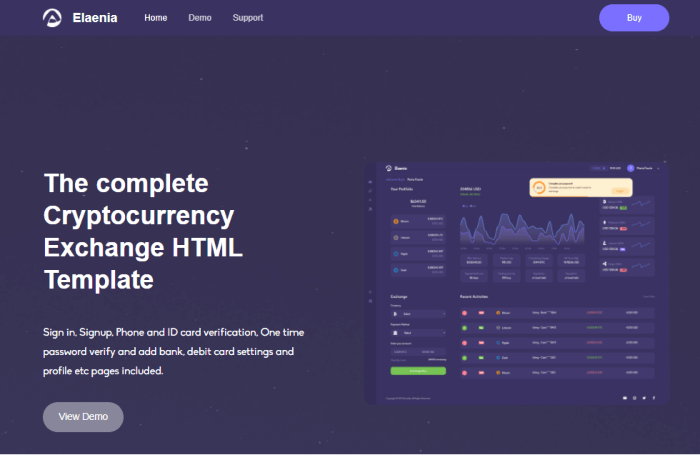 Elaenia is a CryptoCurrency Exchange template with Laravel and Bootstrap. The template contains authentication pages, reset, OTP number, OTP code, about us, policy page, and a lot more. Here you will find icons from Material Icon, fonts from Font Awesome, Line Awesome, etc.
Thus, it is a well-responsive template with a useful dashboard, landing page, and more.
Details / Download Live Preview
Tradix – Cryptocurrency Laravel Landing Page & Dashboard Template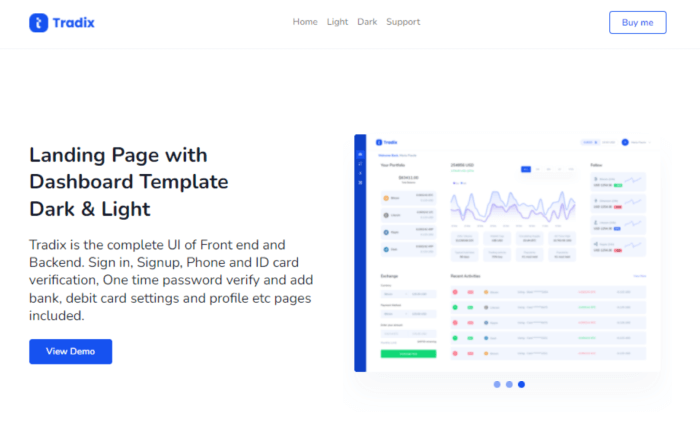 Tradix is a Laravel and Bootstrap-based CryptoCurrency Exchange template. The template includes authentication pages, reset pages, OTP numbers, OTP codes, about us pages, policy pages, and much more. Icons from Material Icon, fonts from Font Awesome, Line Awesome, and more.
So, it's a responsive template with a useful dashboard, landing page, and other features. Moreover, it is available in both light & dark themes.
Details / Download Live Preview
DashCore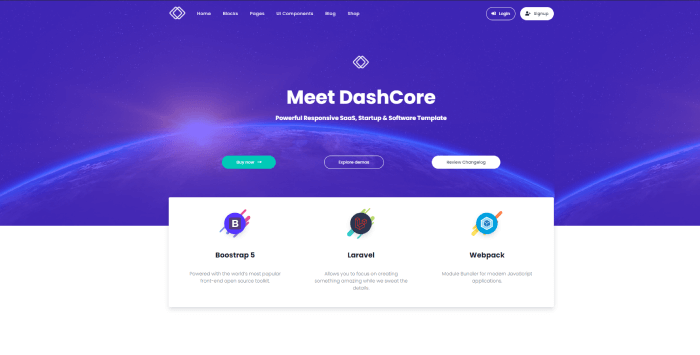 DashCore is a lightweight and customizable Premium Laravel Template with various Landing Pages. It is perfect for showcasing Software Solutions, SAAS Products, Startups, and Mobile Apps. Furthermore, DashCore includes all SASS codes for a fully customizable experience.
And, as it has Laravel new command and is ready to help you start working in minutes. Therefore, simply run npm install & composer install and you're ready to go.
Details / Download Live Preview
Free Portfolio Landing Page with Laravel by Dino Cajic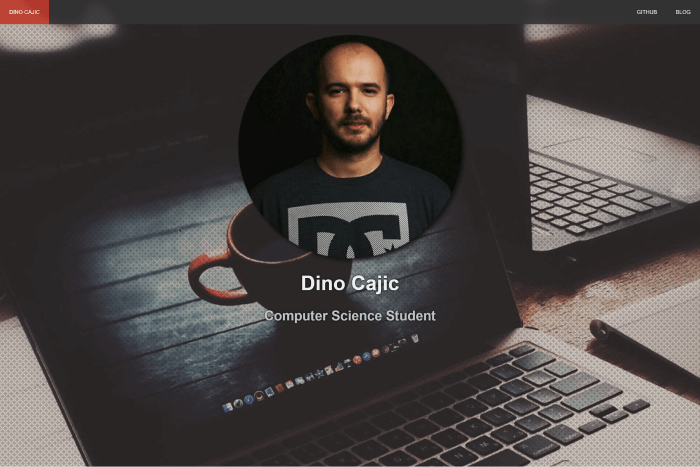 Lastly, we have found an interesting Portfolio Landing Page Template with PHP Laravel by Dino Cajic. The template has an expressive appearance as well as responsive functionality. Customizing will be simple because the developer wrote it in such a way that even a novice can understand and work with it.
Implementing this would be a great learning experience if you are new to the Laravel framework.
Details / Download Live Preview
Conclusion
Finally, it seems that your search for the Best Laravel Landing Page Templates has come to an end. Laravel is an excellent web framework in our opinion. As a result, we're always curious to see what features we can get out of it. So, we come across a slew of intriguing features. Thus, we can provide you with new blogs, templates, and products regularly.

More Articles
Our Products Based on Laravel