Are you a web developer looking for illustrations to make your website's contents look amazing? Then look no further. Today, we're going to find you the top 15 best free illustration websites for web developers. But first, let us understand, why using good illustrations is so important.
The Importance of Good Illustrations
Illustrations are now one of the most crucial elements for online businesses. The more appealing your content's illustration appears, the more visitors you will receive. And, guess what? More traffic means more revenue. Making a website attractive is a challenging task. This will require a significant amount of effort.
So, how did illustrations become such a big trend in web design? For starters, visual design elements offer a great deal of flexibility. You don't have to write 10 paragraphs to convey the entire purpose of your product or service if you can use a perfect illustration.
If you are only a web developer, you will struggle to make your website content look appealing. You may end up with high-quality content but no traffic. Because the designs or illustrations you're showcasing for your content are the first things that your target visitors will see. So, to give you a head start, we've compiled a list of websites that can easily help you with that. Please remember that the list is in no particular order. Without further delay, let's get started!
1. Humaaans – Human Focused Designs
Humaaans is concerned with the human side of design. As an illustration library, it emphasizes the human connection to design. These wonderfully creative artworks will work well in any design project that requires a touch of emotion and liveliness.
It's ideal for using as icon placements as well as full-fledged hero sections.
2. unDraw – Open Source Illustration Website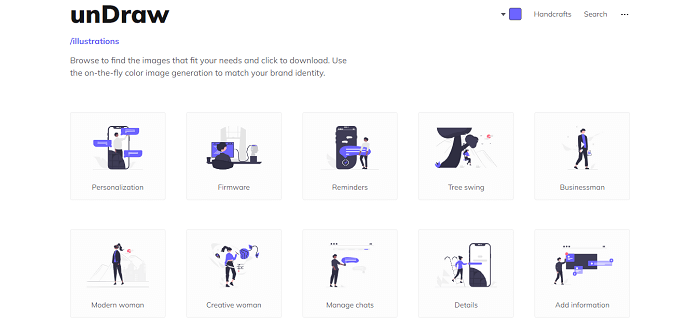 Since 2017, unDraw has been available on the internet. And Katerina Limpitsouni is the sole person responsible for its success. She has created over 500 open-source illustrations in various categories to date. The great thing about unDraw is that you can find a plethora of appealing illustrations in copyright-free SVG files. And guess what? You can change the colors right on the website.
Because it's an SVG file, editing, customizing, and stitching multiple illustrations together to create your design will be a breeze. Try unDraw for the bookmarks toolbar.
3. Ouch! – Free Icon Designs & Illustrations by Icons8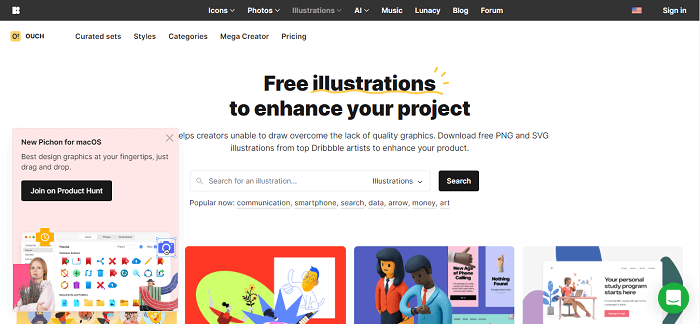 Ouch! from Icons8 is a company that focuses on icon designs for businesses. However, they've recently begun to branch out into other areas, such as providing free illustrations for both personal and commercial use.
For your next web design project, Ouch! is jam-packed with unique and creative vector graphics. Check the pricing options for SVG vectors directly on the site.
4. Drawkit – Free Illustration Website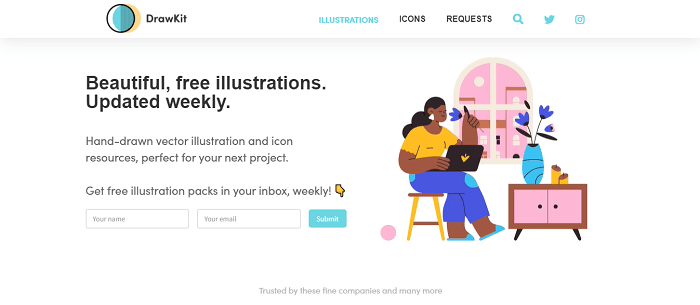 DrawKit was created by James Daly to assist designers and startup owners in quickly designing their projects. More than 50 free illustrations in two styles are available on the website. You can also subscribe to one of James' premium packs if you like his work.
All files are licensed under the MIT license (suitable for both personal and commercial use), and you can download fully editable SVG and PNG files. There are also a lot of categories to choose from!
5. Vecteezy – Free Vector Illustrations
Vecteezy is the largest online database for vector graphics. There are more than 650,000 illustrations on their website which are royalty-free. But they are divided into "free license" and "pro license" categories, allowing you to choose what works best for you.
Vecteezy offers vectors in a wide range of orientations to cater to a wide range of devices and layouts. It has endless options! Finally, Vecteezy has a large library of stock videos. Vecteezy has you covered whether you're looking for timelapse or travel videos, or both.
6. IRA Design – Custom Illustration Website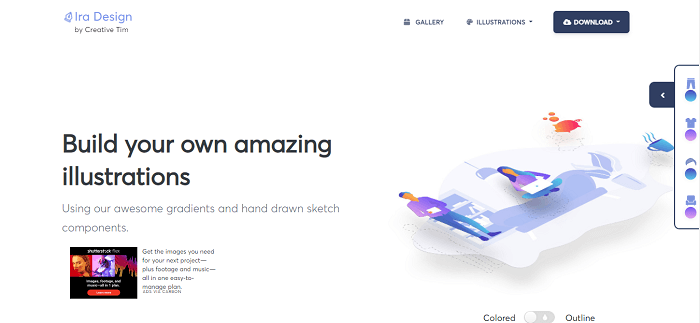 IRA Design is an excellent choice for creating custom illustrations by utilizing their pre-built components. Each component has 5 distinct gradient styles. You can download the files in multiple formats including, SVG, AI, etc.
Please keep in mind that you must first download the files to your computer before editing.
7. ManyPixels – Free Illustration Website
ManyPixels is a free illustration website that is a fantastic resource that is similar to unDraw. Because the creators of both resources are different, the designs will be distinct.
Before downloading any of the free illustrations, you can still select a default color and download full SVG format files. ManyPixel's images are implied to be free to use in any way imaginable under the terms of the license. The only limitation is that you cannot recompile the files and resell them elsewhere.
8. Freepik – Free Stock Images and Illustrations
Another excellent source of free stock images and illustrations is Freepik. Thousands of free vector images are available, including pamphlets, PSAs, brochures, greeting card templates, and much more.
Furthermore, Freepik includes a built-in editor that allows you to edit and customize the template to your liking. This illustration and stock image website lets you download files in various formats such as SVG, AI, and EPS. Though not every file on Freepik is free, the number of open-source files on the site is comparable to that of other similar websites. It is preferable to provide attribution if at all possible. However, it is not mandatory for Freepik files.
9. Streamline 4.0 – Icons, Illustration and Emojis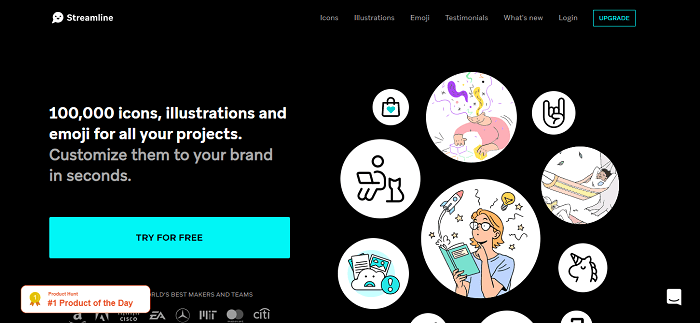 Streamline 4.0 is an illustration website with a pretty huge collection of high-quality customizable illustrations, icons, and emojis. As we are only focusing on free illustration. Streamline currently have a few hundred free vector illustrations available at their site. The packages are incredible and minimal in design.
You will get the files in png, SVG, and pdf format. Most of the illustration from Streamline 4.0 is premium but, you'll get a great amount of customizable illustration that can suit your requirements.
10. Control – Customizable Illustration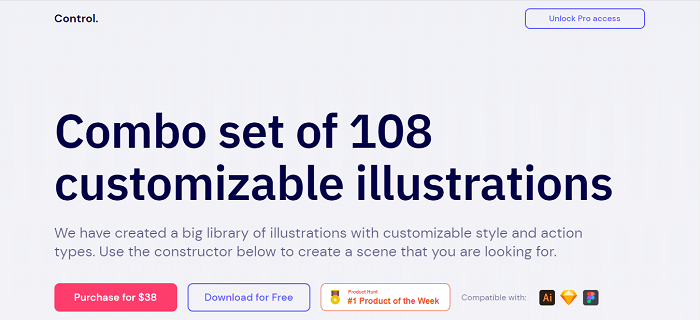 Another short but amazing collection of free illustration websites is Control. Control is a combo set with 108 customizable illustrations which are available in both premium and free versions. You can create a scene by using the constructors of different styles given on the website and make something of your choice.
Please keep in mind that on the free version you will get the same result but the files will be only in png format. With the premium option, you can have the full vector file and also Figma and Sketch files.\
11. Free Illustrations – An Illustration Website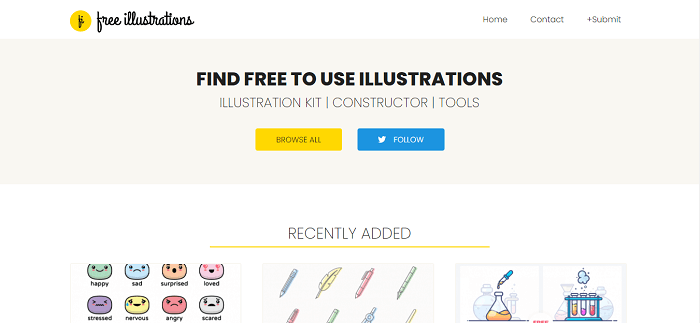 Free Illustrations is a website that helps you find all free illustrations and vectors with no copyright issues and doesn't need attribution. It has listed illustrations and icons in tons of formats and illustrations available. There is a huge amount of possibility to structure your website's content with the best minimal-looking illustrations from this website.
Make sure to check these free yet very useful Illustration packages.
12. 404 Illustrations – Royalty Free Illustrations for 404 Page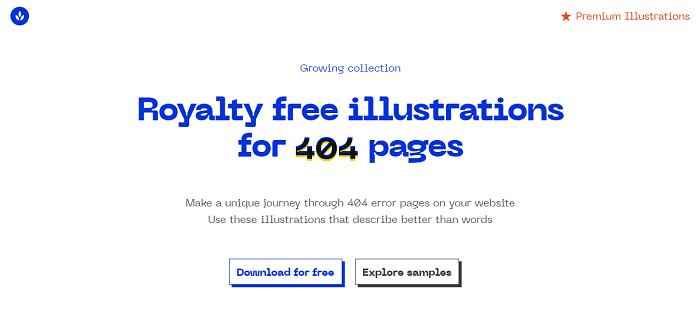 404 Illustrations is a website specially designed for royalty-free illustrations for 404 pages. The meaning of the 404 page is the page we see as a page not found/error page. With the access of so many 404 page illustrations, you now have the opportunity to best express your error page with your website's requirements.
These are copyright-free 404 illustrations. So, you don't have to give anyone credit for it. Which will eventually make it your own unique 404 page. There are huge numbers of futuristic and cute characters to describe your style of saying. Therefore, make sure to check out this incredible website and grab your free 404 illustrations.
13. Pixeltrue – Free Illustrations and Animations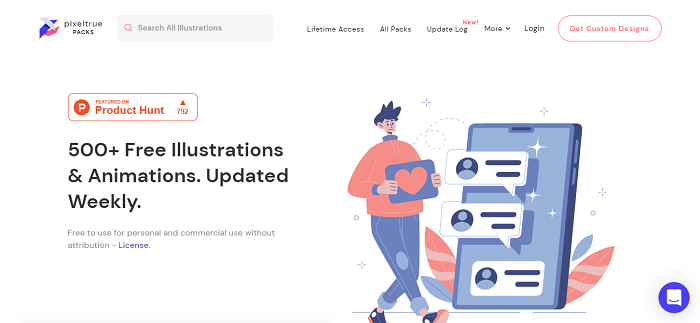 Pixeltrue is another great example of an illustration website with over 500+ free illustrations and animations. And guess what! They update it every week. So, it's growth with more options each week. Besides, the illustrations which are here are all attribution-free and open to commercial use.
In my opinion, these free designs are so good in quality that you will find no differences between premium quality illustrations and these.
14. Scale by Flexiple – Multi-color Customizable Illustrations
Scale 2.0 now has amazing multicolor customizable illustrations. And all of the illustrations here are completely copyright-free. So, you can easily use them for commercial purposes. Another interesting aspect of Scale by Flexible is that they add one high-quality illustration every day.
You can select the color of your choice to explore its possibilities. Also, we can choose between gender options. If you are a designer yourself, you can easily apply there as a designer and also hire one if you are an entrepreneur. Try Scale by Flexiple.
15. Smash Illustrations – Finest Illustration Constructor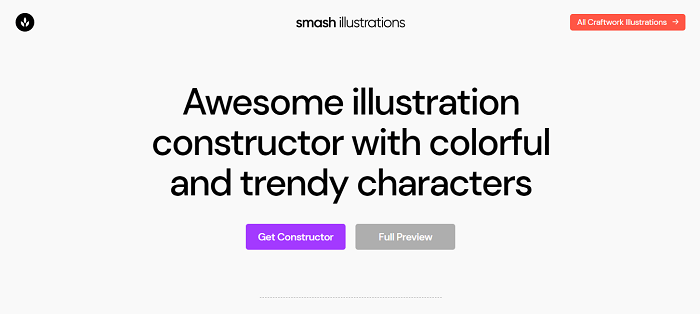 Smash Illustrations is among one of the finest illustration constructors with trendy and colorful characters. You can use Smash for both personal and commercial usage. There are more than 250 illustrations to create a scene of your preference with multiple options to change things.
So far, there are 50 characters, 200 hundred objects, and 20 ready-to-use scenes to be exact. Check out Smash to create high-quality stunning illustrations.
16. Black Illustrations – beautiful Illustration of Black People for Digital Projects
Black Illustrations is a unique yet very human illustration website. The company specifically makes both free and premium illustrations of black people for digital projects. And the website is trusted by big companies like Google, Airbnb, and Webflow.
You'll find hundreds of illustrations of different scenes with tons of characters in them. Make sure to check out Black Illustration. Lastly, they offer the files with a complete library for Sketch, PNG, AI, JPG, SVG, and assets.
17. Artify – Most Complete Toolkit for Designers
Artify is part of the Creative toolkit. It is a company that offers a comprehensive toolkit for designers. Over 500 vector illustrations, 300+ design packs, and a powerful design editor are all included. There is also a large gallery of reusable designs.
Artify has a lot of high-quality free designs as well as premium ones, which is fantastic. Almost every scenario-based illustration can be found there.
To start with, you can check out their very unique Uncommon Illustrations pack. Which is free in PNG formats.
18. Iconscout – Mega Collection of Design Assets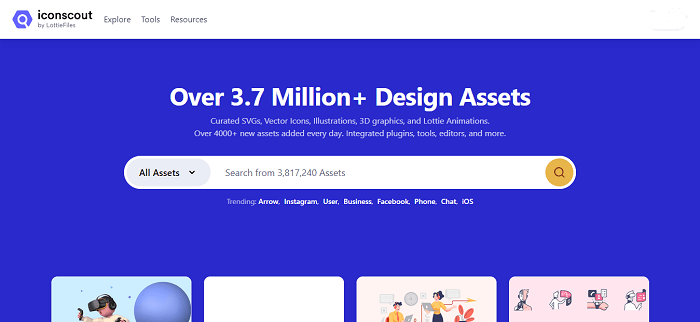 Iconscout now has over 3,7 million design assets. In their collection, they have curated SVGs, Vector Icons, Illustrations, 3D illustrations, and more. And guess what! They add 4000+ new assets every single day.
This site gives you the freedom to customize illustrations. They say it will take only 30 seconds to add magic to your design. There are both free and premium illustrations in Iconscout. You can have a premium subscription for a full year and choose any illustration or design file you like. Also, these are available in multiple formats. Experience this amazing site.
19. Palms – Largest Set of Palms to describe Your Ideas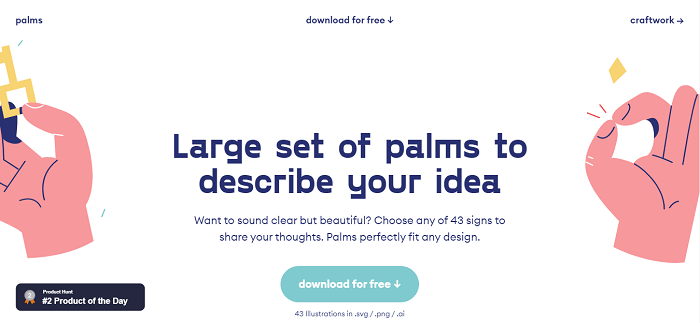 Palms is a full free illustration website. Download any illustrations of your preference and no money is required. In product, it is in the second place by the time we're writing it. So, you can guess its artistic influence over people. However, on this website there is a limitation of illustrations, it's only 43. But these follow a particular sector in illustrations. Which is showing signs with palms.
The illustrations here are all just signs to describe your message to the visitors on your site or anywhere else without spending any words. These files are available in SVG, png, and AI formats. You can have a full preview of these products simply by visiting their website.
20. Delesign – Unlimited Custom Graphic Designs and Motion Graphics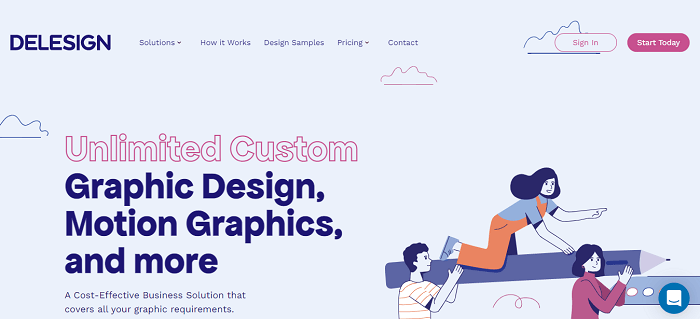 Delesign is a unique site that offers unlimited custom, graphics, motion graphics, and a lot more. This is absolutely a cost-effective business solution that covers all the graphic requirements that you'll probably need. The site provides different solutions. For example, different packages for the marketing teams, businesses, agencies, etc. But these are not our matter of concern in this blog. Because hiring experts will cost you money.
So, for free packages, they offer free resources in their illustration section, especially for entrepreneurs and for personal use. Here is a link to that. These files come in SVG and PNG formats. Make sure to visit their site.
21. Craftwork – Collection for Better Online Designs
Craftwork is a site for better designs for online purposes. There are 3D illustrations, animations, mobile kits, vector illustrations, etc. They have both free and premium options for you. So, you can choose between them. But not all designs are free of cost. But the amount of free designs they have is not any less.
One might end up having what he/she was looking for in these free packages. Another great aspect of this company is that it is trusted by giant companies like Paypal, Pinterest, Vimeo, Microsoft, Logitech, Google, Walmart, and more.
22. PassionHacks – Free Illustration and Animations
Another trustworthy name of free illustration is PassionHacks. This site provides free files of illustrations. Only by providing your email address, you can access their all free files. The files come in different formats like PNG, SVG, etc. Not only, they offer just still illustrations but also they have a great collection of animated illustrations.
Surely, do not forget to check them out!
23. iconduck – Free Open-Source Icons & Illustrations
iconduck now has over 100000 free and open source icons & illustrations curated on their site. This website is featured on Product Hunt. As they are open-source files, you won't need an email address to download the files. You can simply search with any particular keywords you like and get a ton of suggestions for that.
Their goal is to make open-source illustrations and icons more accessible. They do it simply by tagging and collecting them for different sources.
24. Skribbl – Illustrations for Everyone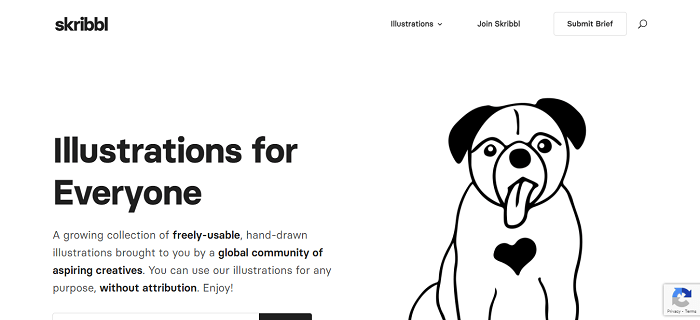 Skribble is a website specially designed for hand-drawn illustrations. It is brought to us by a global community of creative designers. There are a lot of hand-drawn illustrations and all of them are free of charge. Without using any attribution you can use any of Skribble's illustrations. All of these illustrations are black and white.
Moreover, you can find illustrations for a lot of different subjects. Search any categories of illustrations you want and grab what suits your requirements best. Also, if you subscribe to their website with your email, they will offer you a free illustration pack every single week.
25. kapustin – A website for Illustrations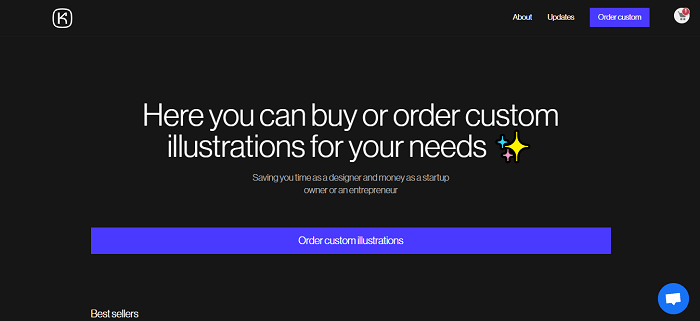 Kapustin is a sophisticated illustration site that has both free and premium illustrations available on its site. In comparison, free illustrations are less in number. But in some cases, these can do your job. They offer illustrations in bundles with different name tags.
With Kapustin, you can also order custom illustrations.
26. Khagwal – 3D Illustration Library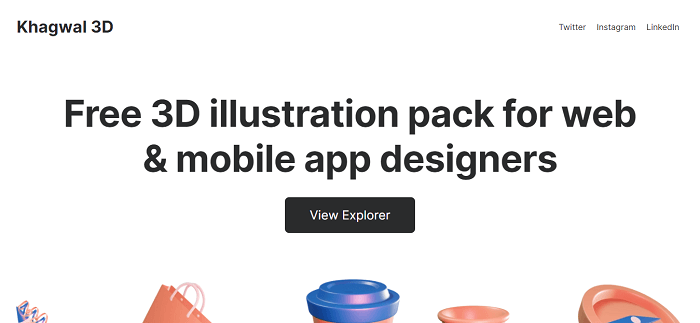 Khagwal 3D is a free 3D illustration library website. The website contains 45+ 3D illustrations for designers. All of these are available in 5 different color themes. And the types are, Aero, Amber, Charcoal, Elite, and Slate. Moreover, all of them are scalable, dynamic, and project-ready designs.
Most importantly, these designs will easily fit into your online projects. You will be able to use them for commercial purposes and this will cost you no money. A few examples can be, promotional content making, web, and mobile app projects, etc. These files are available for Figma.
27. Handz – 3D Illustration Library
Handz is a 3D illustration-based website that offers both premium and free 3D illustrations. the premium version also doesn't cost that much. Those who are interested and want to try 3D illustrations on their projects can easily visit this site. The Handz website provides illustrations of one particular category. That is hands expressing different scenarios.
You can select any colors you prefer on these illustrations. In the free version, there are 320+ png files rendered. These are all blend-made files, 12 hand gestures, 9 variations in skin colors, and 3 variations of sleeves. They say, "It is more than 320 combinations of hand out of the box." However, the premium package gives 5 times more than the free version.
28. Icons8 – Icons, Illustrations, Photos, Music and Design Tools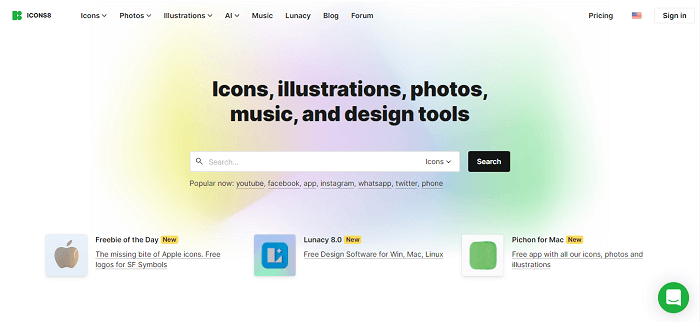 Icons8 is a mega-collection of illustrations, icons, animations, photos, music, and design tools. The website has a great collection of free resources. For example, you can grab some of the most useful illustrations just for free. These packages come in great numbers and quality.
Most importantly, they have every package for different categories sorted out in such a beautiful way that you'll face no difficulties finding the ones you would like to have on your project. These packages come in various sizes, shapes, and formats. Make sure to check it out.
29. Illustrations – Open-source Illustrations Kit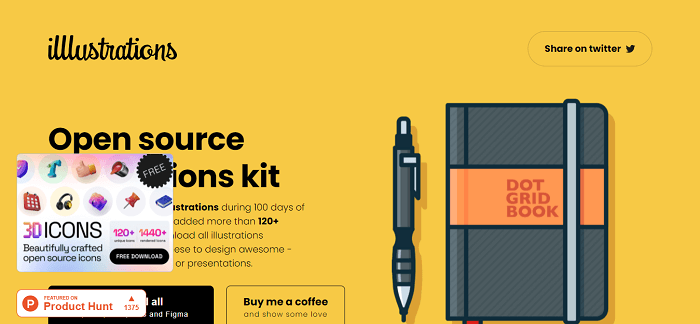 The website Illustrations is another beautiful website for open-source illustrations. It got featured by Producthunt. All the illustrations here are open for commercial and personal use. Though, the number of illustrations here is not huge. However, all of them are high-quality illustrations. In total, there are more than 120 illustrations which are available in SVG, PNG, AI, EPS, and Figma.
Thus, download them for free and mix them up with your requirements and throw a great impact on your visitors.
30. Illustration Kit – Free Premium Illustrations
Illustration Kit is a free premium website for vector illustrations by Khushmeen & Dilpreet. By providing your email address, you can have all weekly updates about the new illustration packs. The designs here are all very minimal in design, which is very effective, nowadays to bring the attention of minimal loving users.
Apart from sending you new information about their weekly updates, they will send you free illustrations every week right in your inbox. Isn't that amazing? You can customize colors and characters according to your recommendations and download them in PNG and SVG formats.
Wrapping Up
Now, it seems like your search for the best free illustration websites for web developers has come to an end. The websites mentioned here are just among the best illustration websites. But there are a lot of other options available on the internet. You can find some great quality illustrations on other websites also. So, always keep your eyes open while looking for creative designs. Who knows you might end up having a great collection of illustrious in some underrated website.
It surprises us that such a great amount of artworks people put on the internet, just for free. So, if you have an option to contribute something good to the creators then feel free to do so.
We are a software development company that provides a large number of templates both free and premium every year on the marketplaces. Also, we create useful UI kits and design systems. For those we use technologies like Angular, Vue, React, etc. So, if you want to learn more about our work make sure to visit our Gumroad profile and also our ThemeForest profile. You'll find the links on the buttons below.