You're probably looking for the best Material Design Admin Templates. The great ones are here. I've carefully handpicked only the best ones which have excellent support, design, features, and components. All of these beautiful templates have used powerful technologies, for example, React, Vue, Angular, HTML, etc. So, let's take a look at these best material design admin templates and pick a few that matches your criteria.
Egret – React Redux Material Design Admin Dashboard Template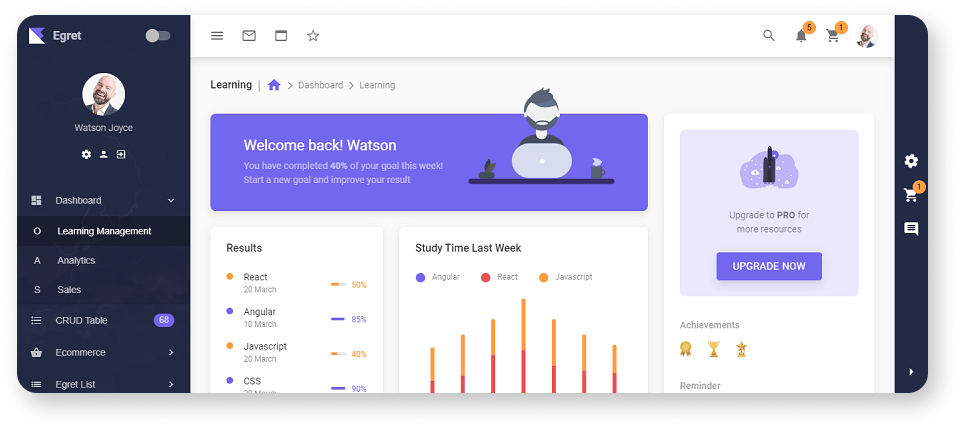 Egret is one of the most powerful Admin Templates developed by UI-Lib with React, Redux, and Material UI. This developer-friendly, highly customizable admin template will be a great start for building the front-end for online education, SaaS, and a lot of other project types. Its company ensured the highest industry standards. Moreover, it is also scalable and easy to use.
The template is full of excellent features, UI components, ready-to-use apps, and proper documentation. It offers apps like chat, event calendar, inbox, invoice builder, to-do list, Crud list, etc. Also, it has multiple dashboards like online education, analytics, and sales. There are multiple layouts and more than 50 React UI Kits, Google map, user profile, drag & drop, plan & pricing, and a lot more.
Besides, this amazing admin template has react-router-dom for routing and role-based authentication. Experience this highly qualified admin template to make your next big backend project from the button below.
Vue Material Template Full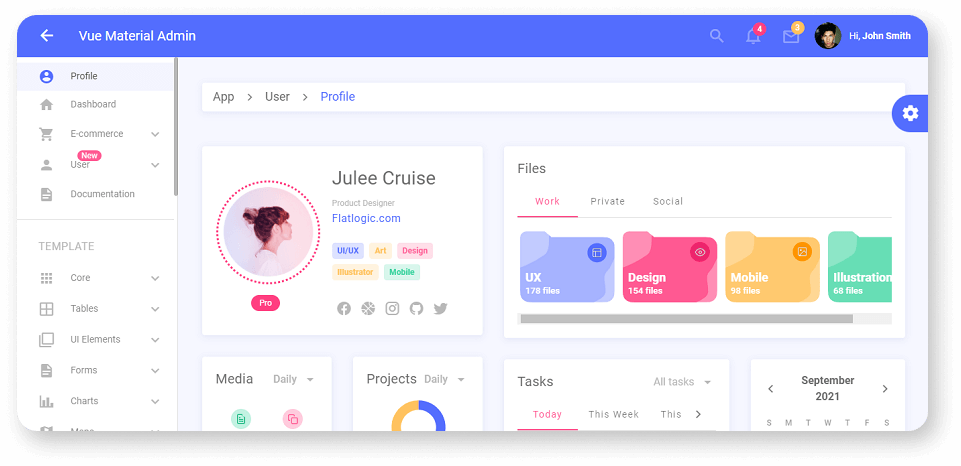 Vue Material Template is a premium quality admin template with Vuetify framework, Vue, and material design. It is free of Bootstrap and JQuery dependencies. Also, it is a clean-code template with frequent updates and technical support.
The template comes with three color themes, multiple pages, an eCommerce section, multiple chart libraries, user management, and more. Furthermore, it has the perfect folder structure, as shown in the description link.
With Vue Material Template, you will get six months of technical support and twelve months of free updates.
Vue Material Admin – Material Design Admin Template (free)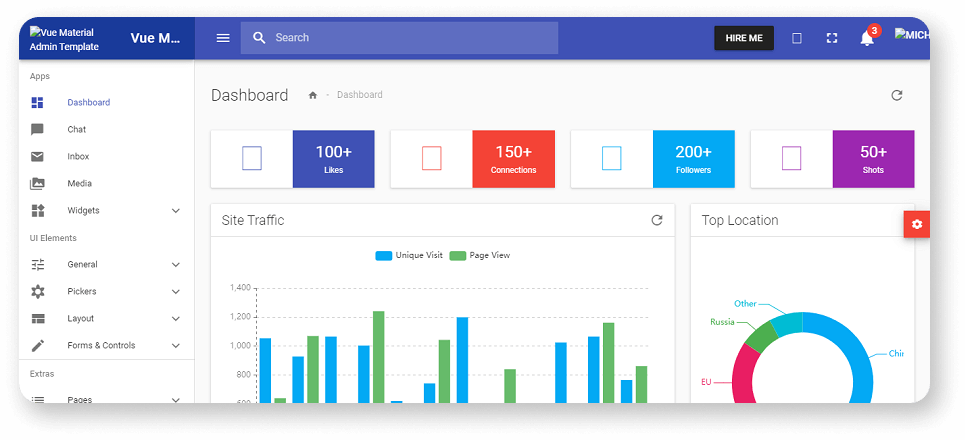 If you're looking for an admin template, free of cost but has all the premium features, this is a perfect choice. Vue Material Admin is a free material design admin template with Vue and Vuetifyjs. It comes with tons of features. And, it has all the premium features that you can easily create a complex admin section with this template.
The template contains built-in widgets, apps, multiple layouts, two types of Pickers, etc. Besides, it is not enough to read this article to know everything about this simple yet, outstanding material design admin template. Check out the description and demos from the link below.
Angular Material Admin Template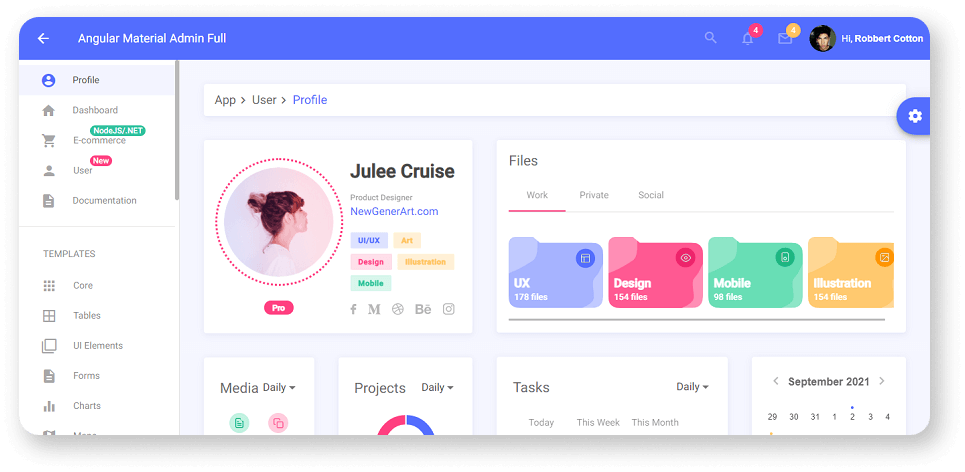 Angular Material Admin Template can help you create admin areas for CMS, SaaS, Visualization apps, etc. The template is well responsive, versatile, and has good documentation attached to it. So, you can clearly visualize the data and have a faster user experience.
The template offers 100+ pages, two type charts, multiple dashboards, theme support, and a lot more. Also, it has graphics for data visualization, no JQuery dependencies, no Bootstrap, and an eCommerce section.
Material Dashboard – Bootstrap 4 Material Admin (free)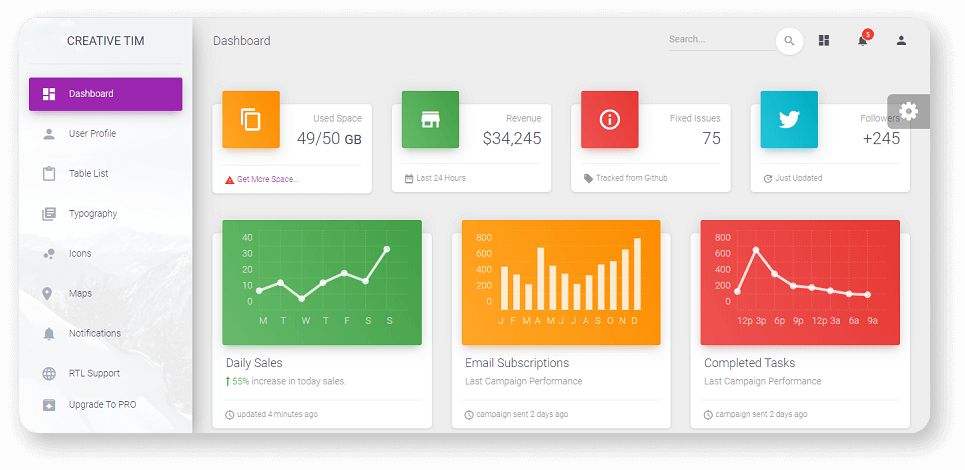 Material Dashboard is a free Bootstrap 4 Material Admin template. It has easy-to-use components with plugins redesigned to fit in with other elements. The dashboard makes use of light, movement, and surface. It has 5 color filter choices, which is a great thing for matching the design experience with your requirements.
Moreover, this dashboard template contains 60 elements, 02 plugins, 03 example pages, full documentation, and SASS files. Additionally, it gives an option to have a background image on the sidebar. There is also a premium version available, make sure to check that out as well.
Material Design for Bootstrap (free) – Angular version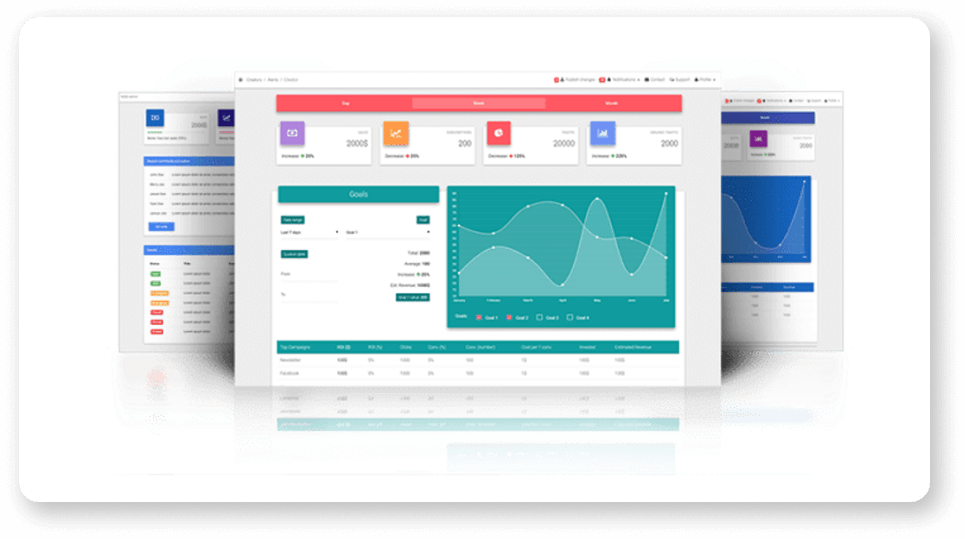 MD Bootstrap is a free admin template that contains large-scale UI Kits for both personal and commercial use under the MIT license. It is a fully responsive design and maintains a perfect overall balance of different structures. Though it is a free product it contains a pack full of features and components.
The template provides more than 600 material icons, 74 animations, and over 400 material UI elements. Every 1 or 2 months the template updates with a new bunch of items.
It offers a knowledge base of support questions. Github community answers and helps users to figure out better solutions for a problem. However, for commercial purposes, you have bought it, which varies from €599 to €3449.
Material Pro Dashboard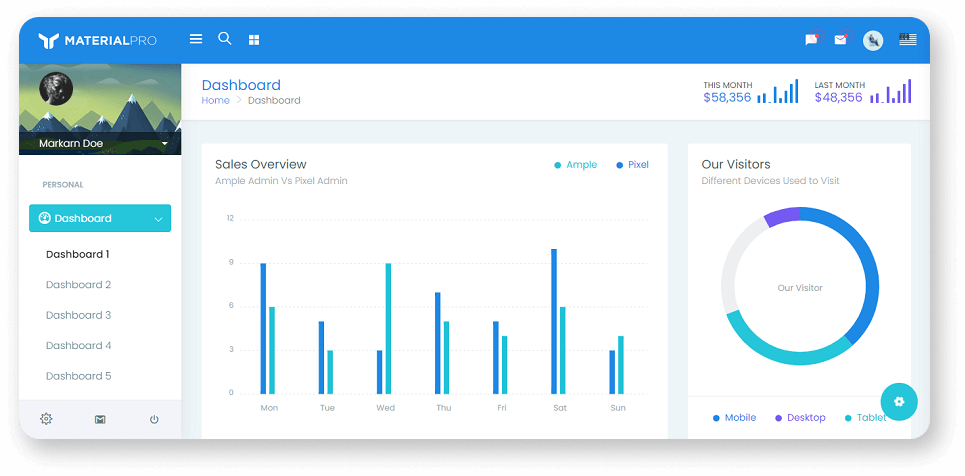 Material Pro Dashboard is a beautiful admin template with a flat design. Built on top of the Bootstrap framework, this template provides a mega-collection of features and elements. They say it contains more than 500 UI components, light & dark versions, over 100 plugins, 900+ pages, and 3000+ font icons.
The template gives full RTL support, one year of full technical support, and free updates. They say that they are 24/7 open to supporting their clients.
Material Dash Pro – Material Design Admin Dashboard Template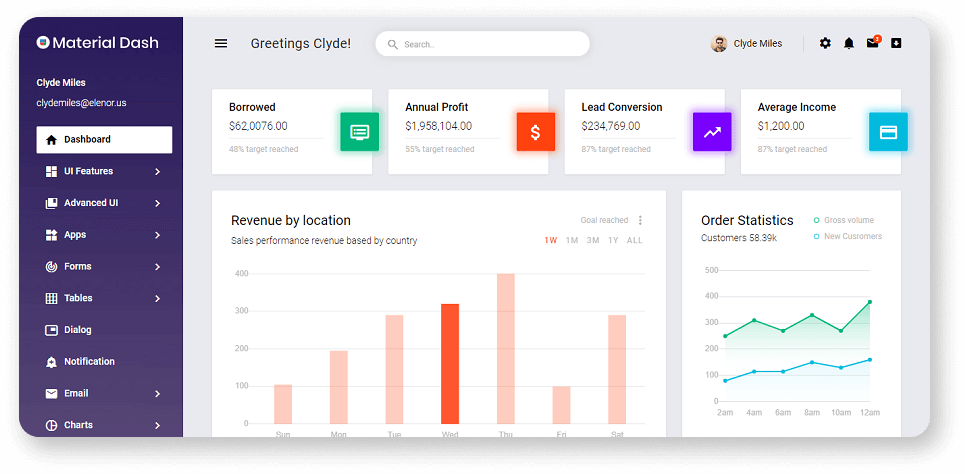 Material Dash Pro is an elegant admin dashboard template. It follows Google's material design guidelines. The template has a ton of example pages along with UI components, 3rd party plugins, and a lot more. You can create a fully functional admin area easily with this minimal-looking template.
Moreover, it offers inboxes, charts, and unbeatable technical support. Make sure to check out this beautiful template from the live preview section. And read the details for a clear understanding of what are the things that it contains.
Egret – Angular 12+ Material Design & HTML Admin Template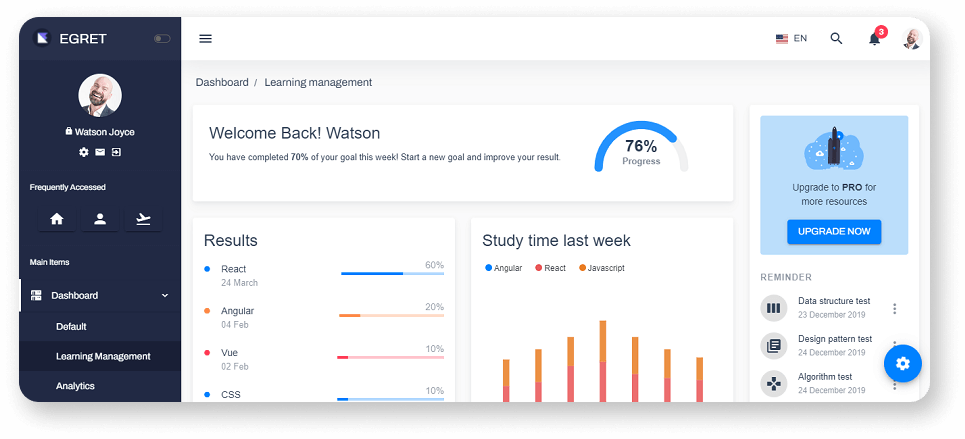 Egret Angular is another version of Egret with TypeScript, Angular CLI, Angular Material, and Flex-Layout. The template has no JQuery dependencies and Bootstrap. However, it provides one of the finest codebase and design quality for its users. Moreover, it is an exceptional collection of components that are both reusable and well responsive.

Besides, this outstanding admin template contains light & dark themes, multiple layouts, page templates, lazy loading, multiple apps, and a lot more.
So far, it has got a large number of positive reviews from customers. Check out the demos and download this beautifully crafted admin template from here.
Wrapping Up
To conclude this blog, I would like to say, before choosing any of these best material design admin templates or other ones, make sure you have gone through all the details. make a list of your requirements, search for them in these templates then select one for a trial. Only after a successful trial, you can buy an extended license for a commercial launch. So, wishing you all the best for your next backend project.
Here is an article that can help you choose the best admin template. Step by Step Guide
Take a look at Our Themeforest Profile