Want to have the best Ant Design Templates for your next web development project? These free & premium templates are here to help.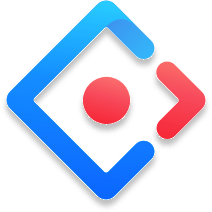 Do you want to save your time on customizing and styling your web project? Ant Design is a great option for that. This framework allows you to customize and style your web project in the shortest amount of time possible. However, the results appear to show that you put a lot of time & effort into it. With its powerful theme customization, it's undeniably a fantastic framework.
What is Ant Design?
Ant Design is one of the most substantial open-source enterprise-class user interface design languages. As a result, it aids businesses in achieving the best outcomes with user interfaces. It also has a set of high-quality React components, making it the world's second most popular React UI framework.
Among many, one great thing about Ant Design is that it has highly customizable rich components. And as it is a popular component library with 75.1k GitHub stars, you will get good community support too. In this blog, we have carefully handpicked the 10 Best templates based on Ant Design.
Best Ant Design Templates for Web Developers in 2022
Let's take a look at the best Ant Design Templates.
1. Yoda – Admin Template React Hooks Redux Toolkit Ant Design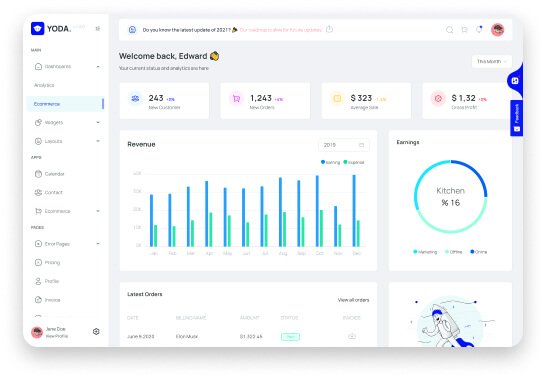 Yoda is an easy-to-use React Admin Template based on Ant Design. It is a viable option for Ant Design enthusiasts to try this product because it includes all of the essential features and even some highly customizable elements. Furthermore, with just a little effort and customization, you can create your project.
The template includes 70+ cards, 2000+ icons, responsive layout, clean code, quick search, ready-to-go widgets, etc. Furthermore, by purchasing the product, you will receive clear documentation. And also a lifetime of free updates and support.
Price: $18
2. Wieldy – React Admin Template Ant Design and Redux
Wieldy is another Ant Design-based React Admin Template & Starter-Kit. Whether simple or complex, you can develop a React app using this template within the shortest period. As a starter kit, it can support you with React, Redux, Firebase, Router, and Redux-Saga to advance development.
This template includes ten layouts, three sidebar options, two additional layout styles, 03 shades, etc. Also, its multi-lingual support, firebase & JWT authentication will bolster your project. However, this is not the end of this template. The template offers additional packages like the Next.js version and a complete design source.
There are more than 100+ widgets & metrics, 05 pre-built applications, GitHub access, premium support, and a lot more. You name it. Wieldy has it all.
Price: 24$
3. Muse – Vue Ant Design Dashboard (Free)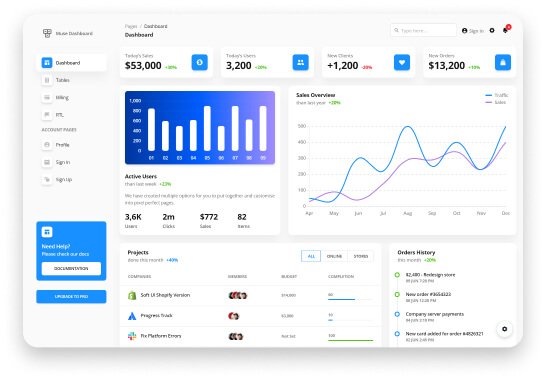 Muse is another great Ant Design based template developed by Creative Tim. Basically, it is an admin dashboard built with vuejs and with a large number of beautifully organized components. Especially, it is designed for those who like bold elements.
This free version template provides 70+ elements, 7 example pages, one plugin, and more. After download, you will receive full documentation of the product and the SaaS files.
Because all the necessary files are implemented here beforehand, you can save a lot of time on development going from prototyping to fully functional code. It also comes with a premium version.
Price: Free
4. Muse Dashboard PRO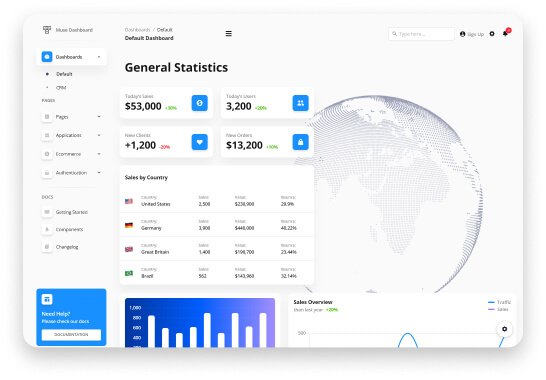 Muse Dashboard Pro is the premium version of Muse developed by Creative Tim. It includes everything from the Muse package and also offers a lot more new features plus premium support. The template has stunning features that can help you create awesome websites and applications. It has over 300 front-end elements.
Moreover, there are 05 plugins, 26 example pages, and more. For inspiration, we would recommend you to use the free version. And if you want to make the best quality dashboard for commercial purposes, choose Muse Dashboard Pro.
Price: 69$
5. Ant Design Pro (Free)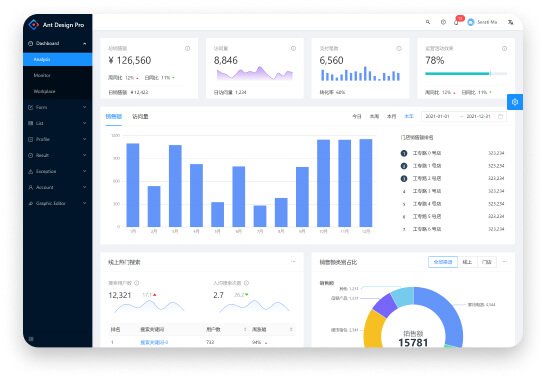 Ant Design Pro is the best example of a free production-ready solution. It got developed n top of Ant Design principles. The template includes higher-level components, templates, a design kit, and a lot more. Moreover, it offers sections like forms, lists, profiles, accounts, results, exceptions, etc.
This template can help you improve the user and development experience for admin interfaces.
Price: Free
6. Dark Theme – Ant Design (Free)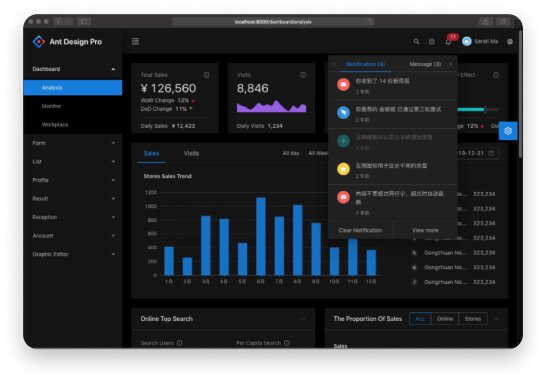 Another free production-ready solution for developers is Ant Design Dark Theme. This template is available on GitHub. It was developed using Ant Design's design principles, just like Ant Design Pro. It has a very clean appearance and includes all of the advanced features you might require.
A dashboard example, form, list, profile, result, account, graphic editor, and more are included in this open-source product.
Price: Free
7. Ant React Free Theme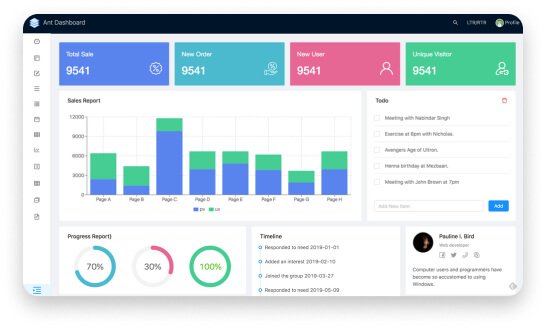 Built on top of React, the Ant React Free theme is an admin dashboard that is fully responsive and well-documented. By using Ant Design, its developers' team built a great many rich features for web developers. Do not get confused. To preview this product, type anything on the user name section and password. You can then easily navigate through the template sections.
The template includes elements like a grid, layout, dashboard example, forms, buttons, typography, lists, charts, profile, calendars, etc. To download this template from strapui.com, all you need to do is sign up. Make sure to check out this beautiful template.
Price: Free
8. Landing Page – Ant Design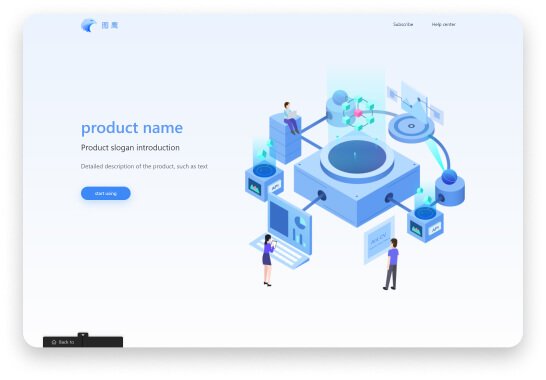 You can find Ant Design-based landing page templates on landing.ant.design. To quickly build a project, you can download these Ant Design-based free template packages. You can also use the editor to personalize your landing page.
There are a lot of homepage examples on this platform. Make sure to try out these products. They're all free and open-source.
Price: Free
9. One – React Next.js & Ant Design Admin Template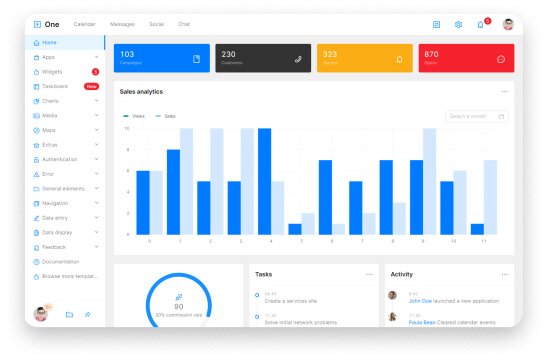 One is a javascript-based React and Next.js template. It is necessary to have prior knowledge of React and Javascript to use this template. The template includes everything you'll need to get started on your SAAS, CRM, CMS, or dashboard-based project.
Also, it has features like a light & dark theme, use of styled components, easy customization, and a lot more. However, it is a fact that the product hasn't been updated in over a year. So, make to check the FAQ section or contact directly with its developers' team before buying this product.
Price: 16$
10. Flexile – React Redux Admin Template based on Ant Framework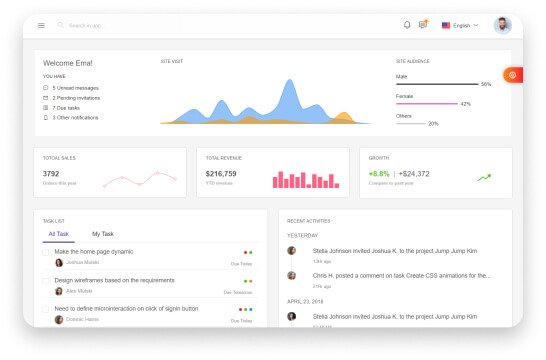 Flexile is a robust react admin template with the Ant Design concept and framework. It has a modern design and various layouts, as well as hundreds of widgets, metrics, and other features. Flexile has various detailed apps developed and integrated with Firebase in addition to the implementation of Redux and Redux-Saga.
With Flexile, you can speed up your web app development process while saving money and time. The template provides 9 different layouts, an extended customizer, 200+ font icons, event calendars, maps, 04 built-in apps, etc. However, like template One, Flexile also hasn't been updated in over a year.
Price: 16$
Wrapping Up
It appears that your search for Ant Design templates is now complete. We believe you are already aware of some of Ant Design's best features. You can now easily avoid tangled and messy designs with the help of these templates. Also, make a point of maintaining consistency in appearances and ensuring user confidence.
About Us
We are UI-Lib, a software development company that offers useful and awesome-looking free and premium templates, UI kits, and design systems. Our main motto is to ensure excellent quality products and to achieve this, we value excellent quality, experience, and positivity.